Sled Dogs: Clinton's Youth Wrestling Program
How wrestling took off in Clinton
Sled Dogs is a youth wrestling program in Clinton that runs during the winter. It is coached by Jimmy Lewis, assistant coach for Football and Wrestling. The program has been running for 2 years and has brought in so many people into the community. The name Sled Dogs was put together by many different people. Former Coach Nye, had gone with a pull the sled theme, which was for the Morgan Huskies at the time. Coach Lewis and a few other people put two and two together, in which the outcome was sled dogs. Their goal of the program is to get as many kids involved and to teach the youth how to improve in the sport, not just winning.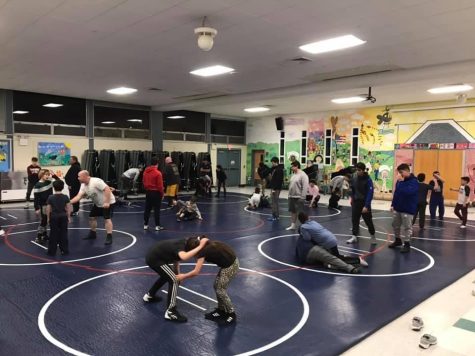 Coach Lewis was determined to start a program like this when he first moved here. There were no clubs or organizations in Clinton that would benefit our wrestling team at Morgan and the youth here. He grew up in Milford, where they had a huge youth program, and he had a desire to make our town much like where he grew up. When getting the approval to start Sled Dogs, there were many obstacles. One of those being involvement. Coach Lewis said, "getting the word out and getting the community involved" was huge in starting it. Another issue was getting space to practice since during the time there are so many other sports practicing at the same time. Coach Lewis wanted a program that brought those other kids that weren't involved in soccer or basketball, the sports that are the most popular in town. He wanted the program to be targeted to more aggressive athletes. Since there is no longer a youth football program, sled dogs would be a good option instead of that. 
After starting the program, Lewis found all the positive outcomes that have started. He said "community and the kids" were the greatest outcome. The first year was hard because of covid hitting at the end of their season. They went from 10 kids in the first week to 37 kids mid-season, then covid hit, causing them to conclude their season. Kate Schumann, who runs social media for Sled Dogs, has seen the whole program run from start to covid to now, and she said "the relationships were the greatest outcome." The families can connect, and the kids who all go to school together come multiple times throughout the week to bond over a love for a sport. Anywhere Coach Lewis goes, no matter what event, sports-a-thon or even going to a high school sports game, he knows someone there. Last season, Jordan Armstrong who won states in his weight class last year was able to go to Nationals in Virginia Beach due to Sled Dogs. Since Sled Dogs isn't associated with Morgan, and it's a club, they were able to sponsor Jordan, so he could wrestle at Nationals. This is another example of the notable outcomes of this club.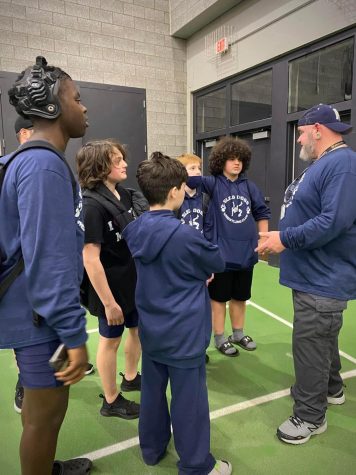 To open a club like this, there are many requirements along with it. A club like this needs to be USA certified, which is a rigorous task because it involves a background check and the person in charge is held accountable for their ethics. You also have to take a 4-hour course for the youth coaching program, and you have to be safety sport certified for concussion protocols. Another requirement is space and equipment, which has been hard for the club to get. As of now, the club has used mats at Joel and has used the gym and the cafeteria as a practice space. This was a challenge for them at the start because at the very beginning the gym wasn't always available, so Coach Lewis found a way to practice in the cafeteria, which was not occupied during practice time. He moved the mats on wheels to the cafeteria, which was never thought to be done before that.
Coach Lewis believes that "Wrestling is different. You can be in a room full of people that you despise because you competed against them… but you are still there together on a Saturday for 12 hours, and you end up hanging out and talking about moves." Coach Lewis also wanted to share a quote from a coach he's had in the past, "Those who haven't been a part of it or been a part of something similar to wrestling, they can't exactly relate. It's one of those sports that you can meet someone you've never met before or may not like, but as soon as you hear they have wrestled, their perception and your perception changes of each other. There's respect and an understanding since you both went through the same thing." Ariana Farr, a sophomore at Morgan, went through Sled Dogs and now wrestles at Morgan. She said, "Sled Dogs is a perfect opportunity for young kids to start something new while they are young and to get out of their comfort zone. It is open for girls and boys. Everyone is so nice and welcoming."
This program is important because the goal is to be able to have all sorts of kids be able to try the sport and get involved. During a typical practice, they work on the basics of wrestling to start, like stances and footwork. That allows the kids to get more comfortable moving their bodies in the most athletic way possible. They also do strength and agility work using their body weight, which includes push-ups, duck walks, and air squats.  Their season runs from December to April, and they meet every Wednesday and Saturday at Joel. It is open from Kindergarten level to 4th grade and Middle School level practices at a different time. It is Co-Ed, today's fastest growing girl's sport. The high school team makes a frequent stop in to help during their busy season.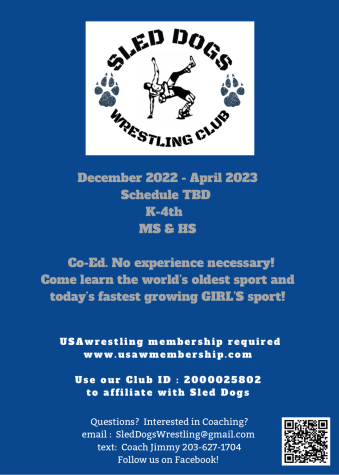 Leave a Comment
About the Writer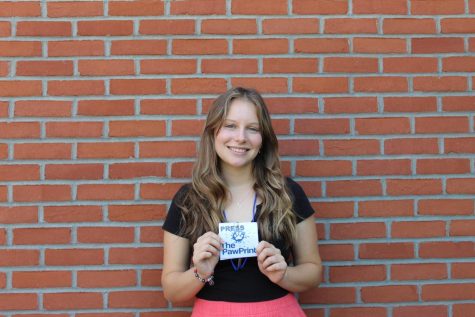 Aurora Smith, Writer, Photographer, Reporter, and Editor
Hi, my name is Aurora Smith, and I'm a Senior, class of 2023. This is my third time taking Journalism. I'm excited to write articles about changes...