Every year the students at Morgan eagerly look forward to our annual Homecoming Week, which consists of  Spirit Days, a Homecoming Pep Rally, a Homecoming Dance, a Homecoming Football Game, and our PowderPuff game. This year we have a different theme for each day of Homecoming Week. The theme of the Homecoming Dance this year is Disco Met Gala. However, this year many students were disappointed when Homecoming was pushed back over a month later than it was last year because many students are going away and will not be able to make it. This year's Homecoming date is on Saturday, November 11, Veterans Day, whereas last year's Homecoming was on Saturday, October 8th. 
Math teacher Stephanie Davis said, "The original reason why homecoming week became later than it would normally be, is now Morgan's football team is a co-op team. We have far fewer home games. The first home game in October would've been way too early for a good Homecoming Week." She explained that the later week allows us "to incorporate more things and incorporate PowderPuff. We picked USA Day for Friday because now it coincides with our Veteran's Day assembly, and we got to be creative and have our pep rally on Thursday instead of a flex time, and it just made for a much more exciting week for everyone ". 
Sophomore Jaydon O'Bymachow said Homecoming should be earlier because "all the girls in their dresses will be cold, and I can't even go, and I really wanted to." Most if not all of the students usually meet up with their friends to take pictures, and since homecoming is close to winter, people in short dresses will be cold.
Senior Zoe Vandesloot worries about the dance theme. She said," I like the theme, but I feel like nobody is going to follow it." The misunderstanding about the theme Disco Met Gala is that the Met Gala is a huge event to which only selected celebrities are invited. The celebrities that go to the Met Gala wear very extreme outfits that will definitely not be matched at Homecoming. However, the disco part of the theme will hopefully be matched because disco is easier to incorporate into an outfit.
The Spirit Squad Club run by Mrs. Davis and English teacher Eric Carroll meets before school weekly to plan Homecoming Week. Mrs. Davis is also in charge of coaching the boy's cheer for PowderPuff. 
The spirit during the week of Homecoming is unbeatable. Many students dress up according to the spirit days created by Mrs. Davis, Mr. Carroll, and the Spirit Squad. Students at Morgan go "all in" for the Spirit Days, wearing clothes that they definitely would not wear on a day-to-day basis. "We really tried to pick things that anyone could do without having to buy a lot of items to participate," explained Mrs. Davis. "We wanted to do the neon theme for the football game before, and we thought that it would be fun"  The students also go wild during the Homecoming Pep Rally to get hyped for the coming weekend. 
Sophomore Lyla Striby expressed, "I'm really hyped to do all the Homecoming activities with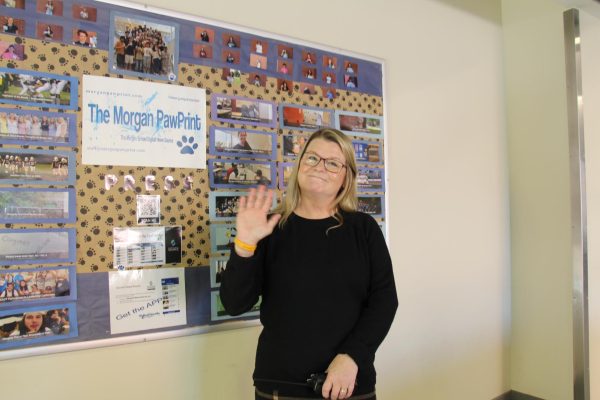 all of my friends." Students dance all night during the actual dance itself to music from the songs by Pitbull to Taylor Swift. The person who gets the most excited at this time of year is our Morgan Principal Keri Hagness. Mrs. Hagness said, "One of the things that I like the most, is seeing that like STEP, everybody engages. Sometimes it's hard to get everybody on board, but for Homecoming, during Spirit Week, they get excited about each day. I love seeing the competition. I love the fact that it culminates with the football game and the dance. I think it's about how many people participate and the energy and magic of the week." 
Although throughout The Morgan School, the students are enthusiastic, there are still some students who don't participate in the Homecoming Week activities. Junior Josh Nobitz said, "You know many people in our school don't really like to participate, but then many people do. It's like a 75, 25 split between people who participate and don't. A lot of people don't like to participate because they think it's weird, and they get embarrassed, but it's embarrassing not participating. Being proud of your school and having fun makes everything in the school more fun." During Spirit Weeks, going "all in" makes the week enjoyable.
This week brings a lot of spirit and happiness to our school community. When everyone participates, the school bonds and the excitement about the events held at our school builds.