The Morgan School offers various clubs for students, one popular club being the Interact Club. The Interact Club is run by history teacher Diana Rizzo. The club focuses on "service above self," with its main goals being to help the Morgan School and Clinton community, experience gratitude, and change lives through memorable experiences. The club is scheduled to meet every other Thursday, at 7 am before school. There are multiple officer positions which members of the club can hold including president, vice president, secretary, treasurer, and communications/media manager. Below are the requirements for each role and which students have the position this school year.
1 President: She works closely with Mrs. Rizzo who organizes service events. She is the "go to" person. This position is held by Senior Riley Kuever.
3 Vice Presidents: These students back up the president and Mrs. Rizzo. Senior Julia White, Senior Sara Stack, and Senior Mia DiGiandomenico are the vice presidents for this school year.
3 Secretaries: The secretaries log attendance, meeting minutes, individual service and hours from members. The three secretaries for the club this year are Sophomore Anadaly Lopez, Junior Nina Fishman, and Senior Leah Scoppa.
1 Treasurer: This year's treasurer, Sean Davis, handles deposits from fundraisers and withdrawals.
3 Communications/Media: These students take pictures for the yearbook, weekly blast, and club. They also spread the message about service and events and promote the happenings of the club. The media and communications managers are Senior Riley Schmidt, Sophomore Brianna Sposa, and Sophomore Aasiya Bajwa.
Throughout the school year, Morgan students are provided with many opportunities to complete service hours. So far this school year the club held the following events: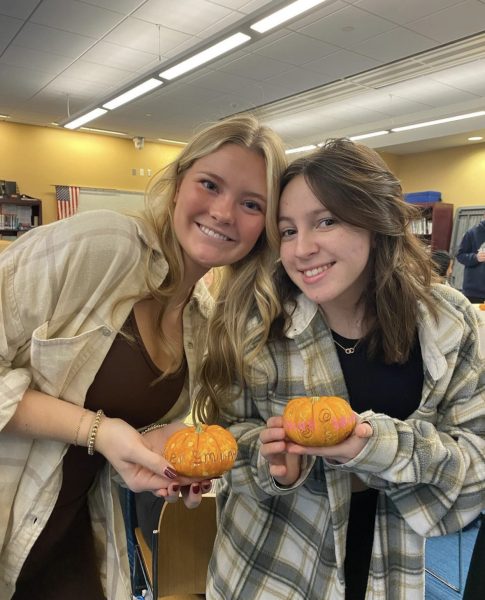 Pumpkins and cards for Masonicare – October 12th
Volleyball tournament Food/Drink Donations – October 19th
Monster Mash Set up and Take down – October 20th and 21st
Trunk or Treat – October 27th
Cards, bags, and flowers for veterans – November 2nd and 9th
Stop and Shop food drive – November 4th
Beetlemania- November 4th
Veterans Day Luncheon – November 10th
The Monster Mash, which took place at Lewin G. Joel Elementary School, was one of the club's many successful events this year. The Interact Club held a major part in running this event successfully. Many students went to the school on their own time to help set up and clean up this event for the community. Monster Mash has been an ongoing tradition where students help out each year. It has become very well known in the town of Clinton, especially among parents and students.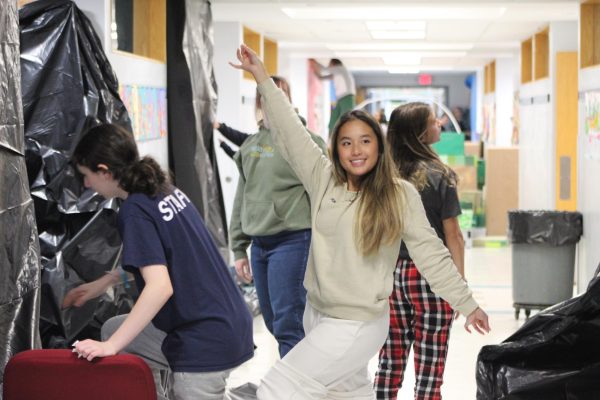 Morgan students constantly express how enjoyable and beneficial this club is. Junior Jason Mansfield said, "I am a big fan of the club. It makes it easy to get service hours and the activities and events that Rizzo sets up are really fun, especially Christmas in Clinton." Junior Rachel Spaziano said, "I love being able to feel like I am contributing to the community and Morgan while having fun with my friends." Another benefit of this club is its welcoming environment. As Junior Lili Luciani said, "I love helping the community out. The people we work with are very kind and friendly."
The Interact Club at Morgan is an all-around win for both the students and the Clinton community. It is always open to all Morgan students who want to help. If interested, students should email Mrs. Rizzo.