The Importance of the Morgan Dog Pound
School spirit is a significant aspect of high school, but when does school spirit become dangerous? The Morgan School encourages student involvement each year and promotes more positive action in school-wide activities and events. Players and coaches agree that a packed Dog Pound energizes everyone: teams, players, and fans alike. But when chanting turns to taunting, most can agree players lose focus on the important thing: winning the game.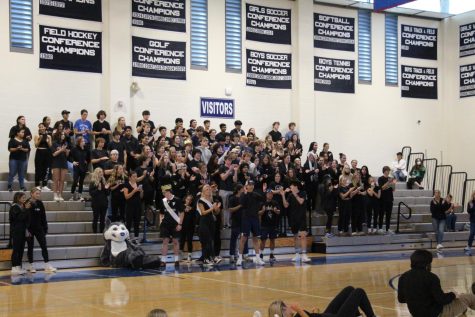 School spirit brings a school together. Especially for Morgan, The Morgan Dog Pound is supportive of the players and also creates a sense of family. Administrators, players, coaches, and students appreciate the Morgan Dog Pound. However, after a boys basketball game in Cromwell, 16 students who showed inappropriate behavior and were unsupportive of the team, were banned until Saturday, February 10, the end of the winter sports season. Along with the students who were banned, other students stopped coming to the games when their peers couldn't. For several games, there were few fans in the Morgan student section. 
Morgan soccer player Rachel Spaziano said, "A student section hypes me up for a game. It makes me feel encouraged to play well, especially when they chant for our team. I have been called out by other schools' student sections using my number, which distracted me from the game and made me play badly." Fan behavior has been a controversial subject all across the state. Middletown school officials postponed all home sporting events following a basketball game fight in mid-January. Similarly, Groton teens were arrested at Ella T. Grasso Southeastern Technical High School on January 31, 2023, after a fight broke out. 
Morgan School staff members watch over our student sections to monitor any inappropriate behavior from either team's fans. One person who works crowd control is ISS Supervisor and Morgan track coach Brian Gendron. He said, "The Morgan Student section is generally positive and supportive of our team, but I think where things become problematic is when there is a need to bring down the other teams. Targeting specific individuals on the other team is where it becomes negative. Their emotions can get a little too wrapped up in the game."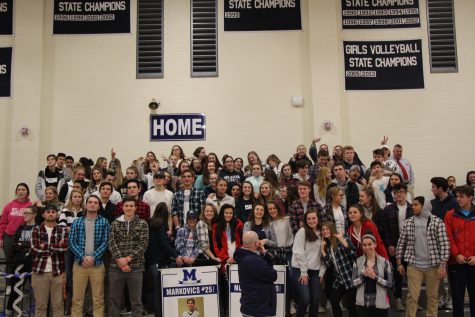 Assistant principal Chris Luther wants to see a positive change happen: The Dog Pound should consider "what our players want to hear when they are engaged in their athletic activity. We need to think about what is going to be helpful to motivate them. Keep it Morgan themed, doing "let's go Morgan", "defense", or positive cheering. Last year was awesome. I think about when Brady Fritz did the roller coaster to get people hyped up. I feel like those kinds of fan interactions are motivating. I don't think calling out kids on the other team is helpful for anyone." 
An active member of the Dog Pound senior Lindsey Derry said, "We need more school spirit. People don't show up anymore, which is so sad, especially as a senior." Senior soccer captain Eve Gardner commented, "A student section changes the atmosphere of the games. They bring energy and make everyone feel excited to play and watch." Senior Eva O'Sullivan, a member of the girls basketball team said, "I have seen how much a student section impacts a team. The energy and performance gets better because of the spirit. I am disappointed to hear that some people cannot come anymore due to their actions." Before the state tournament, senior football player Chris Carmona said, "It stinks because we can't cheer on our boys team anymore as we go into states." Senior Eddie Dwake, a captain of the boys basketball team, stated, "Personally, not having a student section doesn't affect me on the court, but it does hurt the school, and it's sad to see that this is what it has come down to."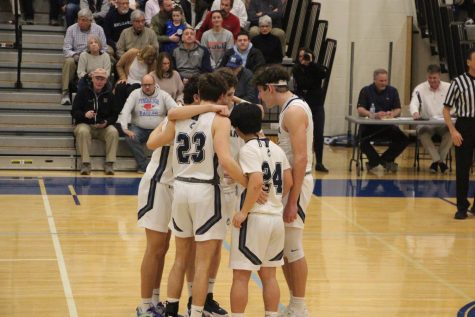 During the boys final game against Bacon Academy on Tuesday March 7, the Morgan student section was packed, despite having very few fans in the past games. Students from every grade came out to support the team in a classic white out. Unfortunately, it wasn't enough for a win, as the boys lost by two in the last minute. However, it was very nice to see the school come together for a celebratory last winter game. 
With a spring season full of potential, Mr. Luther asks fans of Morgan who participate in the Dog Pound to remember what is right and wrong during a game. Fans need to remember that they are attending games in support of our town, regardless of the school we are playing. And while we are reaching the final season of the 2022-2023 school year of Morgan athletics, it is important to still show up and participate. Even with little time left, positive school spirit can turn this year around.