Foreign Exchange Students Here at Morgan
After a year-long process, Melissa Scheurer and Magdalena Lagos Romero are finally here at Morgan. At the start of the school year, we welcomed two senior foreign exchange students, Melissa from Schwäbisch Hall, Germany and Magdalina from Talca, Chile.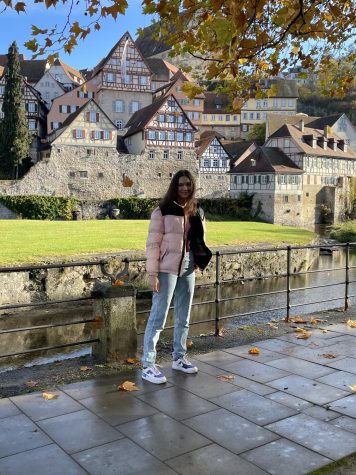 They both went through an extensive process to get here. Melissa applied for a CBYX (Congress-Bundestag Youth Exchange) political scholarship funded by the United States and German Congress, where she had to write an essay and go through several interviews until she was chosen by the German Parliament in February 2022. Back home in Germany, Melissa's school strongly focuses on education. She attends roughly the same size school as Morgan with grades 8 through 13. Melissa shares that her school doesn't have sports teams. In order to be part of a team, students have to join a club league. When coming to Morgan, Melissa initially took notice of the amount of spirit and kindness surrounding the halls. She's a part of the Morgan Girls Soccer team and is excited to continue her fencing career this winter. Some of our everyday traditions surprised Melissa especially. She isn't used to standing for the flag during the pledge of allegiance as well as having a school resource officer in the building at all times. Transportation is also very different from Germany. Most of the upperclassmen here drive to school while teens use more public transportation and walking in her home country. She has dreams of returning to further her education and also expresses an interest in many visits to explore what America has to offer.
Magdalena had certain requirements to be able to come to the States such as being interviewed, creating an extensive project, and taking an English test that shows she is the perfect candidate for an American high school. Out of 40 applicants, 3 got into the AFS program in January 2022 and Magdalena was one of them. When they arrived in America, some differences stood out to them both in and out of the classroom. Magdalena shared how different the in-class experience is from her school in Chile. Here at Morgan, teachers are friendly, sociable, and helpful. We have counselors, advisors, and a genuine support staff to accommodate each student's needs.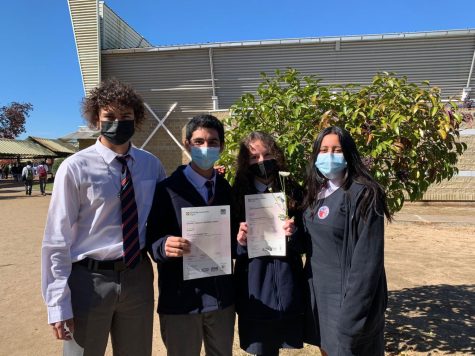 Back home in Chile, she attends school with all grades. Her school in Chile has a relaxed homework policy, and students are still required to wear masks in school. Although there are many differences for Magdalena, she explained how her school has similar spirit; they hold pep-rallies and have school sports teams. Magdalena plays for the volleyball team back home and decided to continue the sport here at Morgan. In the spring, she also wants to try out something new: softball or perhaps lacrosse. During her time here, she hopes to gain the full American experience. Beyond the classroom, Magdalena noticed the diversity, explaining the differences she sees in people and events. When returning home, Magdalena hopes to apply for various scholarships to gain the opportunity to possibly return to America to further her education.
Melissa and Magdalena are thrilled to continue their journey at Morgan. They are ready to explore new events such as homecoming, sports games, trips, prom and so much more of the American high school experience.