Recognizing the Accomplishments of Women
Social Justice Club Recognizes Women's History Month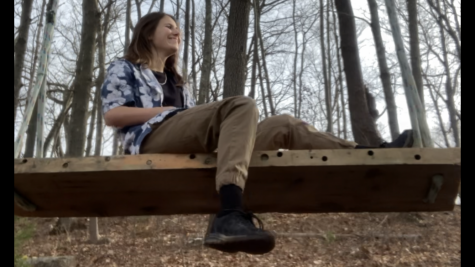 Women's History Month is an annual commemoration of women's achievements and contributions throughout history. In the United States, women's successes are honored and remembered during the month of March. Women's History Month has not always been a thing, despite the fact that the idea of women's rights and the recognition of the great accomplishments of women is very relevant today. According to womenshistory.org, there was only a "Women's History Week" beginning in 1978 before women were given a month to be remembered. This was celebrated the week of March 8th and only in Santa Rosa, California. This creation was praised the following year, and several other communities began to recognize this week. In February 1980, President Jimmy Carter agreed to sign a document naming this week National Women's History Week. Until 1987, the week of March 8th was designated as Women's History Week. In 1987, Congress approved a law, the Public Law 100-9, classifying March as the United States' official Women's History Month.
Women's History Month has been well-covered here at Morgan. Every day, a new famous female is identified and discussed on the announcements. By the end of this month, we will learn about eighteen women who have achieved greatness. Women's History Month is a wonderful opportunity to honor many women for their achievements. What follows are the announcements for Women's History Month created by Senior Emma Lindsay:
Throughout the month of March, the Social Justice Club would like to recognize influential women and feminists who have impacted a variety of careers with their success and highlight how they overcame countless boundaries in the process. Without these women, our society would not be where it is today, so we would like to show our gratitude.
Monday, March 8: Jane Goodall
Today we would like to honor Dr. Jane Goodall, scientists, conservationist, peacemaker, and mentor. Jane Goodall traveled from England to Tanzania, venturing into the unknown world of wild chimpanzees. In a male-dominated field, she was expected to fail, but her discoveries proved far stronger. She showed us the urgent need to protect chimpanzees from extinction, and today she travels the world, speaking about threats against chimpanzees and environmental crises affecting all of us. Her achievements have redefined our relationship between humans, animals, and the environment, and she has inspired so many young scientists to immerse themselves in the planet that protects us. Thank you, Dr. Goodall.
Tuesday, March 9: Jackie Joyner-Kersee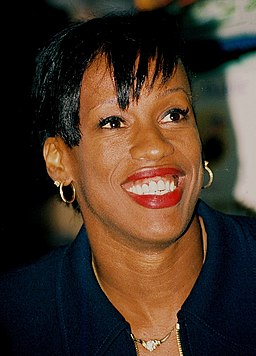 Today we would like to honor Jackie Joyner-Kersee, one of the greatest track and field athletes in American history. She was the first American woman to win an Olympic gold medal in the long jump and she went on to win three golds, a silver, and two bronze medals over four separate Olympics. She has used her athletic fame to create the Jackie Joyner-Kersee Youth Center Foundation to encourage underprivileged youth to play sports. She also helped establish Athletes for Hope, an organization that aims to "educate, encourage and assist athletes in their efforts to contribute to community and charitable causes." Thank you, Jackie.
Wednesday, March 10: Virginia Woolf
Today we would like to honor, feminist author Virginia Woolf. For readers who like Maya Angelou or Jane Austen, the Social Justice Club recommends you read the legendary Virginia Woolf. A writer during the feminist movement of the 70s, Woolf created complex and multi-dimensional female characters in her novels which touch on other important issues such as mental health. Woolf is credited with launching proto-feminism in her modernist novels. You can't help but fall in love with her characters and Woolf herself as her novels are consuming and powerful. Thank you, Virginia Woolf.
Thursday, March 11: Rachel Denhollender and USA female gymnasts
Today we would like to honor Rachel Denhollnder, former USA gymnast and now practicing attorney, author, advocate, and educator. Along with Denhollender, we would like to recognize the rest of the female gymnasts who competed under USA gymnastics. These women demonstrated immense poise as American athletes whilst competing under the abusive strains of USA gymnastics. Their bravery to speak up about the abuse they suffered has helped bridge the gap between survivors and society. These women have served as wonderful role models for young girls and help advocate for survivors who experienced similar realities that they did in hopes to make change. Thank you for all you have done.
Friday, March 12: Selena Quintanilla Perez
Today we would like to honor the Queen of Tejano Music, Selena Quintanilla. Making her debut in the 80s, Selena was an award-winning Latin recording artist who started the rise of Mexican-American music in the late 20th century. Beyond being a talented singer, Selena was also a songwriter, spokesperson, businesswoman, model, actress, and fashion designer, designing all of the outfits she wore on stage. Her talent was transcendent and so many young people were lucky to have her as a role model and an inspiration. Thank you, Selena, we miss you.
Monday, March 15: Marsha P. Johnson
Today we would like to honor Marsha P. Johnson, activist, drag queen, performer, and survivor. Johnson is remembered for being an icon and major influence in the gay community, specifically during the Stonewall uprising of 1969. Her drive and strength allowed for so many generations of gay people to gain civil rights that Marsha herself way denied as a transgender woman. Her legacy encourages all young people to "pay it no mind" and be themselves unapologetically. Thank you for everything, Marsha P. Johnson.
Tuesday, March 16: Adriana Ocampo
Today we are honoring a phenomenal female scientist, Adriana Ocampo. Adriana Ocampo is a planetary geologist and the Science Program Manager at NASA Headquarters. Dr. Ocampo, a Columbian-born scientist, has worked on a number of NASA planetary science projects, including the Juno mission to Jupiter and the New Horizons mission to Pluto. Born in 1955, Dr. Ocampo was named one of the 50 Most Important Women in Science. Thank you, Adriano Ocampo.
Wednesday, March 17: Megan Rapinoe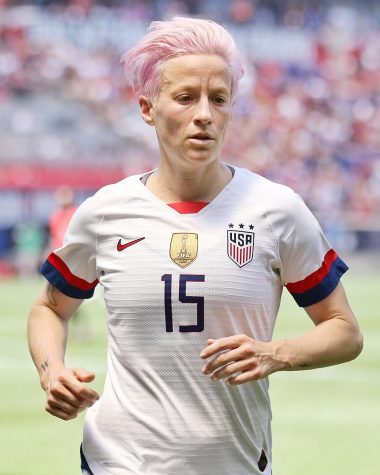 Today we are honoring US Women's Soccer player, Megan Rapinoe. Rapinoe is most well known for her achievements on the soccer field as a two-time world cup champion and Olympic gold medalist. However, Rapinoe has used those wins instead as a statement as she advocates for equality in women's sports with her teammates. Rapinoe also uses her platform to support numerous LGBTQ organizations and speak out against social justice. Her influence on the soccer field equates to her influence in society as she fights for change and inspires so many athletes to do the same. Thank you, Megan Rapinoe.
Thursday, March 18: Elizabeth Blackwell
Today we are honoring a trailblazer in medicine, Elizabeth Blackwell. Blackwell was the first woman in America to receive a medical degree. She championed the participation of women in the medical profession and ultimately opened her own medical college for women. Blackwell faced discrimination and obstacles in college: professors forced her to sit separately at lectures and often excluded her from labs; local townspeople shunned her as a "bad" woman for defying her gender role. However, she persisted and graduated at the top of her class. She created an avenue in medicine many women came later to follow and we could not be more appreciative of her work. Thank you, Elizabeth Blackwell.
Friday, March 19: Taylor Swift
Today we are honoring one of the most prolific songwriters of our generation, Taylor Swift. Beyond being one of the most decorated female musicians in American history, Taylor Swift is timeless as she continues to surpass herself in various genres and writing styles of music. Swift has been known to use her platform to speak out against misogyny in her life and the world around her, advocate for gay rights, support the body positivity movement, and fight for social change. Despite her bad reputation, Taylor Swift is an icon and positive role model for our generation, and we are lucky to have grown up with her music. Thank you, Taylor Swift.
Monday, March 22: Tiera Guinn
Today we would like to honor 21-year-old scientist, Tiera Guinn. This MIT senior is currently working with NASA to build one of the biggest, most powerful rockets to date. Working in one of the most competitive Rocket Structural Design Programs in the country with a 5.0 GPA, Guinn has always had big dreams and never waited to go chase them. Despite her apparent genius, Guinn still has to prove herself constantly in all her classes as she studies in a competitive, male-dominated field. However, she has never let the judgments from her classmates hold her back as she continues to keep her eye on the prize. Thank you, Tiera Guinn, for being an inspiration to young scientists everywhere. We cannot wait to see what you accomplish.
Tuesday, March 23: Patsy Mink
Today we would like to honor Patsy Mink, the first woman of color ever elected to the U.S. House of Representatives and the first Asian-American woman to serve in Congress. Mink had to overcome countless obstacles as an Asian American woman during her career as a lawyer and a politician, so when she was elected as the first Asian-American woman in Congress, she shattered the glass ceiling. Mink fought for gender and racial equality, affordable childcare, and bilingual education during her time in Congress, helping to pass Title IX, the Early Childhood Education Act, and the Women's Educational Equity Act. Without her, women would still be left behind in so many areas of society. We thank you, Patsy Mink, for fighting to improve the lives of so many women and children in America.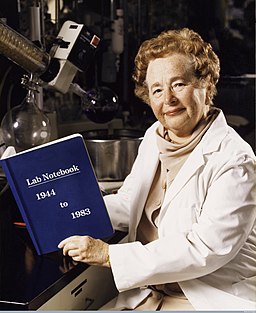 Wednesday, March 24: Gertrude B.Elion
Today we are honoring the acclaimed biochemist and pharmacologist, Gertrude B.
Elion. Elion was told most of her life that women could not and should not pursue chemistry, but she didn't listen. She and her team developed a drug that could be used to fight Epstein-Barr virus, chickenpox, and shingles. It also ushered in a new era of antiviral therapy, opening the door to the development of the first drug to treat AIDS. Elion was awarded the Nobel Prize in Physiology and Medicine in 1989 for this groundbreaking discovery. In the face of adversity, she persisted. For Elion's inspirational work in STEM, we would like to thank her.
Thursday, March 25: Greta Gerwig
Today we would like to honor Greta Gerwig, actress, writer, and director. Greta Gerwig is most well known for directing films such as Lady Bird and Little Women. Her influence has given so many young female actresses the spotlight they never thought they could have due to the lack of female lead films. Her talent and ambition have set her apart from all her male counterparts and shown so many young female directors that just because it is a male-dominated industry, doesn't mean it has to stay a male-dominated industry. Thank you, Greta Gerwig.
Friday, March 26: Rashida Tlaib
Today we would like to honor Rashida Tlaib, American politician and lawyer. She made history as an American-Palenstinian woman in 2018 when she was one of the first Muslim women elected to the United States House of Representatives. She wears her heritage proudly and serves to be a positive role model for young Muslim and American women every day. Her progressive platform advocates for environmental and economic justice as well as equal rights for all citizens, especially the ethnically-diverse immigrant population whom she proudly represents in Congress. We are so lucky to have a powerful and compassionate individual to look up to fighting for justice in our nation's capital. Thank you, Representative Rashida Tlaib.
Monday, March 29:Polina Nazaykinskaya
Today we are honoring Polina Nazaykinskaya (Nahz-eye-kins-kayah), a music teacher at ECA in New Haven. Annie Kennedy, a member of the Social Justice Club, wanted to Honor Polina for being such a positive female role model to so many young women and artists at ECA. Polina began studying music from a young age in her home country of Russia, and quickly realized she had a natural talent for composing. She immigrated to America all on her own as a young adult to further her music career. Polina handled this transition with grace and has had tremendous success, teaching at both ECA and Yale while continuing to compose fantastic music. She travels frequently to hear her compositions performed in New York, Moscow, and the country, Belarus. Polina's perseverance, courage, and positive outlook on life serve as a reminder to us all that it is okay not to follow a traditional path in life and hard work pays off. Thank you, Polina, from Annie and female musicians everywhere.
Tuesday, March 30: Sally Ride
Today we are honoring Sally Ride, a NASA astronaut. Ride became the first American woman in space, serving as a mission specialist on the space shuttle Challenger in 1983. After her tenure at NASA, Ride went on to have an award-winning career as a public servant and as a physics professor at the University of California, San Diego. She also founded "Sally Ride Science," an organization that aims to inspire young people in STEM, and she wrote several books about her experience in space to teach kids about science. Her trailblazing accomplishments will not be forgotten. Thank you, Sally Ride.
Wednesday, March 31: Ruth Bader Ginsburg
As we bring Women's History Month to a close, we want to honor Ruth Bader Ginsburg who passed away late last year. As a lawyer, teacher, and Supreme Court Justice she fought against gender discrimination, voted for same-sex marriage, and for affordable healthcare. She was one of the greatest feminists of our time and without her women's rights would still be a forgotten issue. RBG's legacy is one of greatness and power and is far too vast for us to condense in our morning announcements. We recommend you watch the film On the Basis of Sex, to fully understand the barriers she had to break through and the magnitude of her involvement in American politics. Thank you, Ruth Bader Ginsburg, for all you have done for women's history.
Leave a Comment