CT Youth Forum: Finding Your Happiness
Images via Connecticut Youth Forum
The Connecticut Youth Forum, a division of the Connecticut Forum, describes itself as "a community outreach program…that for the past 29 years has been providing unique opportunities for diverse teenagers to connect and engage with each other across geographic, economic, social, and racial divides." More than 500 students from 35 high schools engage in the forum through monthly meetings, a leadership network, an annual student conference, and other events.
I attended one of their monthly meetings on Tuesday, November 15th. Each event is centered around a certain topic such as "Change and How to Deal With It", and "Do the Right Thing." This week, the topic of the night was "Finding Your Happiness." Of course, out of caution for student and teacher safety, the meeting was held over Zoom. I was joined by a Morgan staff member, consumer science teacher Sue Murphy.
Alex Taylor, the director of the forum, began the meeting with a quote: "The happiness of your life depends on the quality of your thoughts." He asked our interpretation of this quote and how it might challenge our personal definition of happiness. After this, we were put into breakout groups for the ice-breaker question, "What was your happiest birthday and why?" This helped us to become familiar with other students in our group and connect in a fun way. When we later went back to our full group, Alex asked us various questions. We virtually "raised our hands" through a Zoom feature to questions about our control of our own happiness, happiness during COVID, and the frequency of happy thoughts.
Alex went over the Youth Forum's Culture of Validation with the group to establish a set of principles before we continued the session. Below I have provided the guidelines they follow.
1.We value EVERYONE's contribution.
2. We encourage others who are brave enough to speak up.
3. We respect those who choose to listen and not speak.
4. We listen with an open mind and full attention.
5. We ask questions of and respond to each other.
6. We are kind. So, say what you mean, but don't say it mean!
7. We don't put ourselves or others down.
8. We accept ourselves and each other for who we are.
9. We don't gossip. Outside of here, we talk about what was discussed, but we don't use names.
10. We learn from each other and know that learning can happen anytime and anywhere.
11. We connect and have fun!
After this review, we had three separate break-out rooms that were centered around a prompt. The first group was about, "How do other people influence your happiness?" The second group focused on, "What advice would you give to someone who says they are 'just not happy'?" and the last one was "Who is the happiest person you know?" Each session was followed by a brief group discussion that allowed students to share their responses with the whole group. After the group discussion was finished, the meeting was concluded.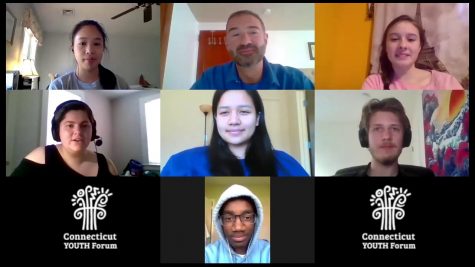 This meeting with the CT Youth Forum was both enjoyable and enlightening. I learned about students' experiences with manifesting their happiness, their stress management skills, and how they have been able to help those that may be struggling. I liked talking to those that I have never met, engaging with different personalities, understanding their point of view, and actively listening to them when they were being vulnerable.
As the President of DREAM Club and a frequent volunteer for the Connecticut Special Olympics, I am familiar with working with individuals that are different from me. In such a divisive climate we live in, I think it is important to reach out to those we would not normally connect with. When we work with those different from us, we foster relationships and truly do create a more united community.
I highly encourage those that are committed to expanding their horizons and connections to consider attending the next meeting. The next one meeting will take place in February, but the day is not yet determined. Follow them on Instagram, Twitter, and Facebook for updates! (@ctyouthforum)
Leave a Comment
About the Writer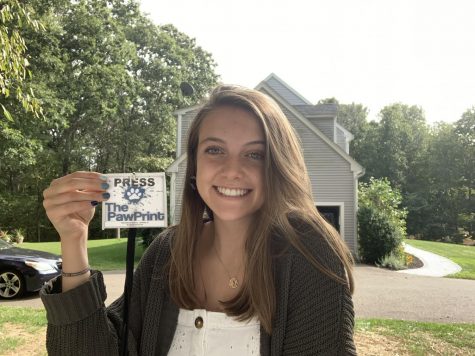 Abby Eydman, Staff Writer, Photographer, Reporter
Hi! I'm Abby Eydman, a 2021 Morgan senior, and I am a reporter for the PawPrint. With a love for interviewing, I am running the weekly column, PawParazzi,...