Written by Meghan Schulze |
This years Morgan Musical is Anything Goes.
Nightclub singer/ Evangelist Reno Sweeney is on her way from New York to England.  Her friend Billy Crocker has stowed away to be with his love, Hope Harcourt. The problem is Hope is engaged to the wealthy Lord Evelyn Oakleigh. This musical includes tap dancing sailors and characters blackmailing each other.
If you are wondering what kind of work goes into the making of a musical,  a few cast members were asked who have experience in theater.
To prepare for a role Morgan graduate Karli Robertson will "become familiar with the play, whether that was watching the movie version or doing research on the specific character I'd try out for." Junior Sasha Krivosky practiced the songs and lines she needs to know for the audition.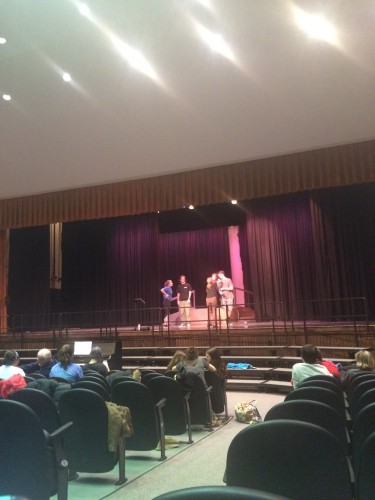 Senior Seth Warner and Sophomore Brett Martin both talked to musical director John Lampe before auditions to start going over songs. Warner asks what character from the show would "show off my talent."
Senior Mateo Zumpano says he prepares by taking care of his voice by not yelling and staying out of the cold for too long. He says, "Being healthy is very important if you really want to enjoy doing the shows."
Outside of rehearsal, these actors and actresses say they spend at least an hour or so memorizing lines, going through dances, listening to songs they will be singing, reviewing staging done at rehearsal, or practicing what they are struggling with. They may also practice songs during chorus or during a study hall.
Robertson says advice she would give to people doing a Morgan musical for the first time is to "be prepared, time wise and physically" Rehearsal takes up a lot of time for both principle roles and the ensemble. The dancing in the show can sometimes be physically exhausting. "You are stepping into a very crazy theatrical bunch, but they welcome you with open arms. We all become one big, LOUD family."
Be open and positive when you come to rehearsal. You can never have too much energy!
Overall, everyone in the cast has very much enjoyed doing the musicals in past years. It was an eyeopening experience for many, and it is a good way to meet new people. Krivosky says she would like to continue preforming when she goes to college.
The 2016 cast of Anything Goes will be preforming from March 17 to March 20 at 7pm and the Sunday show is at 2:30!
Below is the cast list: