Quilts of Valor Awards Our Very Own, Mr. Enoch
Thursday, May 13, Technology Education teacher Theodore Enoch was awarded a quilt created by the Quilts of Valor Association, thanking him for his service to our country.
Quilts of Valor began in 2003 and is run completely by volunteers who create handmade quilts for veterans and active-duty military members. These veterans are awarded the quilts and a handwritten letter at what they call a covering ceremony.
Former Morgan School library media specialist, Linda Gworek volunteers for Quilts of Valor and attended the ceremony to award Mr. Enoch with his quilt. Mrs. Gworek has been "sewing for this program for almost four years."
After school on Thursday, the teachers at Morgan sat, socially distanced, in the gym. There, Mrs. Gworek and her "quilt master," Nancy Burns, explained what Quilts of Valor is and why they do what they do. Mr. Enoch was then called down to the gym floor to be covered by his quilt.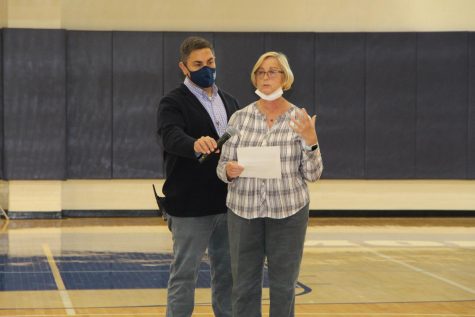 Mr. Enoch "served in the Army Reserves for 21 years," and was "called up and activated twice." He was in "Baghdad, Iraq for the first year of the war," and "at Guantanamo Bay, Cuba in 1995, helping run the migrant camps for the 40,000 Cubans that were waiting to emigrate to the United States."

Mrs. Gworek said that she "asked to make Mr. Enoch's quilt using a pattern," that she really loves to do. She chose a pattern, "called Standing Strong," and she "thought Mr. Enoch would like the technical design."
The gym was filled with joy and even tears as Mr. Enoch was wrapped in the beautiful, handmade quilt. The quilts are made up of three components. The top piece, which is made up of patterns and stitching, the middle padding, and the backside. 
"This whole presentation was about Mr. Enoch and his service. The symbolism of the end when the service person is covered is to wrap them in thanks and respect for their sacrifice," Mrs. Gworek explained. Mrs. Gworek is grateful to be a part of a group that creates "a tangible thank you for the commitment so many men and women make on behalf of all of us."
She even told a story about how when she was "working at the old Morgan, Mr. Barney, the principal at that time," came into the library to tell her "that Mr. Enoch's unit was called up and was leaving to serve in Iraq." She described how "he left his own family, the job he is so wonderful at and put his life on the line like all servicemen and women do."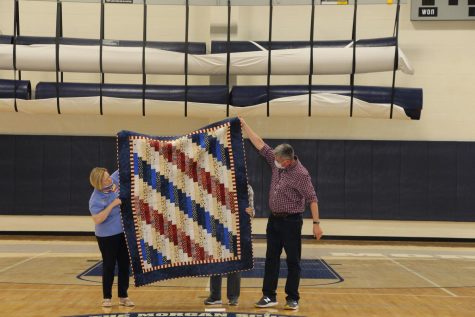 When Mr. Enoch was asked about the ceremony he said, "not only did I not expect the ceremony, I didn't even know about the organization." He went on to say that his "wife knew about it two months ago and never said a word." Mr. Enoch was truly surprised and "very touched by the whole thing."
He and Mrs. Gworek "worked together for many years," and when he "was home on leave from Iraq, she and Mrs. Iverson came to a surprise party," that his wife held for his colleagues and friends.
This association had previously awarded mathematics teacher John Madura with a quilt several years ago. Quilts of Valor felt that they needed to award and thank Mr. Enoch for his service and dedication to our country, which they most certainly did.
Thank you, Mr. Enoch, for your service to our country.
To learn more about Quilts of Valor and its mission, click here.
For more photos of the ceremony, see below.
Leave a Comment
About the Writer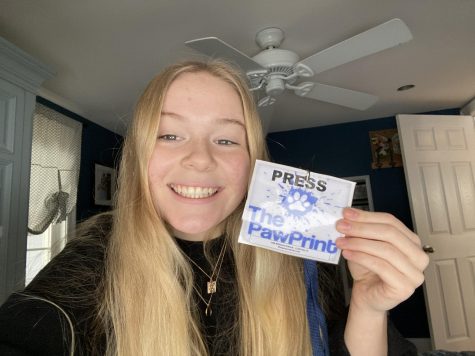 Iris Dunham, Staff Writer and Reporter
Hi! I am Iris Dunham, Class of 2023. This is my first year taking this journalism class, and I am excited to see what I can do. I began a segment called Uncovering...