Why Students Should Take Journalism
By Gabby Vigorito and Jessica Green
Photos by Jessica Green |
Journalism is a semester long course at The Morgan School. This elective was taught by English program chair Paul Serenbetz years ago. For years, the course did not exist because few students enrolled. Then in 2012, a group of fifteen students signed up for the course.  When English teacher Leslie Chausse became  the teacher of Journalism in 2012, she decided to have the students create an online news source for The Morgan School.  The 2012 students created, designed and named The Morgan PawPrint. The class chose WordPress, a blogging platform to host this new digital news source for Morgan.
One of the students in this original PawPrint class was Morgan alum Evan Doolittle. He used his technical skills to design the format of  The Morgan PawPrint. He also wrote the first article ever posted on the Morgan PawPrint, Hallways Make Hurdlers. He posted it on February 16, 2012.   Since this initial class in the spring of 2012, seven other classes of journalists have created over 800 posts for the Morgan PawPrint.
The Morgan PawPrint has become a success ever since it began. In 2012, it received 22,606 views, then in 2013, it got 27,646 views, in 2014,it got 34,167 views, and finally in 2015, it got 38,342 views for a total of nearly 125,000 views. Lots of parents and other people in the community read The Morgan PawPrint. It keeps people informed, and highlights student writing, photography and projects.
Journalism is a very beneficial class. It teaches many skills: how to conduct an interview, take photos at events, investigate, take and create videos, set deadlines,and write for a news blog. It also teaches self discipline and time management. Journalism allows students to learn and practice many people skills. Students also learn how to use many technology tools including the WordPress platform, IMovie, Ipads, and cameras. 
The Journalism classes have taken lots of great field trips in the past. When Clinton resident Lisa McDonald donated an event she purchased through a fundraiser to Morgan, a group of Journalism students visited WFSB television station and enjoyed lunch with Scot Haney and Kara Sundlun. Several classes visited The Hartford Courant where they toured the Courant and Fox News facilities. This semester two students and Mrs. Chausse attended  Journalism Day at Southern. Journalism students also learn from guest speakers who have experience in journalism at college or as professionals including Alumni Evan Doolittle, Cara Cifarelli, Sam Sarkasian, Ally Rivera, TS Krupa and Technology Teacher and former photojournalist Allison Corbett. 
Some people think journalism is a dying career since newspapers are going out of business, but people will always want to know what is going on even if they a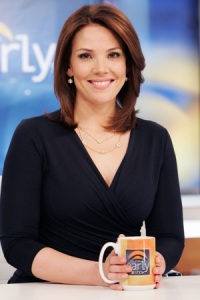 re getting their news from the Web, social media or television instead of a print source. Some fields involving journalism skills are public relations, broadcasting, photojournalism, communication, sports reporting and writing.
Years ago, when Mr. Serenbetz taught journalism,  he taught Erica Hill. She graduated from Morgan in 1994 and followed her dream to become a reporter Now she works as a co-anchor of the weekend edition of Today on NBC.
This year about 20 students are taking  Journalism each semester. In the past,  as few as 7-18 students enrolled in the course. Students may take Journalism for more than one semester to continue building writing and journalism skills. Students who continue with Journalism are also able to mentor students who are new to the course and field.  Some students who have taken Journalism for more than one semester are Juniors Amanda LaRiviere, Marcus McDermott and Jensen Garcia.
Senior Julia Hornyak took Journalism the first semester in 2015-16 and will take it again next semester.  Julia enjoyed how she had freedom to create her own assignments and deadlines. Something that she would change about the course is that she would want to have more than one class in a semester and more students involved.  The Dodge For a Difference was her favorite video she created.  
Student Senior Chelsea Pacheco took Journalism the first semester in 2015-16. She liked the course, but she did not like all the interviews she had to do. If she could change something about the course, she wouldn't require the news quizzes. She said she would not take it again, but she liked the articles she wrote. Her favorite article was The Future of the Old and New Morgan School article because she got to interview Principal Keri Hagness and get a closer look at what is to come of the new building.
Student sophomore Mikaela Gaudet took Journalism her first semester of her freshman year. She did not like the course, and she thought the teacher was too strict. She did not let her express her creativity.If she could change something about the course, she would have there be more field trips. She wouldn't take this class again, but her favorite article she wrote was What Freshmen Should know about Homecoming 2014.
Sophomore Wyatt Reu took Journalism freshman year during the 2nd semester.  He would not take the class again, but he liked to interview people.  Something that he would change about the course would be more han
ds on experiences (field trips). His favorite article he wrote is New AP Courses.
Freshman Alyssa Lemay took Journalism the first semester of this year. She liked the class, but would change the grading. She said she would take it again and liked her first article she wrote the best. It was called A Game to Remember.
Mrs. Chausse hopes that more dedicated, hard working students will sign up to take Journalism next year. Any student who would like to write articles, take photos or create other content for The PawPrint should see Mrs. Chausse. She would like to see more students involved in the PawPrint production even if they are unable to take the course.