New French Teacher: Lisa Finnegan
New Teacher Travels From Morgan to Eliot Everyday
New French teacher Lisa Finnegan joins Clinton Public Schools for the start of the 2022 school year. She teaches French II, III, and IV in the morning here at The Morgan School. Then she heads over to Jared Eliot Middle School to teach French I to seventh and eighth graders. "Balancing going to different schools is manageable. I leave at noon to teach just two classes at Eliot," Mrs. Finnegan states.
Sophomore Olivia Ruotolo taking French III mentions how she enjoys Mrs. Finnegan's question of the day. It gets her in a "French mindset." She plans on taking French IV next year with Mrs. Finnegan.
Junior Ana Jayne Luke takes French IV. She says that Mrs. Finnegan "makes learning the language a lot easier because she is patient with her students and gives us confidence."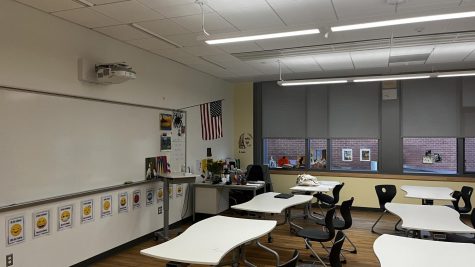 Mrs. Finnegan has always loved the idea of teaching. She studied at the University of Connecticut to pursue her passion. Her professors made her fall in love with not only teaching but with the French language. During her years at UCONN, she studied abroad in Rouen, France, for a whole year.
Before coming to Morgan, Mrs. Finnegan taught French at Westbrook High School. Her ultimate decision to come here was due to Westbrook having smaller class sizes. She believed that we had more opportunities, and the more students to teach, the better. Other than coming to school every day, Mrs. Finnegan enjoys gardening and helping out the community. She lives in Guilford and helps out with a community garden that donates food to people in need.
Mrs. Finnegan is the only French teacher in the entire school district and is passionate about the French language.