'18 Juan Avila
Written by Marie Kane |
Photos by Steady Photography and Juan Avila
Juan Avila is now at Southern Connecticut State University. He chose this college because "they came in clutch." Southern offered him some money; he can commute, and when he met the soccer team, he felt at home. He is majoring in communications with a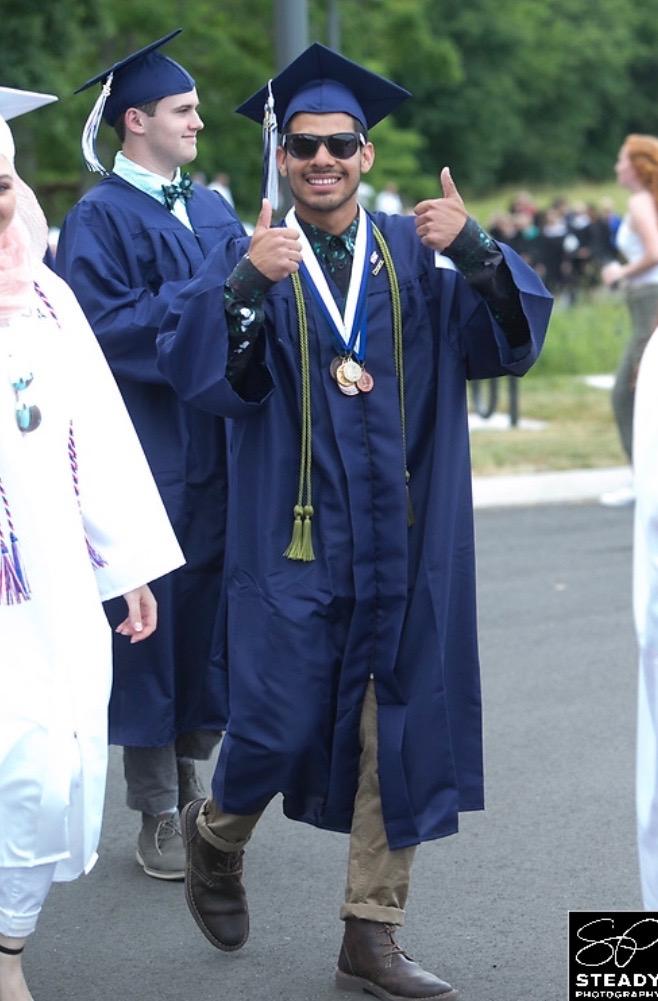 concentration in film/TV and media studies while minoring in marketing. Juan described college as chaotic because "classes are rad, freedom you have is crazy. Sports are super hard." In ten years, he wants to be working in a filmmaking agency or anything to do with videos or marketing.
Throughout his time at Morgan, Juan was known for his soccer skills. The community and support that he had from students at Morgan is what he misses about high school soccer, but everyone is on the same level for college soccer. "Everyone wants playing time. We practice like it's game day every single day."
Juan has had two major injuries this season with those being a torn muscle in his quad as well as a sprained ankle, but he has been learning a lot about himself and his ability. "I remember in high school I would complain about having a game 45 minutes away. Now when we have an away game, the closest ride is like three hours and the farthest was six hours, and we stayed the night." Juan described how the competition is super hard: "Everyone is so much older than you." He scored his only goal in college in a game against Saint Rose with 13 seconds left in the game. "I felt like I had just scored in the state finals again." Juan is thankful to have been part of a team. All fall athletes at Southern have to come in two weeks before everyone else which allowed him to meet a lot of new people.
Juan liked high school and knew he would miss it not because of school but because he had such a great time and made memories with a lot of his classmates. He said,"It felt good to walk up onto the stage and get your diploma." He misses a lot about Morgan. "We are such a small school so it was nice knowing everyone." Because Southern is a medium sized school, if someone is not in Juan's classes, he is not going to know them. He said, "I see new people every day that I haven't seen before till this day."
All of Juan's teachers from Morgan had an impact on his life.  Juan said, "I just want to thank all my teachers for believing in my ability and having patience when I had a lot of energy, which was every day."
His advice to Morgan's seniors is to enjoy senior year. " A lot of you are not going to the same college." He explained how it's hard not seeing his close friends in class. "Just be open minded in school and enjoy your last year."