What is Kindness?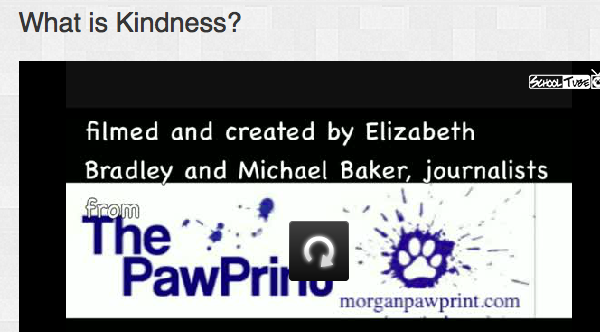 by Michael Baker |
video by Michael Baker and Elizabeth Bradley |
Kindness is treating others with respect, holding a door or even telling others they look nice. With the recent events at Sandy Hook Elementary School and the loss of 26 lives, there has been a movement to perform small acts of kindness. It is called The 26 Acts of Kindness, and between now and Memorial Day, The Morgan School and the town of Clinton want students and members of the community to record their acts of kindness.
The goal is for each of the students and faculty members at The Morgan School to commit 26 acts of kindness. If everyone makes the effort to show kindness towards others, Morgan will succeed in fueling the kindness revolution.
This video shows what students and faculty from our school think kindness is and what Newtown students think kindness is.  Follow this link for The Morgan School 26 Acts of Kindness t-shirt.  Follow this link to an official log sheet to record your 26 Acts of Kindness
Share the random acts of kindness you committed by commenting to this post!