Another Eagle Scout
Written by Quinn Pender |
Eagle Scout is the highest ranking level of the Boy Scout Program. A Boy Scout must pass a certain test and receive merit badges in order to become an Eagle Scout. He has to be active in his group for at least six months. He has to demonstrate that he lives by the principles of the Scout Oath and law in his daily life.
One of our very own Morgan students has qualified to be an Eagle Scout: Senior Aidan Esposito.  Aiden answered several questions about becoming an Eagle Scout. 
Q-How many years have you been in Boy Scouts?
A-"I Started when I was 10 so I have been in the Boy Scouts for 7-8 years".
Q- What project did you do to become an Eagle Scout?
A- "I met with a lady from the town garden by Pierson…they had wanted to put in electricity and a well for a while so for the project I dug a trench that spanned the entire garden. Then I laid the electrical conduit in the piping and then I met with an electrician to set the groundwork for what he was going to do with the electrical wiring to bring the electricity out to the garden. They had already had the well out there so they connected it to a timer so that they had a better irrigation system for the garden."
Q- Did you know you wanted to become an Eagle Scout?
A- "I knew when I first went into the Boy Scouts that I wanted to become an Eagle Scout. When I was 16, life got in the way, and I got distracted for a while and then started again".
Aidan shared his experience of being a Boy Scout when he was younger.
Q- Was it your choice to join the Boy Scouts?
A- "Yes it was my choice. They were advertising it, and I wanted to join, and my brother was also a Boy Scout. Over the course, I made a lot of new friends, and it's fun, but there is a lot going on, and it taught me a lot".
Q- How has being in the Boy Scouts helped you?
A- "Through the project, I learned a lot about independence and managing my time and finances. I also learned a lot of social skills through meetings with the electrician and the representatives to get the land z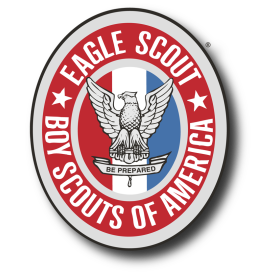 oned and prepared for the project. But scouting itself has shaped my morals and how I interact with others and go about my daily life."
Q- Do you enjoy being an Eagle Scout?
A- "I enjoy it. There are a lot of perks to it. It will help me with life and applying to jobs and colleges. It shaped how I live my life."
Aidan is a very hardworking student at the Morgan School. He commits to what he wants to do in his life and works hard for it. Aidan will continue to be a good leader when he leaves high school, and he will work hard to achieve what he wants to do with his life.