Mrs. Nunan: Consumer Science
Written by Melanie Coretti and Marissa D'Aniello|
Photos by Melanie Coretti|
Consumer Science teacher Joanne Nunan teaches culinary arts  to a small group of students downstairs in The Morgan School. She has a class of about 8 students who are all seniors. Her class teaches students about what it is like to actually work in a professional kitchen and gives them real life tips on the culinary industry and art.
She grades her students on three key points: preparedness, sanitation, and readiness. She explains that as long as the students come on time and are prepared, they will pass her class and earn a good grade.  Her students receive a weekly "paycheck" of the points earned during the week. She grades her class on a point system.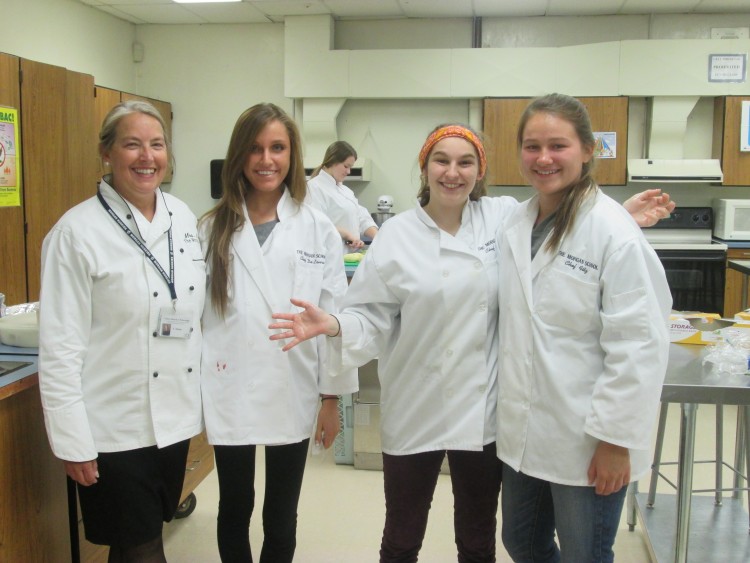 Mrs. Nunan explained who she and her class will cater for, "anyone who asks us to do something. We see what we can do." Mrs. Nunan says that she does not know the number of events she has catered to because there are so many. She started the teacher's Lunch Box program and Soup bar 8 years ago. The program is still successful and popular today with the teachers. Teacher's Lunchbox is a program that Mrs. Nunan created for teachers during professional development days. Students make teachers lunch. Teachers choose what they want from a menu created by the students. The students make the lunches to order and deliver them to the teachers.  The soup bar is offered in the teachers' room on certain days to any teachers who wish to purchase soup for lunch.
Mrs. Nunan has always been interested in the culinary arts. She shared with us how she always loved to cook in the kitchen with her mom and how she has a passion for it. This is Mrs. Nunan's 11th year working here at Morgan and her 31st year teaching culinary to students. She also shared with us how she cooks outside of school with a friend. She also cooks food for community service projects, such as Treats for Troops. Treats for Troops is a program in which she and her class make treats for the soldiers overseas.
Mrs. Nunan has created competitions for the students here at Morgan such as the Gingerbread House Competition where students construct a gingerbread house and submit it in her contest. Another competition she holds is her annual Cupcake Wars where students create their original cupcake ideas. Cupcake Wars has been going on for three years so far here at The Morgan School.
Mrs. Nunan says she hopes she gets more students in her class next year, and she hopes to see many students compete in the competitions!