CTeen Voice – Calling for Contributors
Written by Jensen Garcia |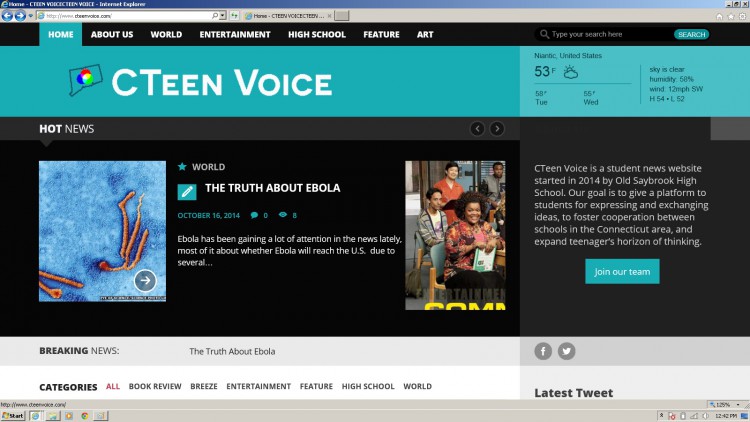 CTeen Voice, a student news website,  is a project of Old Saybrook High School Senior Heather Kuang.  Everything on the website is created by students. The goal is " to give a platform to students for expressing and exchanging ideas, to foster cooperation between schools in the Connecticut area, and to expand teenagers' horizon of thinking."  Heather has asked many other schools to help out with the project, including The Morgan School.
The Morgan School, along with Guilford, Valley, East Lyme, and Westbrook are trying to help out with this project.  For our school, Sophomore Jensen Garcia will be the president to help represent the school and encourage Morgan students to submit work to CTeen Voice.  Assisting her is Sophomore Marcus McDermott.  However, Morgan needs more students to participate. The Writing Department, that includes writers, editors, and reporters, are in charge of writing articles, editing articles, and going out and getting the information for the articles. The Art Department, that includes artists, illustrators, and photographers, will make up the gallery and photos on CTeen. Public relations will promote the website. Technology will maintain the website.  This website is not only limited to news, but it can include creative writing, photography, and art.
There will be a meeting for all that are interested on Wednesday, October 22, 2014, after school in room 43, English teacher Mrs. Leslie Chausse's room.  We welcome all students to come by to contribute to CTeen Voice.