Morgan athletes take their season seriously, but some of their seasons end before they expect. It is much more common this year to see someone walking down the hallways with crutches and a cast on their leg. Whether it's a brace on their knees or a boot on their ankles, many athletes lose the opportunity to play with their teams.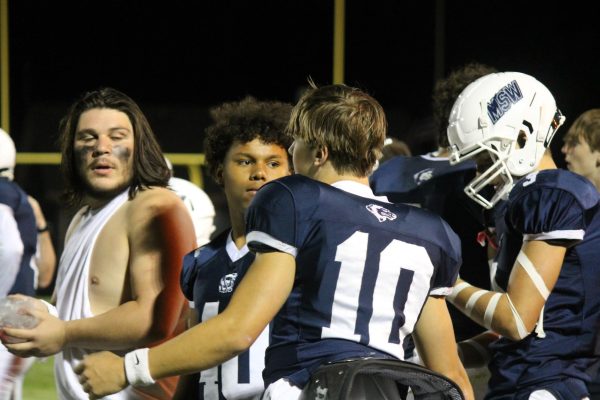 ACL injuries have been more prevalent in Morgan sports in the last two years. Senior football captain Tyler Baldwin is currently suffering a full ACL tear. During the game against Capital Prep, Tyler pivoted and felt his knee pop. He immediately went down and had to wait for his coach and teammates to come help him. On the sidelines, Tyler couldn't get up. His coach took him to the paramedic crew that is always present at the football games in case of injuries like this. Tyler sat out the rest of the game, and he will be out for the rest of the football season. Tyler's surgery is scheduled for November 20th. After the surgery, he will be unable to play any sports for 9-12 months depending on his recovery. Tyler didn't have the opportunity to play on his senior night and lost his senior season because of the injury. Tyler was an integral part of the season for the MSW football team as QB1. Now his team is trying to find their rhythm without him.
While the football team does have some prevalent injuries, so does Morgan Girls Soccer. Senior, Anastasia Jayne Luke, is out for the rest of the season as well. AJ's injury is just a smidge lower than Tyler's. AJ's full injury is a Tibial Plateau fracture and a possible torn ACL. Whether AJ will have to endure surgery is still yet to be determined. During a game against East Lyme, when going for a long ball, the goalie came out and tackled AJ. She immediately went down. She felt extreme pain and went down on the turf. Athletic trainer, Elizabeth Wegeler, waited a few seconds before going over to AJ. AJ got escorted over the sideline, but she immediately believed it was her ACL. AJ said, "I thought that it wasn't going to take me out for the whole season." AJ isn't only out for the rest of the soccer season, but she might also be out for the beginning of the basketball season, where she is a captain.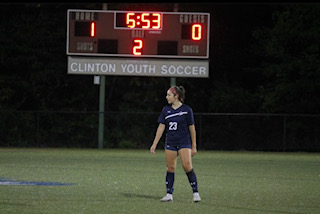 Junior Gabi Navarra has been on the sidelines for soccer for three weeks now. During their game against Haddam- Killingworth with three minutes left, Gabi went to block a ball, and she blocked it, but her feet got stuck on the turf, and her ankle completely rolled over and folded on itself. That incident left Gabi with a three tendon tear of her ankle. Gabi says that she "hopes to be back in a few days for the Shoreline Tournament."
Athletic Trainer Liz said, "The most gruesome injury I've seen at Morgan was undoubtedly the leg fracture that occurred at the East Hampton/Morgan Boys Soccer game." She said," I could hear the athlete's bones crack from across the field." The East Hampton player could no longer participate in the rest of his soccer season. That game showed the extent of how gruesome high school games get. There is discussion on whether the cause is the athletes, the coaches, or some say it might even be the turf that is commonly used for games.
Morgan Athletics' increase in injuries might keep rising with the upcoming winter season. Last winter there were a number of injuries.