Senior Glenda Zhiminaicela formally announced her commitment to Eastern Connecticut State University to play soccer on September 7, 2023. However,she was going to go there since March. Being named Player of the Year as a Junior, she set high expectations for herself. She was so excited when she learned about her new title. She said, "I was really excited and did not know the title existed because before there was COVID-19, and I was underclassmen." She also said, "Since I was a starting player sophomore year, I was scared of getting blamed because I was the younger and always felt like I wasn't good enough," but Glenda realizes that it all is "paying off."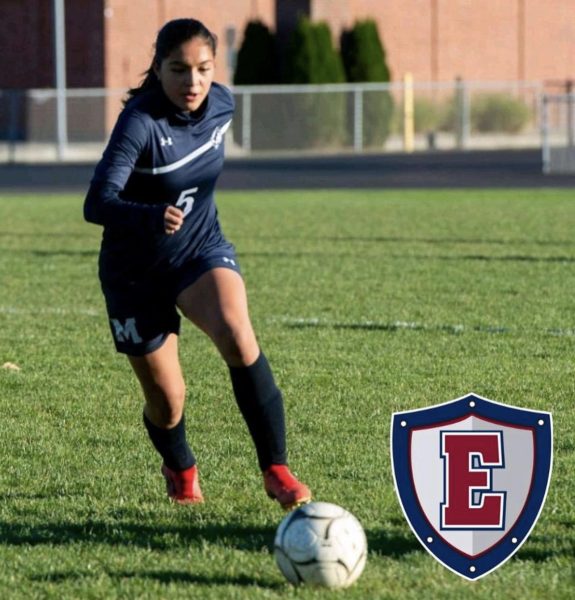 This summer, Glenda injured herself playing soccer, and she was not able to play at the start of the season. She said, "I was devastated when I broke my foot coming into the year because I felt the need to keep my title and keep up the reputation," and "I just love the feeling of going up and representing the school and my family and how proud they were of me and that I did a good job." She made a great comeback, as one of the captains of the Girls Varsity Soccer Team. She plays just how she did before the injury.
Glenda started playing soccer at the age of eight. She said, "I started playing in the third grade. I didn't do much because there were a bunch of other kids, so I started a little bit late from everyone else." She also said, "I didn't have a munchkins picture for my senior night." Munchkins is the first part of the youth soccer program here in Clinton, which participants start at age four or five. Glenda started playing Park and Rec soccer in third grade and was immediately told to join the travel soccer team for her age division the next year. The year after that, the travel soccer coaches recruited her to play premiere soccer, and she started playing for South Central Premiere. There was a coaching switch her mom was not too fond of at SCP, so Coach Steven Sullivan ended up giving her the recommendation to try out for another premiere team, Rush. She ended up making the Shoreline team, and the next year making the regional team, which she is currently still playing for.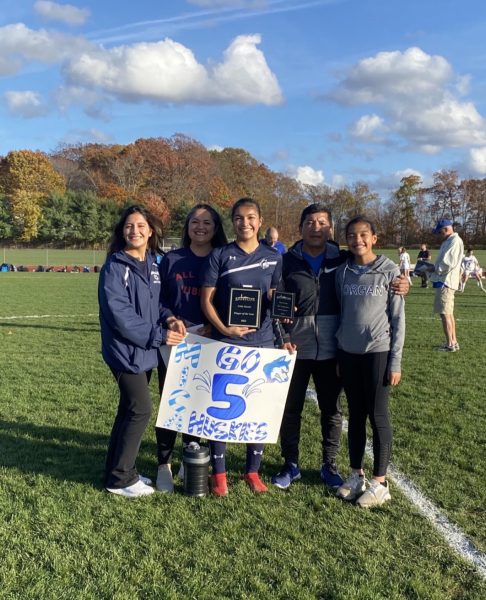 Even though Glenda has been playing since third grade, she still has a love for the sport. She said she kept her love for soccer through her family. She said, "I always had my family's support. They always make it exciting and bring back my love for it, like playing in the backyard during parties and family gatherings."
Glenda's dad inspires her to keep playing because he has always played and taught her. She said, "I want him to be proud of me and bring back memories of him playing." She loves soccer because of her family connections, but also because  "the game is so unpredictable, you never get bored of it." Her mom told her she always had to try, because if she is going to do something, she should do it to her best ability.
Glenda had many offers or recruitment from Division 1, 2, and 3 schools. She is not only the first to go for a sport, but also a first generation college student, which makes this process a huge deal. Glenda said, "The Eastern coach is my Rush coach, and she reached out personally to recruit me. I went for visits, and I love her style of coaching, and I met with the coaching staff and loved their sense of community at the school." She also wanted to go to a smaller school, and knowing she would have a spot on the team freshman year with a coach she loves working with was worth it to her. Other coaches still reach out to her, but she is committed and can not wait to follow her parents' advice and make a name for herself wherever she goes.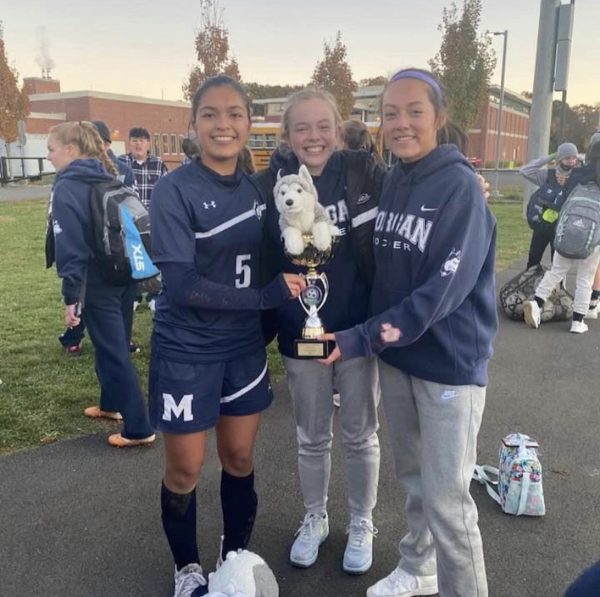 Glenda said, "besides soccer, I am passionate about my family. I also have strong family values and helping people out because even though I tend to not voluntarily do everything all the time, there are moments that I love to do it, like Interact Club and community service." She also said, "That is why I decided to go for physical therapy because I want to help others out and see their face cheering up when I am helping them. I also want to stay close to the sport I love and can do that."
For the future, Glenda plans to play soccer at Eastern and get a PhD degree for Physical Therapy or some other medical athletic field. She plans to take classes for physical therapy through UConn while attending Eastern as well to eventually get her physical therapy degree from UConn.
Glenda is a hard worker on and off the field. She said, "I hope to continue to grow as a player and a student and continue to be a good person in the community and do good," and she definitely will.