Senior Spotlight: Sebastian Kadlof
Sebastian Shares Memories, Goals, and Plans
What are three words you would use to describe yourself? 
"Caring, kind, and responsible." 
What are you most passionate about in life? 
"Soccer. I do it a lot. I have been playing soccer for 13 years now and every weekend I'm in a new place, and I've met a lot of great people through it. I want to play for as long as I can. So, yeah, soccer is my passion."
What is one thing you look forward to most after you graduate? 
"I'd say being in a new situation. College will be fun, and I'll be on my own for the first time. Other than Nature's Classroom I've never been away from my family for more than a week, so it should be interesting."
What are your plans for the future? 
"I verbally committed to play soccer at Eastern Connecticut State University. So I am looking to continue my academic and athletic career as a warrior."
Who has influenced you the most at Morgan?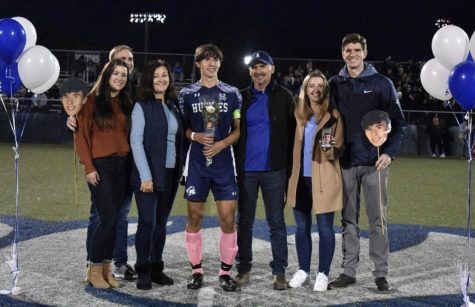 "I would say Ryan Richetelli. I really had no clue what I wanted to do with my life or my future. Then I stepped into his Personal Finance class, and I really found an interest in finance, economics, and business."
What are you involved in at Morgan and why? 
"I've played soccer, and this is my first year doing indoor track. I'll possibly play golf in spring. I also am a part of React and Interact, National Honor Society, and Spanish Honor Society. I am not really a club guy. I really just like sports."
What is your favorite part of Morgan? 
"Socially, Morgan is really good. Everyone is kind to each other, everyone is friends. We all get along. Previous graduates have not been too social, but this year feels different. There is a huge family culture here, which I love."
What is the best memory you have made in high school?
"I think beating Old Saybrook in the semifinals this year in penalties. Even though I missed, the relief I felt after we won was great. The come-back was sick. I mean it's hard to beat that. If I scored that would be insane, but you can't win them all."
What are you most proud of? 
"I'm most proud of the fact that I am a good role model. I've talked to parents with kids on the team, and they are all very grateful for how I treat my teammates, especially the young ones. I'm not just a soccer player, you know. I am their big brother. I am an actual person to them, someone they can always count on and talk to."
What is your goal for the rest of your senior year?
"I want to find a good balance between social life, soccer, and school. My social life is lacking right now, to be honest. I am spending too much time on assignments that won't matter in a week. But friendship, hanging out with friends, is what really matters, it lasts a lifetime. Getting an A in UCONN English would be nice, too."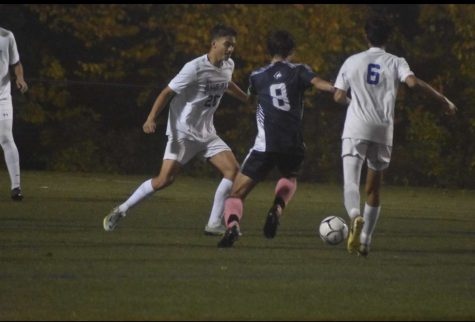 What advice would you give to your freshman self?
"This is cliche, but time really does fly. Also, don't mess up junior year, it's super important. Don't stress too much. It's just high school. Find your group; be with them; always stick with them. If your friends are going through a hard time, be there for them because you'll want them there for you too when you are struggling."

What is the most important lesson you have learned from four years of high school?
"Sometimes you have to put yourself first and do what is best for you. If you have been really stressed, just take a step back and let the assignment go. Do what is best for you mentally because you can always talk to your teachers and make something up, but you can't always fix your mental health. Put yourself and your wellbeing first."