Senior Spotlight: Sara Carey
Senior Reflects On Her Time At Morgan
What do you want to do after graduation?
"I just want to work a lot this summer; make some money. I'm excited to make new friends but keep in touch with my friends from high school because I love them. Spend more time with my family and travel a lot more. Traveling is probably my biggest one. Take things as they come. I'm not going to worry too much about the future or the past. I'm just going to focus on taking it one step at a time."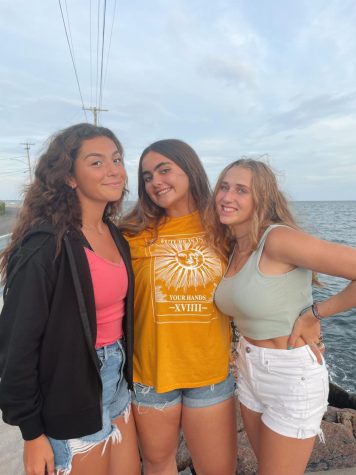 How have you seen yourself grow throughout your years here at Morgan?
"I feel like I am more in tune with myself, as a student. I feel like I have become less afraid to ask for what I need from teachers and other students. As a person, I feel like I have started to care less about what my peers think about me and more of what my group of friends and my family thinks about me because those are the people that matter the most to me." 
How did you know what you wanted to go study in college?
"When I was little, I wanted to do music. I had the wildest aspirations, but once I got to middle school, I realized I had no idea of what I wanted to do which is very normal, and especially in high school. I kind of freaked out a bit because I was like, well in a few years, I need to figure out what I want to do. Well, then I realized I don't need to know what I want to do, and the idea that you have to know is kind of a myth, honestly. I still don't completely know what I want to do, but I have found a passion for film and video editing in general through the classes at Morgan with Mrs. Mularski. Even though I don't know if that's what I'm going to go into, it's still something I can do going into college, and it's something I know I'm good at." 
"I still don't exactly know what I want to do, but you don't have to know. There is so much pressure around that, and I know so many people who have gone into college and changed their major at least 4 or 5 times before they graduate, and they still find something they enjoy doing. I do have a passion, and even though I'm not exactly sure what I want to do with that, I'm comfortable with that because I have more time than I think I do."
How did classes at Morgan help you find yourself?
"I've taken Intro to Communications, and then I took Video Production one and two, and then I took Live Broadcast. When I went into Intro to Comm, I really found it fun, and I realized I wanted to take more classes, because I found I was really good at it and my teacher was encouraging me too. With Video Production I worked with another student, and we both realized we were really passionate about it, and we bonded over our love for making videos. We stuck together and did Video Production Two, and it kind of came natural to us. We had a hard time coming up with creative ideas for videos, but for executing the ideas and actually putting them together was really easy for us. So, I decided to do Live Broadcast this year, which has been really fun. I love working with everyone and putting videos together and filming them. I could be having a really bad day at school, and I go to one of those classes, and it completely lifts me up, and I feel very comfortable"
What are your career plans?
"I plan on majoring in marketing and minoring in digital media. That might change, but I definitely want to do some type of job within film or editing but tying in marketing because I really like the business aspect of it all."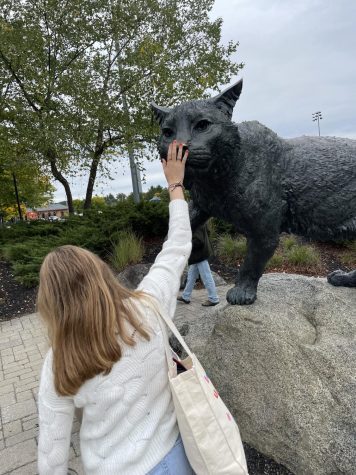 Who do you look up to?
"My sister, we have been really close since, weirdly enough, she went to college. We kind of just became best friends. She helps me through everything. I help her with everything. She has taught me so much about how to handle money, people, problems. Just literally everything, and I couldn't imagine life without her. She's my best friend. I can't explain the bond I have with her. Also, my mom and my dad, they have been through so much, but they are just such strong people who continue to give me and my siblings such a good life. Another person is my friend Sydney, she's been through so much and again, is such a strong person. She doesn't let what she's been through define her. She gets through hard days and comes out of it as the best version of herself. Someone at Morgan I look up to is Mrs. Mularski. She kind of gave me a boost in confidence. I had always known I liked to make videos, but I didn't realize it was a passion until she kind of pushed me and built me up to give me the confidence to keep making videos."
What's one story from Morgan that taught you an important lesson?
"My favorite part of Morgan is S.T.E.P. I think it's really important that everybody does go to STEP even if you are not the most social person or if you don't like to be in control of things, I still think you should try it. My problem going into Morgan was I was a very controlling person, and I always wanted to be in charge, I remember going into S.T.E.P. sophomore year and being very overwhelmed. I remember feeling so out of control because I couldn't control what was going on outside of school, so it really got to me because I couldn't control what was going on at S.T.E.P. either. But, Mrs. Hagness helped me take a step back and realize nobody is in control in a place like S.T.E.P., and we all share this power together, and we all have different qualities that come together and that this is a collaboration. It's not something that is just for one person, and that's what makes it special. It's more fun when you're sharing that control with everybody"
What are some of the struggles you have dealt with at Morgan? How did you overcome them?
"My academic struggles: I have always struggled with math, and I had a hard time asking for help, but I have luckily always had the greatest teachers that got me through that."
"For personal struggles, I was luckily never afraid to go to guidance and talk to those people. It's a lovely group of people in guidance. They are very busy, and they can't always take everybody, but when they can get you in, it's very meaningful and very impactful. Everybody in that department truly cares about what you're going through even if they don't have time for everyone every day. They try their best to make time for people, and they have definitely helped me through that"
What's your favorite thing about going to Morgan?
"I like the energy here. I feel like in the long run students come together. If something happens to us as a school, we all come together and support each other, or even for school events. It just takes that one person to get the energy going for everybody else, and there are tons of people like that in our school. We have really good energy and spirit. And although sometimes this can be a downfall for me, everybody's really competitive and driven, and I think that's what makes all of us so successful, so at the end of the day, I think that's a good thing."
If you could take one memory from high school, and keep it in a locket for the rest of your life, what memory would you choose?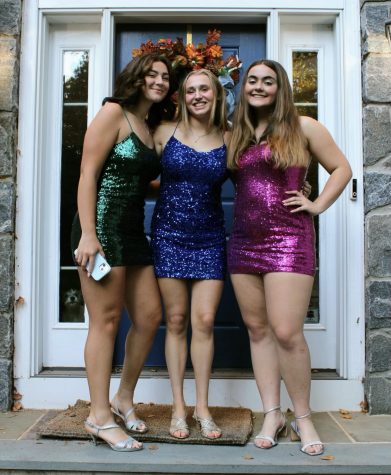 "Honestly, If I had to put one memory in a locket, it would be any memory from high school that I had with my best friends because those are my people, and those are the people I feel most myself and loved around."
What are some of your interests/ passions?
"I love, LOVE going to concerts and listening to music, I love analyzing films and TV shows. I like going for walks and trying new foods. I love watching the sunset and taking pictures."
"I'm very passionate about helping people. I also love making and editing videos. Editing is my favorite part. I would edit a video right now for you if you asked me to. I also like to read."
Where are you going to college, and how did you choose?
"I'm going to the University of New Hampshire. I love the location. It's really close to Portsmouth and Maine. It's really close to the water. The staff there, I've heard, is so nice and helpful. People that go there have told me they never have a problem connecting with teachers or asking for help. I love the way the school is set up. It's the perfect amount of students."
What are you involved in at Morgan?
"Involved in Spirit Squad and Police Youth Group. We do fun things like go-carting and stuff like that. Also, the Daily Dog Pound"
What advice would you give to your freshman self?
"Don't worry about everything. Stop wasting your time being so miserable because, in the end, it doesn't matter that much. Have fun and surround yourself with people who truly love and care about you. It's okay to lose friends or have bad days or struggle in school because in the end, you come out stronger."