On October 18th, 2023, the Morgan Volleyball team hosted their annual "Dig Pink" game to fundraise for breast cancer research. The team created raffle baskets, and decorated the gymnasium in pink to support the cause. The proceeds from the night were donated to the Side Out Foundation, a volleyball organization that donates to breast cancer research and treatment. The Side Out Foundation helps volleyball teams host "Dig Pink" games to raise money.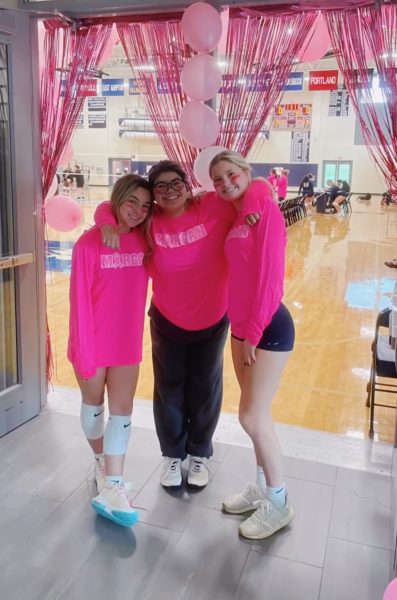 As a senior on the Morgan Volleyball Team, our "Dig Pink" game is one of my favorite traditions. Being able to decorate the gym and make fun raffle baskets while also supporting a good cause is something very special to me. The tradition brings our team closer together and helps the community by fundraising. Senior Captain Ainsley Corgan said, "I think that Dig Pink is a very big game, and it's very important because it shows love to all the people who have fought before and shows that we stand with them". Similarly, Senior Captain Anna Fasulo said, "I think it's important for us to do Dig Pink because it shows how much people care about this cause and having something dedicated to it is very helpful to raise awareness." JV coach Laura Luther said, "We need to honor those who fought the battle and lost, honor those who fought the battle and won, and keep fighting for those who are fighting it currently. We also need to connect ourselves to our community outside of Morgan".
Many spectators came to the game to participate in the raffle, donate, and support the team during the game. The crowd is flooded with pink as the Dog Pound theme to support the cause. Morgan JV won 2-0 and Varsity won 3-0. In between the second and third varsity set, the raffle baskets were given away. The baskets were themed for movie night, baking, crafts, Halloween, and all things pink.