By Elizabeth Bradley|
In 2012, a student versus teacher basketball game was just a small idea that surfaced in the minds of PaulMichael Mullally, The Class of 2014, and me. Half of the proceeds from the event would go to The Class of 2014, and the other half would go to the charity of choice. The first year of Swoosh For Change about 200 people attended the event and half the proceeds benefitted the non-profit organization KONY 2012. After our first-year trial run, PaulMichael and I saw the potential for Swoosh to become huge.
In 2013, we held the second annual Swoosh for Change on  March 14, 2013, in gymnasium A at 6:30. We had about 400 people come out to support The Class of 2014. as well as our fundraiser of choice, The Chase Kowalski Fund. That night we raised a grand total of 2,000 dollars. PaulMichael and I were honored to have the Kowalski family attend the event, where we also had the chance to meet them and share in everyone's excitement.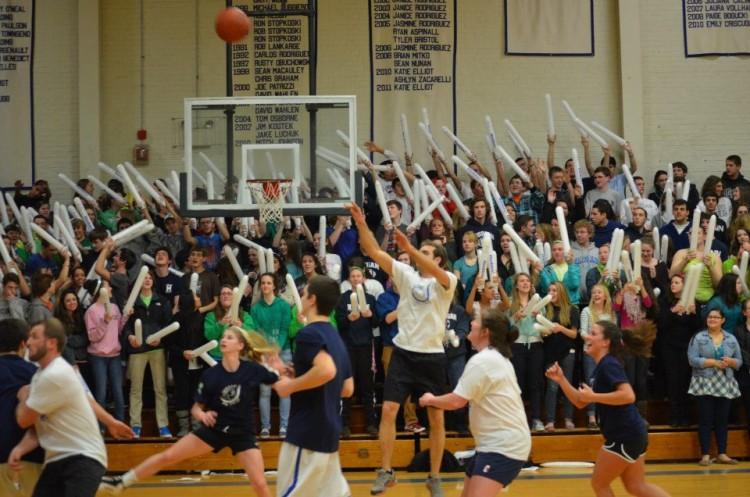 Now we are here in 2014, our graduation year. The class of 2014 is saddened to have to let go of our "baby," as we refer to Swoosh,after we graduate. PaulMichael Mullally, Mrs. Fasulo, and I are excited to announce that the Student Leadership Society (SLS) will continue this successful night in the future, but we are not gone yet. The Class of 2014 still has one more Swoosh for Change planned, and there is no doubt it is going to be the biggest and the best anyone has seen yet.
The Swoosh for Change task committee has launched a community wide spirit campaign referred to as We Are Morgan. I asked co-coordinator, PaulMichael Mullally, how the idea of We Are Morgan came about, and he said, "The chemistry in this building is phenomenal. It's not your stereotypical bitter-high school environment. The resilience and pride the teachers demonstrate for the students and vice versa is invaluable. We Are Morgan is simply a celebration of who we are as a school, community and family." Go to the Swoosh for Change Facebook page to download 'We Are Morgan' t-shirt order forms. We encourage students, faculty, alumni, community members, or any one that wants to sport Morgan pride to buy one!
Thursday, March 13, 2014, the Morgan School will hold the 2014 Swoosh for Change kickoff. During a school wide assembly, students will view a video created by co-coordinating seniors, PaulMichael Mullally and Liz Bradley. Visit the Swoosh for Change Facebook page where you can see the highly acclaimed trailer! After Morgan watches the video, it will be available to view on the Facebook page for the general public! Also, after the #WeAreMorgan video, there will be a lottery drawing to select the 15 student players from an outstanding number of student applicants. Next, the faculty team will be announced!
On Friday, March 21st, 2014, the doors of gymnasium A will open at 6:30, and everyone will be able to file in for a night of fun and laughs for a good cause! Just a hint, the earlier you get there, the more likely it is that you will get a noisemaker give away at the door! At 6:45, the kick off will begin; players will be announced, and other pre-game surprises will be completed. At 7:00 the game will kick-off, and the audience will witness the Morgan students battle the Morgan faculty, with surprise guests from the other district schools, such as physical ed instructor, Nate Jacobson, from Joel Elementary School. 
As well as the game, there will be a half time show preformed by the band, Summer Came Slowly. Two Morgan Students, Kevin Moran and Paige Pellegrino, are part of the band. I asked drummer, Kevin Moran, how he feels about the upcoming performance, and he said, "I think it is a setlist that has a good amount of crowd pleasers even though everyone might not know every song. It is definitely going to be full of energy, and it's going towards a great cause!" Also, there is going to be concessions and booths out in the lobby! Attendees can purchase snacks, drinks and even pizza supplied by Palmeri's in Clinton.
The Swoosh for Change task committee is proud to announce this year's charity is The Cove. The Cove has many centers that "provide family and school-based programs utilizing the peer support group concept for helping children, teens and families work with their unresolved grief due to the death of someone significant in their lives and other traumatic losses." Student, Erika Renkl, attended Swoosh for Change last year to support the Class of 2014 and The Chase Kowalski Foundation. I asked her how she felt about this year's charity of choice, and she said, "It is good that they are basing the charity off of people our age. I know that a lot of people in this school have recently lost family members so the charity of choice seems appropriate. I am excited for this year's event!"
If you are looking for a good time for a good cause, bring family and friends to The Morgan School Friday, March 21st, 2014. It is five dollars at the door and free for children three or under!