The Shoreline Spartans is a rugby club based in Clinton, Connecticut. The team has players from all over the state, including, Clinton, Deep River, and Chester. The Shoreline Spartans Rugby Club was created in 2015 with 7 players showing up to practice. Three years later the high school boys team was formed. The club has grown to over 125+ participants from grades k-12. Sophomore Sean Bourgeois said," I love the Spartans because the coaches and players are very welcoming and supportive of new players. The coaches also teach valuable skills in and outside the field. The club is big on friendship and more than just teammates." Players connect with each other whether they are on the opposing team or not. Everyone eats together after the games and the players talk to each other and have a good time after just hating each other.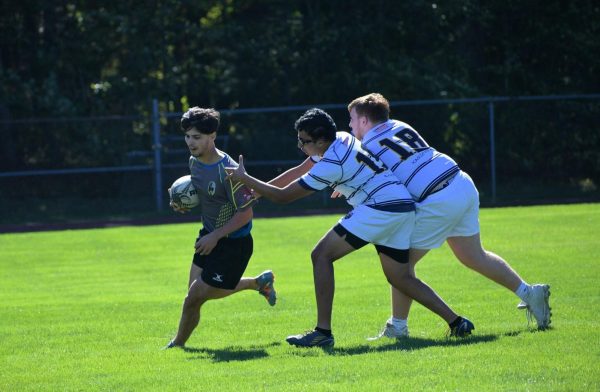 Sophomore Nicky Hicks also loves playing for the Spartans. He said, "The team feels like family, and I've met some of my best friends by playing." He also explained why he chose rugby over other sports.  He said, I found it enjoyable, and I decided to stick with it, and the practice schedules aren't crazy. It's only 2 weekdays for 2 hours." 
Head Coach of the Spartans Mike Meyer believes that rugby isn't just about the game. The Spartans do lots of charity work.  For example, the team had an annual toy drive for the kids of the Boys and Girls Village. Also, the team supports the town of Clinton by helping with family movie nights on the beach and doing multiple beach clean-ups. The Spartans have sent many past players to colleges
where they have had successful college careers. The team has sent players to Fairfield University and Southern Connecticut. The coaches of the Spartans have all been playing the sport for years, and some have even played overseas in Paris and England. Some have been friends since college where they were on the same team.
Overall the Spartans is a great organization built by people who want to build a sport and community they love.