Class of 2025 Holds Volleyball Tournament
All Community Members Are Welcome
The class of 2025 student government is holding a volleyball tournament to raise money for their junior prom next year. The tournament will be held on April 26th. The tournament will take place in the Morgan gym at 6:00 P.M and the doors will open at promptly 5:30 P.M. This event is planned by the class advisors, Diana Rizzo, and Jessica Lynch. To sign up for the volleyball tournament, see Ms. Lynch or Mrs. Rizzo. All must have money turned in when signing up.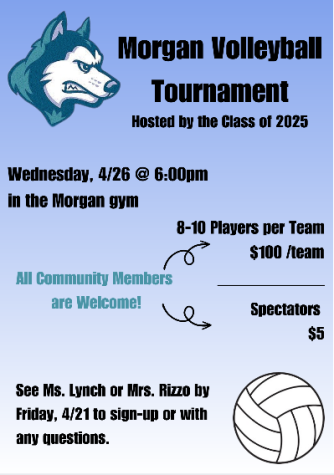 All the teams must be registered by Friday, 4/21.
Here is the schedule for the tournament: 
Wednesday, 4/26
5:30 – Doors Open
6:00 – 7:00: Round Robin Play
-2 games to 11 against each team in the bracket
-Tiebreakers go to point differential
The round Robin play is where teams play one another an equal number of times, accumulating points as they win (or none if they lose).
7:00-8:00: Elimination Play
-Top 4 Teams play; two semifinal games and one finals (Best 3 out of 5, games to 15)
Money for the tournament: 
Price to Play ($100 per team; 8-10 players per team)

Price for Spectators ($5)
Sophomores, Kierra Baker, Alyssa Ruthstrom, Ava Ruotolo, Angelie Jaramillo-Navas, and Riley Brauchler made a playlist for the tournament. 
Volleyball Tournament Playlist:
Where Them Girls At – David Guetta, Flo Rida, Nicki Minaj
Just Dance – Lady Gaga
Unstoppable – Sia
Time of Our Lives – Pitbull
You Make Me Feel – Cobra Starship
House of Memories – Panic at the disco
On the Floor – Jennifer Lopez
Superbass – Nicki Minaj
Starships – Nicki Minaj
Me, Myself, and I – Bebe Rexha
That's My Girl – Fifth harmony
Symphony – Zara Larson
Edge of Midnight – Miley Cyrus, Stevie Nicks
Pray For Me – The Weeknd
Yo Voy – Zion, Lennoc, ft. Daddy Yankee
Better Now – Post Malone
Lush Life – Zara Larson
Hey Mama – David Guetta, Nicki Minaj
Pound The Alarm – Nicki Minaj
Superheroes – The Script
Adventure of a Lifetime – Coldplay
Getaway Car – Taylor Swift
Delicate – Taylor Swift
…Ready For It? – Taylor Swift
Lights – Ellie Goulding
Stronger – Kanye West
Live Your Life – T.I., Rihanna
Run This Town – Jay-Z, Rihanna, Kanye
Dynamite – Taio Cruz
Don't Stop the Music – Rihanna
The Show Goes On – Lupe Fiasco
No Lie – Sean Paul, Dua Lipa
Whatcha Say – Jason Derulo
Can't Hold Us – Macklemore, Ryan Lewis
Fire Burning – Sean Kington
C'Mon – Kesha
Die Young – Kesha
What's My Name – Rihanna, Drake
My House – Flo Rida
Blow – Kesha