New Athletic Trainer: Liz Saunders
Experienced AT Joins Our Morgan Family
After losing our previous Athletic Trainer, Ron Buchetto, Morgan recently welcomed the newest face to our Morgan family Athletic Trainer Elizabeth Saunders, otherwise known as Liz. After spending almost more than half the first semester of our 2022-2023 school year without an official trainer, Liz officially started in December 2022. Before Liz officially started, athletic director Meagan Sears made sure that we had local volunteer EMT's at the majority of our home games. Liz was one of the volunteers. 
Liz has been an athletic trainer for over 8 years now. Prior to joining the Morgan family, she had a long journey to get here. She received her bachelor's in athletic training at Southern Connecticut, graduated in 2015, then got her master's in Ohio, from Ohio University in 2017. Liz said, "While I was there, I worked on D1 football at Ohio University, and I also covered at a local high school." Liz enjoyed her work in Ohio immensely. . When she moved back home, she worked as an athletic trainer at East Lyme high school for four years before coming to Morgan. 
Before all of this, Liz unexpectedly ended up falling in love with athletic training through a school art project. "We were drawing anatomy, and I drew a hand holding a basketball, and I really got enthralled in the knowledge of anatomy." As a student athlete at the time, injuries were a common experience with her, and she grew a close relation with her athletic trainer. She "learned how relational the profession is, like we get to see our patients from before they even get injured, and throughout their entire recovery process."
"It's a very relational form of medicine and I love that," Liz mentioned.
The title athletic trainer often makes people think that they live in gyms, and teach and train people, which they do not. Liz explained that "athletic training is an allied health profession, and we are proficient in injury evaluation and diagnosis, both orthopedic and general medical, immediate and emergency treatment, as well as rehabilitation, and health care administration."
As mentioned in Olivia Ruotolo's article, The Two Most Important Letters in Sports: A & T, athletic trainers are very important for the success of school sports and athletes. Medical Director of Sports Medicine Tom Pommering said, "They serve as a valuable member of our team assisting in the treatment and prevention of our athletes' injuries."
When athletes initially get injured on the field, court, or wherever they are playing their sport, having immediate medical attention can be crucial for the health of the athlete. This initial care can make or break an athlete's future career.
On Monday, January 2, 2023, during the Cincinnati Bengals vs the Buffalo Bills NFL game, the Bill's Damar Hamlin suffered a terrific accident. About nine minutes into the game,
Hamlin tackled Bengals receiver Tee Higgins after a 13-yard catch. Higgins and Hamlin collided with each other at full speed, and Hamlin was hit in the head and chest area. As mention in an article from The Insider written by Andrea Michelson, at first, Hamlin stood up just like after any other tackle, but after a few steps, he collapsed backwards, and his entire body went limp.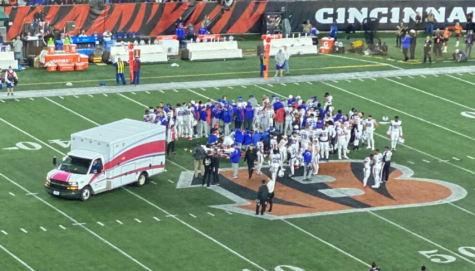 Luckily, he was able to receive immediate medical care from the athletic trainers and EMTs on the field. He suffered cardiac arrest on the field, and was given CPR and was shocked with a defibrillator. He was sent to the hospital in an ambulance immediately, and as of Tuesday, he was still in critical condition.
If it wasn't for those athletic trainers on the field, and the immediate medical staff there during the game, Hamlin would not have made it. This is why it is crucial for medical staff and athletic trainers to be at every sports game. Though Hamlin's injury is very rare, anything can happen during a sports game no matter the age of the athletes and what sport is being played. 
There are many ways someone can become an athletic trainer for their career. Liz's best tip to have a successful career in either athletic training or anything you are passionate about is to find a mentor. "To find a mentor, find someone who can teach you about the profession because I firmly believe that the connections that we make, are what furthers us, in our path."