Never Again-Never Forget
Holocaust Survivor Speaks to Ninth Graders
On April 26, Morgan had the privilege of having a guest speaker who lived through the Holocaust. The speaker's name is Andy Sarkany, and he was a child during the Holocaust. He was born in Budapest, Hungary on October 31, 1936. Andy shared his experiences and how he was protected by his community to avoid being sent to a concentration camp. He shared how some of his family members were sent into concentration camps and the agony they experienced there. Unfortunately, there were some technical difficulties during Andy's presentation, some of his slides were not working correctly so most of the pictures that he wanted to show were not displayed. Andy worked through the technology trouble and still managed to have a great and informative presentation.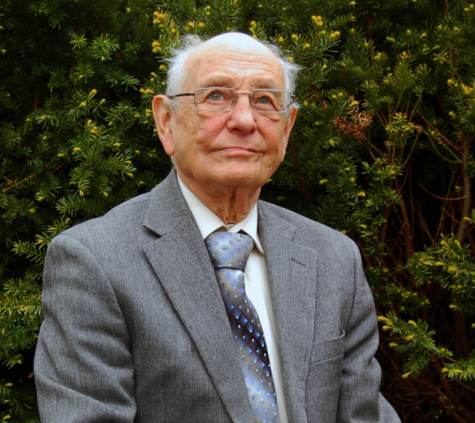 Andy continued to repeat one sentence "You can not be a bystander in your life, speak up." He shared the poem "The Bystanders Credo" by Martin Niemoller and explained that you will benefit more from standing up than being a bystander. He also mentioned that you should never say the word hate, but instead replace it with words like "love" and "hope." Fortunately, Andy was able to escape Hungary and immigrate to America. He received his bachelor's degree from Tusculum College in Tennessee and his Master of Science degree from Washington University.
Social Studies teacher Max Ames, who organized the presentation, said that Andy's presentation was extremely poignant and insightful. He found out about Andy through English teacher Eric Peterson, who had him as a speaker when he taught at a previous school. Mr. Ames thought that hearing about Andy's experiences during the Holocaust was as engaging as it was heartrending, and Andy's wisdom made him a great speaker. He liked how Andy connected the past and the present on issues of hate, fear, and freedom. Specifically, Mr. Ames enjoyed the story Andy told about his grandmother manipulating the Nazi invaders to secure the safety of her family. He also thought the story about a dog being killed by the Nazis simply because it belonged to a Jewish person was heart-wrenching.
Social Studies teacher Diana Rizzo thought the speaker was very informative and passionate.  She enjoyed the stories. She was touched by one specific story Andy told. He was seven, and he was walking to school. He was spit on and beaten for simply being Jewish. Mrs. Rizzo said that it was extremely effective to hear real-life encounters of the Holocaust, since the freshmen have recently learned about it. She said she would like to get another speaker if possible, so there can be different perspectives and stories. She is extremely thankful and thinks that we were very fortunate to have him at our school. 
Freshman Olivia Siciliano said that she thought the presentation was very interesting, and it was cool to see somebody who had lived through such a horrible time. She said that after learning about the Holocaust for so long in history class, it was good to see it come to life and hear that all the stuff she had learned about was true. Freshman Aleia Aleman said that Andy's stories were very eye-opening. She hoped they taught everyone how real and serious the Holocaust was. She said that she is glad that we had the opportunity to hear him speak because not many people get to talk with a Holocaust survivor in their life.