Morgan Football Turnaround 2021
Coach Sullivan and the Huskies focus on "What's Important Now" (W.I.N.)
The Morgan Football team has had a great start to their 2021 campaign. After losing the home opener to Cromwell/Portland on September 10th, the Huskies have won 7 straight games and are currently sitting at 7-1. Morgan is currently ranked 7th in Class S, and 62nd in the state overall.
In recent years, Morgan Football was not as successful. Morgan hasn't won more than 3 games since 2016 where the team went 6-4. The last time Morgan was in the playoffs, they finished with a regular-season record of 9-1 in 2015.
So what has changed this year to lead us to this start? Players say a lot can be attributed to the new head coach Kevin Sullivan.
Coach Sullivan had plenty of football experience before coming to Morgan. He won a state championship with Holy Cross in 2006, and after graduating in 2008, he played at Kings College in Pennsylvania. Coach Sullivan started coaching youth with the Waterbury Patriots before returning to Holy Cross and taking the freshman coaching position. He then went to Avon HS where he was a varsity receiver coach and then a quarterback coach. Following Avon, he arrived at Newington High School as special team and receiver coach but became the offensive coordinator and quarterback coach. All of this experience helped make Coach Sullivan into who he is today.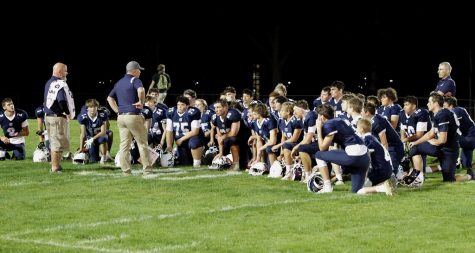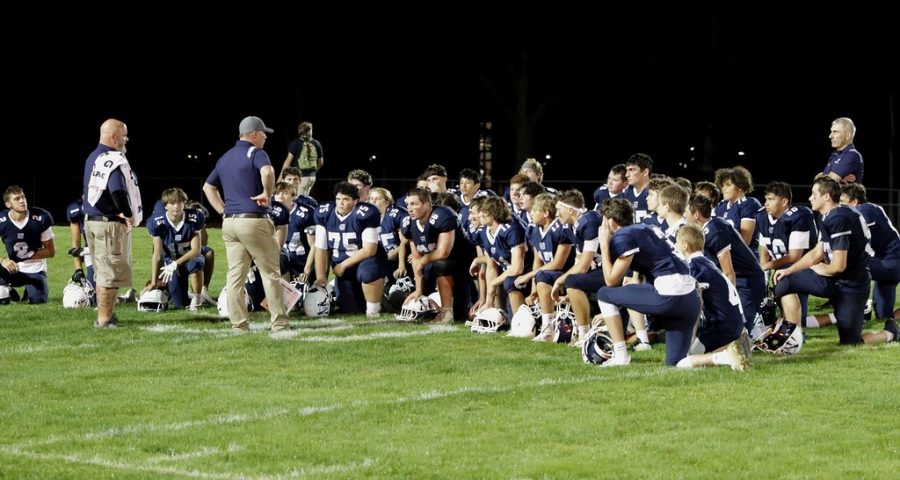 Coach Sullivan mentioned the biggest difference between Newington and Morgan is the size. For our whole team this year, there are 3 coaches (Head Coach Sullivan, Assistant John Bozzi, and Assistant Jim Lewis), whereas, at Newington, there were 7 just for varsity. Transferring from an assistant to a head coach is another big difference, and Coach Sullivan mentions that there was a lot that he thought he was prepared for, but he really wasn't.
Coach Sullivan lives in Plainville, CT with his wife Tessa and his 2 dogs Kylo and Marcy. He works as a Physical Therapy Aid in Waterbury. His day consists of working from 7:00 am-2:00 pm, going straight to practice, practicing from 3:15-6:30, getting home around 8:30 pm. While it is a very long day, he says that his wife helps him and supports him with all of it.
Sullivan said that for the remainder of this year and in the future, "We are going to keep working and building the foundation. Keep repeating exactly what we've been saying. 'Trust the Process.' One day at a time, one play at a time. Build that family and build the culture we want, but most importantly have fun."
Morgan School Athletic Director Lewis Pappariella talked with players and the parents about the qualities they wanted in a football coach. He was part of a committee that selected head Coach Sullivan. There were many candidates for the head coach position, but Mr. Pappariella saw something different in Coach Sullivan. He saw his passion for the season and off-season, grind to get better, and his desire to inspire all the players to work harder. Mr. Pappariella liked the idea he had for the team ¨Molding good players into good people¨ because Coach Sullivan believes playing football can translate into the real world by developing leadership and perseverance in the players.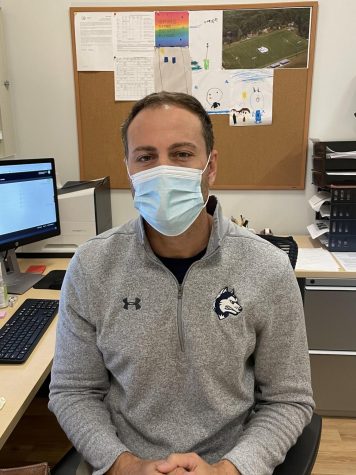 Mr. Pappariella, a 'football junkie', loves to come out and support the football team. He sees the adjustments being put in place and how it changes the whole outcome of the game. The team is more consistently playing at a higher level with fourteen seniors on the team and a great coaching staff. Mr. Pappariella's important message to the players is their ability to play 'All Gas No Brakes' (Coach Sullivan's motto). He enjoys seeing them play under the lights with The Morgan School community in the stands cheering them on.
Mr. Pappariella sees the players together in school and outside of school. He knows what type of people they are. The fourteen seniors this year are helping out the team by encouraging the underclassmen and using their leadership skills to inspire them to keep getting better and working harder for the Morgan Football turnaround.  Every game matters this year. He encourages the team to make this season a special season, to keep fighting for the playoffs.
In-School Suspension supervisor Robert Cullen and former assistant coach for the Morgan Football team stepped away from the position: 'I want to be there, but unfortunately, if I can't put 100% effort into the student-athletes, then I shouldn't be a big part.' Mr. Cullen's decision to step down was a hard decision, but he felt he could contribute in other ways. He connects by talking to players and pushing them to keep chasing whatever they're chasing. Mr. Cullen also helps kids who want to play football find the motivation to try out for the team and just have fun.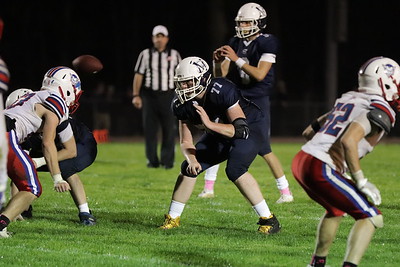 Freshman Logan Ryan who only played one year of youth football was excited to start something new and learn new skills. He said "I've always been a big kid, so I kinda just fit right in." He played different sports growing up.  One of Logan's highlights of his football career at The Morgan School is starting varsity as a freshman. Logan puts in the work to be in the spot he is in right now, always trying to improve and get better for the years to come. Logan feels great about the seniors and their leadership. He knows the underclassmen will be prepared for the next season because of the determination the seniors have. Once the class or 2022 graduates, the underclassmen understand there are shoes to fill.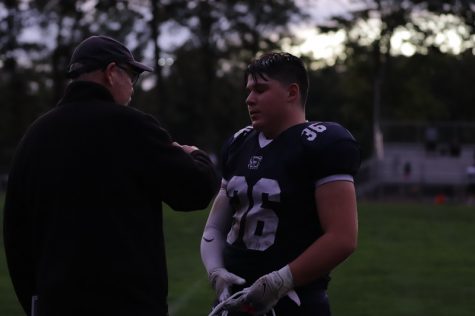 Sophomore running back Casey Corrigan played his first year of high school football competing in a 7v7 league with no pads because of COVID-19. He feels ecstatic that this season he is playing varsity full-time. Being able to hit someone on the field this year feels amazing compared to last year. The seniors motivate Casey to get into the gym, keep getting better, and to encourage his teammates to work hard to be great role models to the lower underclassmen. The team will need the wide receiver group next year. They feel confident that next year with their strong line coming back, they will continue the success the team currently has. The work of the seniors will help Morgan Football to keep winning even after the seniors graduate.
Junior Seamus Staunton has been playing since he was a freshman. Seamus said he plays football because "When I start something, I have to finish it." He is ready to be a senior leader next year for the team. His determination and leadership will be radiating off to the freshmen and the underclassmen when he is a senior next year.  According to Seamus, since he was a freshman, ¨Seniors, would skip practice".  Kids would show up whenever they wanted, and there would be no punishment. Seniors now come to practice and are ready to work hard. Seamus worked with Coach Nye for two years.  He said Coach  Sullivan has good intentions. He might get mad sometimes, but he does everything with meaning and wants the best for the players.
Senior Captain Alex Fratamico has played a major role in Morgan's offense since just his sophomore year. Standing at a towering 6'4, he is the ideal target for any quarterback. Alex, a wide receiver, still grew as a player during the non-contact 2020 football season. Alex said, "It was pretty tough, however, I thought it was fair because football requires a lot of contacts. It was still disappointing to see the other sports at Morgan have a mostly normal fall season, but not ours." Since freshman year, before this year, a lot of these seniors have won a total of 4 football games throughout their careers.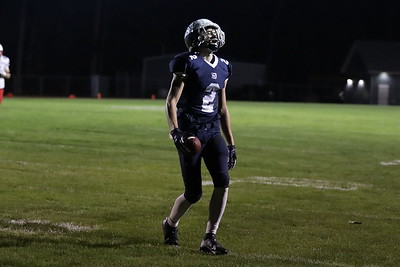 Alex said that his favorite part about this year is winning. He said that after struggling for years, it is a great feeling to finally win games. Alex shared how he felt about the transition from former head coach Peter Nye to Coach Sullivan. Alex said that a clean slate provided by Coach Sullivan was the best thing for us. Alex also gave shoutouts to former Morgan players like 2020 graduate Liam Whelan and 2019 graduate JP Nye for helping him throughout the years. Alex had very positive thoughts about this season going in because he felt great about our new coach and the hard work of the players during the off-season.
As of 11/15, Alex is currently 5th in the state in receiving yards with 787 through 8 games (98.4 avg). Alex also has 56 receptions which is 2nd in the state. His 12 touchdowns put him in a four-way 4th in the state for all receivers.
Senior captain Jordan Armstrong has more love for football than anyone in the building. When his junior season was canceled, he was extremely angry. His biggest complaint about the state's decision was "they got our hopes up for weeks just to shut it down right before the season." Jordan said he is so thankful to be able to step onto the field one last time with pads on. Jordan said that at first the transition from Coach Nye to Coach Sullivan was odd, but the entire team became acclimated to him extremely fast.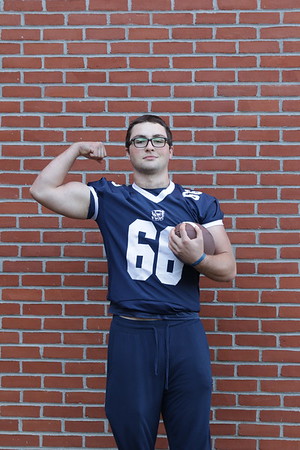 Since Jordan's freshman year, Morgan hasn't been as successful as he thought they should have been. He knew that there were people putting in a lot of hard work, but the results didn't show. His words about this season were, "Never count anyone out." He related to one specific game against Sports and Medical Sciences Academy (Co-op) on 10/16/21, at Hartford Public School. Morgan was down by 28 points late in the 3rd quarter (42-14) but proceeded to score 30 unanswered points to win the game 44-42. This game tied the all-time state record for the largest comeback win.
Going into the season, Jordan had his doubts about certain aspects of the team and how they would perform, but as the season progressed, most of the doubts went away. There is always something to improve upon, and Jordan is always encouraging his teammates to work hard in practice.
Another player having a phenomenal season is senior captain Garret Garbinski. Garret has been a big part of Morgan Football's program since his freshman year when he played cornerback. Sophomore year many of the key players from the year before graduated, which led to him needing to step into a bigger role. That year the team went 1-9, but it was a big growth year. Many sophomores were starters that year, which Garret has credited a lot of this year's success to.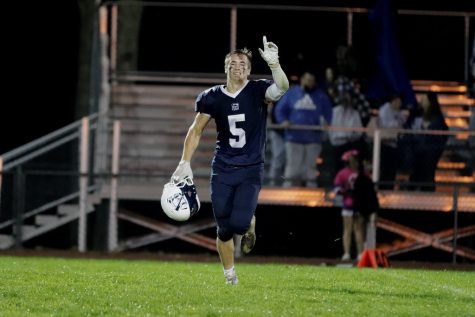 One thing Garret spoke about was learning a completely new playbook this year. A new coach means new plays, which in football is very hard to learn quickly. During "Grip It and Rip It" which is a 2 day long 7on7 tournament that Morgan players competed in at New Canaan High School, the new plays were put to the test for the first time. Garret said that it was frustrating and all anybody wanted to do was run the old plays. Once the preseason fully started on August 18th, he said that he knew he had to adjust.
Garret's love for football goes back to second grade when it was just catching a ball and running. He recalls his 8th-grade season when his team won the championship. The team went from barely winning any games, to going almost undefeated. He is hoping that for his final year the team can repeat that magical season. He labeled this season as a "revenge tour" because he wants to beat every team that beat up on us 2 years ago.
As of 11/9, Garret is 5th in the state in receiving yards with 724 and tied for 7th in touchdowns with 10. Garret has also contributed greatly in the run game and on the defensive end.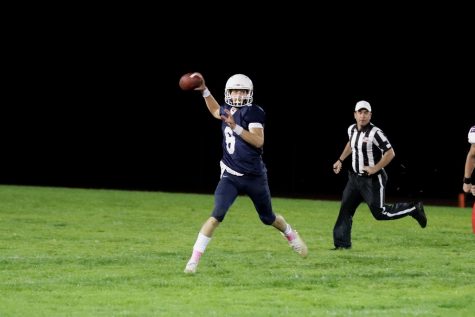 The final player we spoke to was a senior captain and quarterback, Drew Nye. Drew has had the most unique high school career out of any of the players. He came in as a freshman while his brother JP Nye was entering his senior year. JP was able to help Drew grow into the player he is today by working with him outside of practice to help him get better. Another family member that has been a major part of Drew's success this season is his father and former head coach Peter Nye. Drew said that he and his father are always talking about football. Drew described him as his mentor who taught him at a very early age to dream big.
Peter Nye's story goes as follows: he graduated from Bristol Eastern in 1989 and went on to pursue academics at Bowdoin College. He wasn't the greatest receiver in high school, but after his freshman year at Bowdoin, he grew from 6'2 to 6'4 and worked extremely hard in the off-season. After breaking a few school records and continuing his hard work, he received a roster spot from the New York Giants. In the summer of 1994, he played in summer camps and preseason games with the Giants. He met a ton of great people and made some amazing connections.
Drew had a wild sophomore year as well. After starting the season as a backup to 2020 graduate Mike Zingarella, Drew had amazing performances on the junior varsity team, one in particular against SMSA. Drew received his first start 2 games later, and he hasn't missed a game since.
Going into the year, Drew had high hopes, but if you told him that we would be 7-1 and fighting for a spot in the playoffs, he said he would call you crazy.
As of 11/10, Drew is 2nd in the state for passing yards with 2150 through 7 games (307.1 average). He has thrown for 29 touchdowns (1st) and just 6 interceptions. Drew is also 1st in the state for completion with 166 and the highest completion percentage with 68.6%.
The football team has had a phenomenal season up to this point. Their fans hope for continued success this season and in future seasons.
View Comments(1)
About the Contributors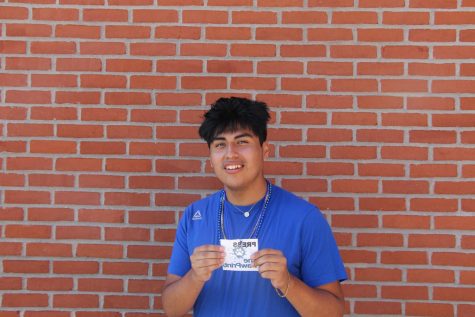 Michael Sacta, writer, reporter
Hi, my name is Michael Sacta. I am currently a senior at The Morgan School. This is my second semester at The Morgan PawPrint. I favor writing about athletics...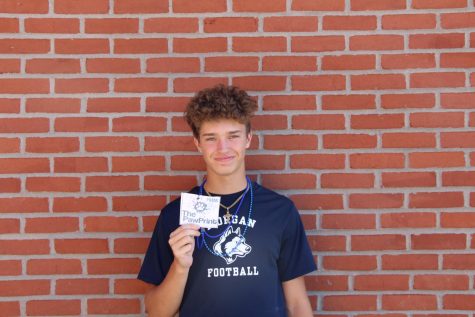 Cameron Johnson, Reporter, Writer
My name is Cam Johnson, class of 2022, and this is my first year as a part of The PawPrint. I am very excited to be able to highlight the great things...