Clinton Businesses during COVID-19
Written by: Aurora Smith|
Photos by: Aurora Smith|
Due to COVID-19, Clinton businesses have changed hours and safety protocols. Jules and Thom are offering delivery and curbside pickup. I emailed the company and asked a few questions. Jules and Thom are taking precautions to protect themselves and their customers. They said, ¨We have changed a lot of things around. For example, we use fresh pairs of disposable gloves with each order/customer. We wipe down our credit card terminal with each transaction as well as supply hand sanitizer for customers. We also have temporarily removed seating and have moved our counter to the front of the store to cut down on foot traffic. We are offering curbside service and delivery and are limiting the number of customers in the store per the governor's executive orders. We also find it really important to follow social distancing practices so our customers stay safe.¨
Business at Jules + Thom has changed with COVID-19. The owners said, ¨We had been impacted by the Glenwood Rd. construction and road closure right before COVID-19 began to hit our area so it's been one thing after another lol. We're trying to make the best of it by thinking of creative ways to continue to offer our drinks and art to the community. For example, we are working on a new Coffee Route subscription service where we will be delivering fresh drinks to people's doors sort of like a traditional daily newspaper route.¨
Shoreline Pallet Design offers groups the opportunity to learn how to paint one of a kind wooden signs. Since parties are no longer allowed, Shoreline Pallet Design owner Abby Roccapriore is offering to go kits to her customers. Abby said the Corona Virus has affected her business since she cannot have parties.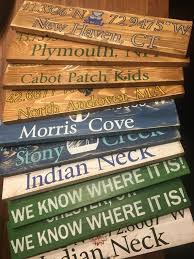 The Clinton Chamber of Commerce updates their website each day with new updates on local businesses. The Lindt Chocolate Shop is offering curbside pickup, and they are offering an additional 70% off for any Easter items.
On the page Local Restaurants Providing take-out , the site posts business hours with the names of the company. Below is a table of all the businesses still open with their current hours.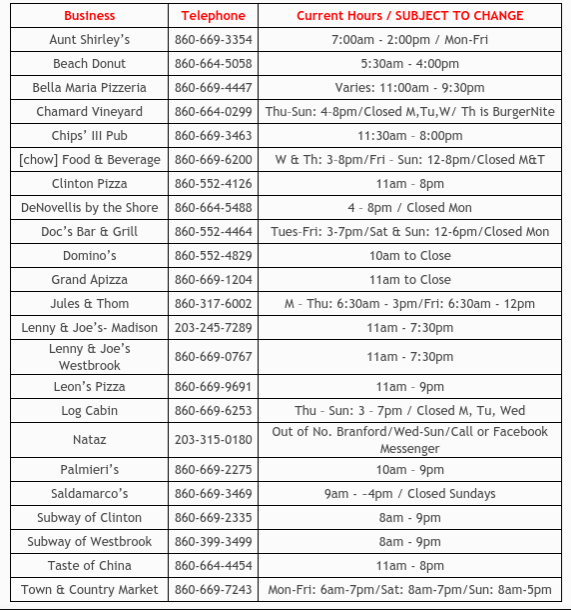 Chips Pub lll originally posted a paragraph announcing the new precautions they took to safely serve their customers, but since Monday, April 6th, the restaurant is closed: ¨Chips Pub lll is closing on Monday, April 6th. For Now. We are doing our part. We appreciate all of our wonderful customers. Can not wait to see you all again. Please do your part. Stay safe, be smart!¨