Written by Jillian Crowley and Emma Iovene |
Photos by Jillian Crowley, Lindsay Harden, and Emma Iovene |
Annually, Morgan holds a competitive cupcake-making event. This year's competition was on March 29, 2017. The competition is run by Family Consumer Science teacher Joanne Nunan. During B and D period, Mrs. Nunan's culinary arts students created the cupcakes. The judging took place during E period.  The winner of the competition competes in the regional cupcake wars at Morgan on May 5, 2017, against Haddam-Killingworth, Milford, Old Saybrook, and Madison.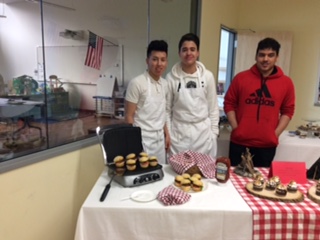 This year for the 2017 Morgan cupcake competition, honorable mention was awarded to Jhan Carlos Bermeo, Gabe Luiz and Kennedy Caetano for most creative and to Summer Nights created by Lauren Bousquet and Autumn Johnson for best display. The overall winning cupcake and best taste for 2017 went to Brittany Nobitz for her Save the Bees cupcake. Brittany will advance to the regional competition.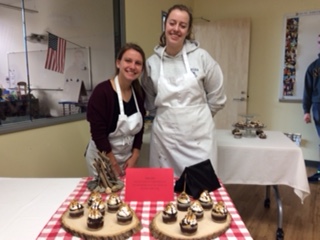 The student's display and cupcakes are judged on appearance, presentation, taste, texture, recipe and difficulty. The scores range from a 1 for poor, 2 for fair, 3 for good to a 4 for great. Even though a verbal presentation was not included as a category for the Morgan competition, this is included for the regionals. The students received a copy of the rubric which the judges use before they create their cupcakes.
This year's judges were Assistant Principal Tyler Webb, Chemistry teacher Karen Kaestle, community member Mrs. Mansfield, technology specialist Damaris Rios and Guidance secretary Janet Theiler.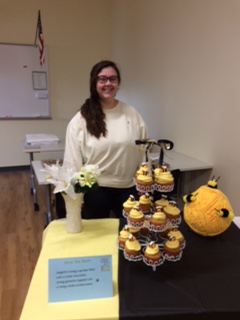 The students were given time prior to baking their cupcake to explore recipes and websites such as Pinterest for inspiration. According to Ms. Nunan, "they do all their own research."  Ms. Nunan said, "I don't give them anything.  They work all on their own." After the students spent a month or so finding their perfect cupcake recipe, on Monday they baked their cupcake and on Wednesday, they made their frosting and decorations. By the end of the period, their display was fully assembled.
The Morgan PawPrint wants to congratulate everyone on creating their great cupcakes and displays. Good luck to Brittany Nobitz at Regionals as she will be representing Morgan.