Written by Katie Costello |
Photo from activerain.com |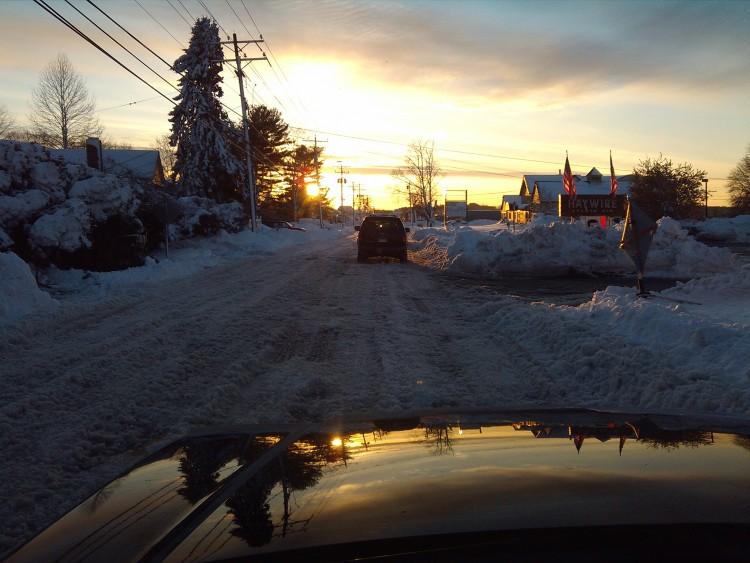 Picture taken by Mike Baker
During the winter season, snow is bound to come and cover the grounds of Clinton, CT. Due to the various weather prediciions, school was closed on Tuesday, 12/10, and the day before, 12/9, there was a 2 hour delay. On 12/10, it snowed from 8 am to 6 pm.
Various students explained to me what they did on that snow day and how they felt about the snow day. Freshman, Jordyn Suraci, says ," On my snow day, I watched TV then went outside and had a snowball fight. I didn't like the snow day that much because its just another day added to summer." Junior, Dwight Carmona, says,"I slept and went to Indian River to hang out with some friends. I think a delay would have been better, but I can't complain because I was excited to be lazy." Alexa Schmidt says ," I slept all day. I was excited for the snow day." Brandon Novak says ," I watched Netflix. I was not happy about the snow day because I got up and ready for school and then realized that we didn't have school, but it was nice to relax that one day."
WIth all this snow and cold weather, the roads start to freeze over making it dangerous to drive. I asked various student drivers of Morgan how they handled the ice and snow while driving to school the day after the storm. Rachel Sneider explains ,"I was freaking out. I handled my driving with extreme caution. I don't have four wheel drive so I made sure I went slower than the speed limit." Kirstin Beatty explains ," Yeah I was kind of nervous because I didn't want to end up losing control and sliding everywhere. I have four wheel drive, but I still made sure I drove extremely slow, watched for the icy spots, and drove as carefully as I could." Shawn Musial says ," I was more cautious than nervous about driving in the snow. I have four wheel drive so I handle driving in the snow very well. I simply slowed my speed as a caution and became aware of my surroundings."
Although lots of students were nervous to drive in the snow, I also asked about what advice students' parents gave them about driving in the snow. Kirstin Beatty explains ,"My mom was just telling me to be safe and make sure I drive carefully, but I believe she was nervous." Shawn Musial explains ,"My mom gets nervous mostly, but both my parents tell me to simply take my time while driving in the snow." My own dad explained to me how I should drive slow and test my brakes to see how well they will work on the icy roads. He also suggested that in order to stop the car, I should keep a large following distance and pump my brakes.
Here are some tips for driving in the snow from weather.com:
1. Decrease speed and leave yourself plenty of room to stop.
2.Break gently to avoid skidding. If your wheels lock up, ease off the break.
3.Keep lights and windshield clean and turn on your lights to be visible to other vehicles and people.
4. Be especially careful on bridges and overpasses because these areas freeze first and you may not see the icy patches.
Winter takes a toll on cars, people, roads, the community, and schools. Take our poll below, and tell us what you think about snow days and driving dilemmas!
[polldaddy poll=7641445]
[polldaddy poll=7641438]
[polldaddy poll=7641432]