Athletic Director Leaves for Valley
Wishing the Best to Mr. Pappariella
We must say goodbye to our athletic director, Lewis Pappariella. He has been at Morgan now for two years and has made a big impact on our school. He has been a supporter of sports at Morgan and even a teacher when we needed one.
Freshman Crisangel Afanador took freshmen experience with Mr. Pappariella. Crisangel said that Mr. Pappariella was not a normal teacher. He was a teacher that was excited to be teaching, and would always show up to class with a smile and positive attitude. He was excited to be going to class when he knew it was with Mr. Pappariella. Mr. Pappariella was also very respectful of all students in his class and let everyone express their own opinions. Crisangel's favorite memory from this class was when they did a project on any famous person of their choice. Crisangel said that Mr. Pappariella taught him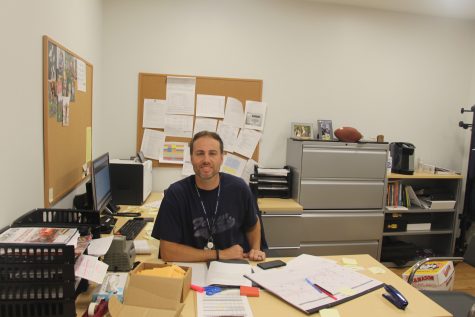 the importance of turning things in on time and not being late in general. Another memory that Crisangel had was stopping into athletic administrative assistant Casey Metz's office to steal her candy and talk to Mr. Pappariella.
Although Mrs. Metz  only worked with Mr. Pappariella for a year, she said he was great to work with. She learned a few things, like that Mr. Pappariella coaches his son's t ball team, and he also played baseball in college. She saw that Mr. Pappariella was very good with our Morgan students. He knew how to keep us in line while still allowing us to cheer on our teams. One positive for Mrs. Metz about Mr. Pappariella leaving for Valley, is that her children go to Valley, so they will get to spend their sports careers with him. She said it is a tough loss for Morgan; however, it was the right decision for Mr. Pappariella and what he really wanted to do.
Senior Garret Garbinski is a well-known athlete at our school who has committed to Manhattan College to play baseball. He got to work closely with Mr. Papariella and saw the effects he had on our sports teams. He saw that he worked closely with the girls to make sure they were hyped for their sport. Garret did remark that Mr. Papariella started an Instagram account up for Morgan athletics. He wishes Mr. Papariella well at Valley.
Engineering Teacher and Girls Tennis Coach Lawrence Champan said, "He's been very supportive of the girls tennis program because he comes out and watches you guys, puts you on the Instagram feed." He said, "last year I asked for a tennis ball machine, and he said without hesitation no problem and our budget just approved so next year we have a ball machine, and I  can tell you for eight years I was at Old Saybrook and could not get a ball machine, so he got it . When I asked him for it, the process started, so we havwe had minor issues with just administrative stuff on the team, and he has always been right there." He also claimed, "I like him. He's a great guy, and he cared about Morgan sports."
Junior Matthew Menacho said, "Pap is a great AD. He really took control of the student section and enforced law and order and kept us at a CIAC class act school. Applause to him and best of luck at Valley."
An anonymous student said, "I'm going to miss Lewis Papparella. He was a really good guy to me. He really mentored me a lot and taught me about the important aspects of a CIAC class act school. He's a kind hearted man."
Principal Keri Hagness said, "I want to say thank you to Mr. Paparellia for the last several years. We know it has not been easy at Morgan living high school through Covid, but he has done a remarkable job at keeping our athletic program a float and helping students have awesome experiences." She said, "A shout-out for ways that he promoted us on social media and gave students needed recognition for all their achievements. And he has been an awesome member of the Morgan family, and we wish him well, although we will not cheer for Valley just so you know."
Mr. Pappariella will bring his athletic expertise to Valley, as well as his great attitude towards all sports.
Leave a Comment