Cupcake Winners Will Battle In Regionals 2022
Advanced Culinary Arts and Culinary Arts Cupcake Wars
Culinary arts teacher Susan Murphy hosts Cupcake Wars. She has Culinary classes B period, C Period, F Period, and G Period she also has an Advanced Culinary during D period. Cupcake Wars winners were selected from Advanced Culinary on Friday, March 18th to compete in the regional contest. 
In Advanced Culinary the class consists of six seniors Nashaly Idrovo, Jahayra Lopez, Joy Rodney, Ava Zirlis, Taylor Maher, and Maddie Davenport, two juniors Luis Mendez and Jamie Mai, and sophomore Hayden Walter. Student preparation starts off with a planning sheet to research blogs to look for baking recipes and to research different creative designs for their cupcakes. 
Students work in groups of two to four people to plan and create their cupcakes. for her Culinary Arts class and Advanced Culinary. After the groups form, they form groups of eleven from all the Culinary Art classes with their cupcakes getting judged on their looks and the creativity of their cupcakes. 
Jobs for Cupcake Wars is making an icing recipe, making cupcakes, and practicing different decoration techniques Ms. Murphy allows the students to assign their groups their own jobs to see who can come out with the best cupcakes with also working as a team and understanding everybody's strengths and weaknesses to see who gets assigned what job.
Students follow a rubric for Cupcake Wars that involve the creativity involved in the cupcakes, the taste of the cupcakes, how well it was baked, and the taste. 
Winners of the Intro to Culinary Arts class had a two-way tie for first with Bunny Butt cupcakes made by Megan Wyatt, Maria De Nacimento, Sophia Gaudet, and Katerine Gutierrez. The second contest tied with Bunny Butt is the Buttercream Bee Hydrangea baked by Lily Theriault, Nico Fuentes, Paola Lopez, and Ainsleigh Landino.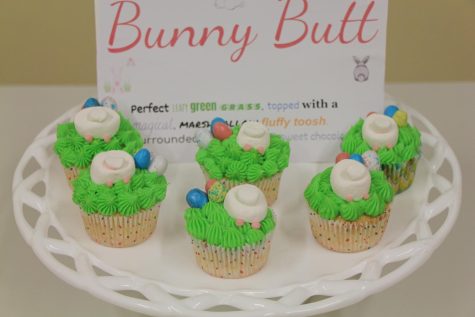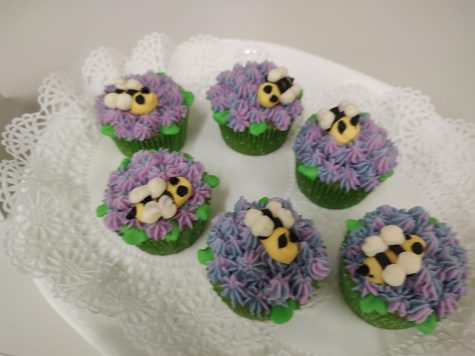 Winners of theAdvanced Culinary Arts Cupcake War will go on to regionals on Apr 28, 2022, with other schools like Haddam Killingworth, Montville, and Bacon Academy. They all come to The Morgan School to compete and all schools use the same rubric to crown the regional champion of cupcake wars; judges for regional cupcake wars are pastry chefs.  Competing for regionals with a strawberry shortcake cupcake made by  Morgan seniors are Joy Rodney, Ava Zirlis, and Taylor Maher.