Uncovering Covid's Secrets: Athletics
How has COVID-19 affected sports this winter season?
When COVID-19 hit Connecticut in March of 2020, the severity of the virus and the impact it would have on Morgan were unknown. While there was not a ton of information provided to the public about COVID-19, Morgan was forced to take action, prioritizing students' safety. Because of this, the spring season for sports was canceled, devastating many student-athletes, leaving them in tears, forcing them to find a new hobby that they could do on their own.
Student-athletes were in desperate need of some type of season with the new school year, but if that was possible was unknown. The ability to have a fall season was debated, but eventually, it began. However, the season was cut short. Senior student-athlete, Caitlyn Donadio, was one of the three captains on the Morgan Girls Soccer team. With her help, the girls went as far as Shorelines but were not able to go any further once the season was forced to close.  The winter season was up in the air for months, with meetings weekly, and athletes training in hopes for some sort of season.
As a captain of the Morgan Girls Basketball team, Caitlyn had high hopes for the winter season, as did most athletes. She has titles such as Shoreline Conference Scholar-Athlete twice, Hartford Courant CT Varsity Athlete of the Week, First Team All-Shoreline twice, All-Area, and All-State. Caitlyn committed to Connecticut College to play basketball, so not having a season was not an option for her. Caitlyn decided to commit to Connecticut College because she "felt it was the best fit for her overall," and that, "athletically it's the best D3 conference in the country." Caitlyn said she,  "wanted to play competitive basketball." Not only did Caitlyn focus on what would be best for her athletic career, but also for her, academically.  Connecticut College "has a level of prestige that will help me in the future with jobs," she explained. Caitlyn was also well on her way to hit 1,000 points, so this was an extremely important season for her and the whole team. Every player on this team had things they were looking forward to accomplishing with the upcoming season.
Caitlyn explained that she had to do "a lot of training outside and alone." She could not go to a gym and could not practice with the girls on the basketball team. She was able to improvise, playing with her cousin, masks on, in her driveway. Likewise, she explained that training for this specific season was different from how she previously trained. "I trained with more long-distance running than I usually would. I did this to build up my endurance with the mask, as I didn't have to play with one in soccer," she explained. Previous fall athletes described how it can oftentimes be harder to improve in their sports because there is no one-on-one time with the coach and a lot of times players cannot even scrimmage. Caitlyn brought up the point that the team "had a pretty large student section and a lot of families would come to watch." This year, no one can come to the games.  She went on to break down how that affected their playing. She explained that the JV team has been doing a great job creating that energy so that when the varsity team is playing, there is somewhat of a crowd cheering them on. 
As a senior, Caitlyn is faced with new challenges and a season like never before. "I use social media and technology to my advantage. I frequently text in our group chat and individual players to get us all excited and feel like we are one team." As a captain, it is her job to help keep the players engaged in the game during a time when it is almost impossible. There is also a constant fear that their season is going to end abruptly with no warning. Caitlyn said, "It has made me play and believe that any game could be my last. I am really trying to soak in every bit of practice, games, and film because one day it might all end." Caitlyn, along with most players, is trying to make the most of this season, taking things as they come, and just playing the game they love.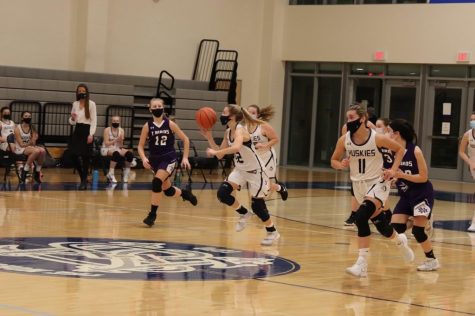 Caitlyn along with other student-athletes have modeled that with all the new challenges and unexpected road bumps, athletes are pushing through and appreciating every moment they get to play. The saying "treat every game like it is your last" reigns true, especially with a season like this one. These athletes have been the epitome of what it means to take what you can get. Whether they have to wear masks, cohort in practice and have mask breaks during a game, they view it all as an opportunity to better themselves. As Caitlyn showed, they are appreciating every moment they have on the court because it could be their last.
From a coach's point of view, the season was necessary for many reasons. This season and the possibility of not having the season brought on challenges that neither head coach, Caitlyn Woods, nor assistant coach, Jessica Lynch, ever dreamed of having to overcome. Coach Woods explained how the athletes have proven their dedication to the game, "I think that, although difficult and uncomfortable at times, athletes seem to have adjusted and gotten used to wearing masks while playing." She also believes that, "There is no question that COVID-19 protocols have been a great challenge for the team's winter season," and that "coaches and athletes want to be in the gym coaching and playing no matter what, so they are going to take on the challenge and make the best of them." Coach Woods demonstrates the impact of coaching on the athletes and how they view these challenges.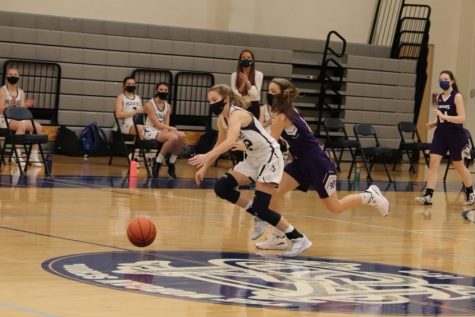 When Coach Woods explains how practices have changed, she makes it clear that what is most important is the health of these athletes. "I have tried to embed full team water breaks more into practice in case kids are not listening to their bodies and pushing things too hard," Coach Woods goes on to explain that, "the health factor is more important than ever right now."
Coach Lynch described that the biggest lesson that the team "has learned is that it is important to be flexible and patient." She explains how the team has to "enjoy the fact that they have the opportunity to play and tackle every challenge together as a team." Coaches have a huge impact on how a season goes and with the constant challenges arising. It is more important than ever for these coaches to push the athletes. 
Coach Lynch stated that "one of the biggest parts of team sports is learning to work well with others and build that chemistry," which is something that this team has been focusing on. During a time when team activities are challenging, everyone is working together to make this happen.
Although athletes and coaches are faced with many unexpected challenges due to COVID-19, they are not letting it affect the game they love and the bond between their team. The importance of sports has never been more apparent than now, as it is an outlet for many athletes at Morgan.