Opinion: Why You Should Care About Georgia's US Senate Runoff Elections
In the past month or so, you might have heard the news emphasizing the swing state of Georgia and its importance to the future of our country's policies. Though Georgia is relatively irrelevant to people in Clinton, everyone who cares about the future of Congress and the President's policymaking should be paying attention to how their US Senate elections in January play out. This state is the key to deciding what the future of the nation looks like in the next four years.
In Georgia, the two senate seats were on the ballot on election day of November 3, 2020, the same day as the Presidential election. While the critical presidential electoral votes of Georgia and other swing states filled the news outlets for days after the election as mail-in ballots were being counted, the results of Georgia's general senate elections were also putting many people on the edge of their seats. The outcome was so close for both Senate races that a winner couldn't be declared for either seat, and runoff elections had to be ordered. Runoff elections occur when none of the candidates in the general senate elections win a majority vote. The two top candidates of the two senate elections are now set to have a rematch with election day on January 5, 2021.
The senate has 100 members and currently, as a result of the most recent elections, is at 50 Republicans, 46 Democrats, and two independents who caucus with the Democrats. If the Democrats can win both the open Georgia seats in this election, they can flip the Senate to a tie of 50 to 50. In the event of a tie in Senate sessions, the vice president acts as the president of the Senate and votes as the tiebreaker. Democrats are hoping that the Georgian Democratic candidates can win, so Vice President-elect Kamala Harris can break any Senate ties with favor toward the Democratic side.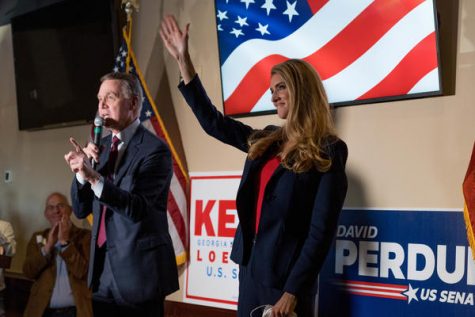 Republican Senators Kelly Loeffler and David Perdue are both running for reelection. Loeffler was appointed to fill former Sen. Johnny Isakson's seat after he resigned in 2019, while Perdue has been a US Senator since 2014. They are both challenged by Democratic newcomers, Jon Ossoff and Reverend Raphael Warnock. On the November 3rd election day, out of the twenty-one candidates that ran in the special general election for Loeffler's seat, Loeffler received 26% of the vote while Warnock got 33%. Perdue fell short of the majority needed to reassure his seat would be saved in his election in November as well. He received 49.7% to Ossoff's 47.9%. These candidates both received the highest votes in each of their respective races, so they've been selected to move onto the runoff election. Voters will not have an option to vote for third party candidates, like they did in the general elections, in order to assure a clear winner without scattered votes that might hinder the results.
Republican incumbents Perdue and Loeffler both hold strong conservative and republican values. Loeffler's website describes her Christian faith as a crucial core to her opinions, like her pro-life abortion stance. She also supports President Trump's immigration policy to construct the US-Mexican Border Wall, and opposes gun regulation laws that she believes undermine the 2nd amendment. Loeffler has been under fire recently for alleged insider trading prior to the COVID-19 pandemic spread. According to The New York Times, she and other senators sold millions of dollars in stocks in March of 2020 after attending a Senate Intelligence Committee briefing about how the COVID-19 outbreak could affect America's economy. While the Department of Justice and Senate Ethics Committee found no evidence of insider trading, many Georgians are starting to lean towards candidates they can trust, which led Loeffler to receive less than a third of the vote in her general election. Perdue has strong stances on his website as well, where he states he opposes defunding the police and raising taxes on American citizens. He also serves on the committees like the Senate Armed Services Committee, where he vouches for investing more in the military budget.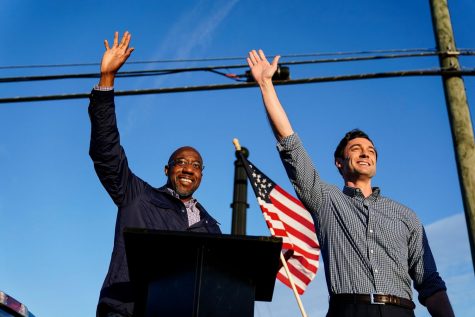 The Democratic candidate Jon Ossoff has served as CEO of Insight TWI, a media production company that investigates corruption, organized crime, and war crimes for international news organizations, since 2013. He was the Democratic nominee in the 2017 Special Election for Georgia's Sixth district but lost by 3% of the vote. Ossoff's policies include defending Roe v. Wade and expanding on women's health care and right to choose, and increasing spending for clean energy and infrastructure. He also stands for an immigration policy that establishes an easier path to citizenship and reforming Immigration and Customs Enforcement to function "with competence and humanity." Reverend Raphael Warnock was raised in Savannah, Georgia. After getting his Ph.D. and becoming ordained, he was chosen fifteen years ago to serve as Senior Pastor at Ebenezer Baptist Church in Atlanta, the former pulpit of Reverend Dr. Martin Luther King, Jr. Warnock is the youngest pastor to serve in that position of the church. He stands for ideas like building upon the Affordable Care Act and expanding on Medicaid to work for all Americans. He has also shown his support for ensuring the importance of community services outside the criminal justice system while increasing accountability of America's police department's roles in mass incarceration.
This election will set the standard of which political party will determine what policies and laws are created for the future. The political world is counting on either side to assure their plans and goals for healthcare, the environment, the economy, COVID-19 relief, and more work in their favor. This is why each of the four candidates have many key endorsements, (according to https://ballotpedia.org/David_Perdue and https://ballotpedia.org/Kelly_Loeffler)
Both Perdue and Loeffler have support from President Donald Trump, but just Loeffler has an endorsement from Republican Georgia Governor Brian Kemp, who appointed her to fill Isakson's seat. Ossoff and Warnock are backed by key progressive and Democratic officials Senator Bernie Sanders, former President Barack Obama, and President-Elect Joe Biden, and Vice president-elect Kamala Harris. Ossoff also received an endorsement from his mentor Congressman and civil rights leader John Lewis before his passing earlier this year.
President-elect Biden plans on traveling to Atlanta this week, according to NBC News, to help boost the Democratic candidates Ossoff and Warnock in his first campaign event since the presidential election. These elections are crucial for Biden as well since he has spent the past month assembling his nominations for his administration's cabinet. Many of these positions, like secretaries of the 15 executive departments, must be confirmed by the Senate, which is currently Republican-dominated with Republican Senate majority leader Mitch McConnell. Wins from Ossoff and Warnock could remove the Republican's advantage and assure that the Senate would work in Biden's favor once inaugurated to get him the key staff he wants. Biden was the first presidential candidate to win the state of Georgia since 1992. If these runoff elections can obtain the same voter turnout as they did in the 2020 presidential election, the chances for the Democrats could be very good to end the Republican control and work with the Democratic majority in the House of Representatives to pass laws that they want.
As a high school student, I know that many young people are counting on this election to establish the future they hope for. Crucial issues need to be addressed as soon as possible, and having a government that reflects the values of the majority of Americans is so important in solving our nation's problems. I've followed these elections since November to see how they play out, and at times, it shocks me that how our US Senate will be controlled depends on the votes of the citizens of the 'peach state". Yet, I and many others hope that Georgia's voters realize their place in history and how the future of healthcare, civil rights protection and expansion, environmental protection, immigration policy, and countless other key issues on the ballot will be decided by their vote. Those who celebrated President-elect Joe Biden's victory should not think their job is over and that every problem is automatically solved. The checks and balances our nation was founded on could mean some issues we wish to solve could go in a different direction depending on who controls Congress. Getting involved in this election and holding the people in power accountable is the only way to ensure that the results we want to see out of this administration and congress will occur. The people in the government work for everyone in America. As citizens, we should be actively devoting our time to seeing how our elected officials will protect and work to create a nation we want. The elections of states 1000 miles away could change how we and our loved ones exist and prosper in this country.
For more information on the Georgia runoff elections, check out these resources:
https://projects.fivethirtyeight.com/georgia-senate-polls/
https://www.wsj.com/articles/georgias-senate-runoff-how-does-it-work-and-who-is-running-11606224466
View Comments (1)
About the Writer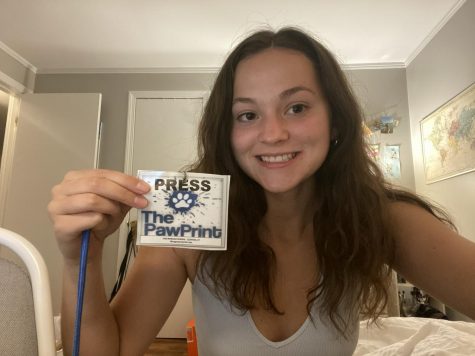 Clara Franzoni, Staff Writer, Photographer, Reporter
Hi! I'm Clara Franzoni, Class of 2021, and this is my second year as a staff photographer for the Morgan PawPrint, and my first as a staff writer. Abby...