Update On The COVID-19 Vaccine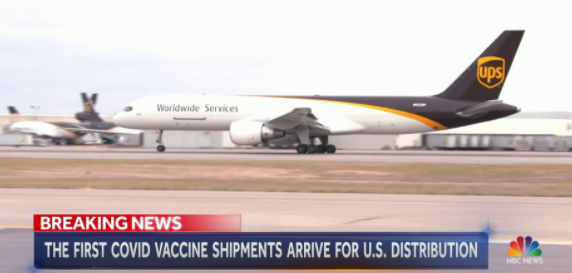 After many long days and nights of waiting, we are getting one step closer to a COVID-19 vaccine. Although we are getting one step closer to the vaccine, it doesn't mean that we are going to get it right away. The  Pfizer vaccine was approved by the FDA on December 11th.  Monday, December 14th, the first vaccines arrived in the states and were administered to the people who need them the most. Once it goes to the people who need it the most, it gets distributed to those who don't need it as much but still don't want to get sick.
It's a long process, but it's worth the wait. The real question is how long are we going to wait until society goes back to normal from COVID-19? My mom says it will be at the end of 2021. Other people I know say at the beginning of 2022. 
My best guess is that it will be up until the end of 2021 or the beginning of 2022 for everything to return to normal. The nation's top infectious disease doctor,  Dr. Fauci predicts that life could return to normal by the end of the summer of 2021 if 75% to 80% of the population gets vaccinated.  One of the concerns is that people will be hesitant to get the vaccine once it is widely available. Another concern is that people will not follow up with the second dose of the vaccine. For the vaccine to be most effective, people must receive a second dose 21 days after the first dose. 
To find out how likely students at The Morgan School are to get the vaccine once it comes out, I interviewed some of our underclassmen.
Christian Amendola Grade 10
"Yes, because I don't want to be at risk of getting COVID-19, and I want to hang with my friends again without taking precautions
Sarah Gelman Grade 10
"I will be getting it because I want everyone to be safe and not get infected"
Bella Fishman Grade 10
"In order to end the pandemic, we all need to take the steps that are needed and ordered by the government"
Sophie Gaudet Grade 10
"I want to take it because I want to stay healthy and keep the people around me safe"
Camryn Coffey  Grade 10
"This might work, and it also could help people from having to take precautions when they see each other"
Kolby Clifton Grade 9 
"I will be getting the vaccine because I don't want to give my grandparents COVID-19"
Ryan Donadio Grade 9
"I don't want to increase the risk of dying people, so I will be taking the vaccine"
Steven Kaiser Grade 10 
"I will be getting the vaccine because I don't want to infect my grandparents"
Shane Brown Grade 10
"I might get the vaccine. I don't want to get COVID-19″
The catch is that these students need to be at least 16 years of age or older. If they are 15 years and younger, then they are not to receive the vaccination until the vaccine undergoes more studies on children. Even if the students are old enough to get the vaccine, they will not receive the vaccine for months. 
The first vaccines will go to healthcare workers, long-term care facilities, and medical first responders. From January-May of 2021, those who are 65 and have high risk, and critical workforce will receive the vaccine. From June-December 2021, individuals who are under 18 and remaining people over 18 will receive it.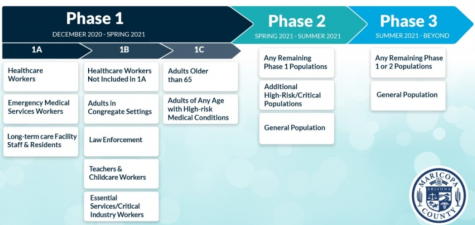 It will be a long process, and it may feel like a billion years have passed by. Luckily, time flies by quickly even though it doesn't feel like it. So that long wait will actually be very short. But there is something else about the vaccine that you might not know. It actually has a different effect on people with allergies. 
Let me explain. When the vaccine was administered earlier this month in the U.K., some people had some very serious allergic reactions. It wasn't clear what caused the reaction, but it was a small turn in the vaccine administration that caused everyone with allergies to wonder if it's safe.
President-Elect Joe Biden Jr. is setting an ambitious goal to change the course of the pandemic and vowed to get 100 million shots into the arms of the American people throughout his first 100 days in office. He also said that he would make it a national priority to get all children back into school. This would be the most efficient mass vaccination in U.S. history!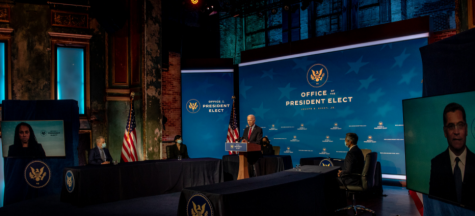 Despite the issues some people have with the vaccine, including the day it will be distributed to the public and health professionals and the idea of severe allergic reactions when given to people with allergies, we may actually see the end of the COVID-19 pandemic after almost 10 months of moping and waiting around and even waiting in quarantine for 3 months in early spring from mid-March all the way until early June. 
It has been a crazy year, but at least we have some new information on this vaccine. And no matter how long it takes for the vaccine to be distributed, the pandemic will end. Even if it feels like an eternity, you should remember that time flies by very quickly in the blink of an eye. There is light at the end of the tunnel, and we're almost there.