CT Forum: An Opportunity for Morgan Students
By: Emilia O'Neil |
This year, 2018, Morgan will participate in The Youth Connecticut  Forum.   The CT Forum is a group of students from all over the state that meet to discuss issues and concerns of teenagers. They talk about all of the isms, such as racism or sexism.  This will give Morgan students an opportunity to express their thoughts and ideas on different matters important to them.  Ten Morgan students can participate in the program which usually meets after school. See the flyer below for the dates and times. Consumer Science Teacher Sue Murphy is The Morgan School coordinator for the program. Email her at [email protected] or stop by her room to pick up a permission slip.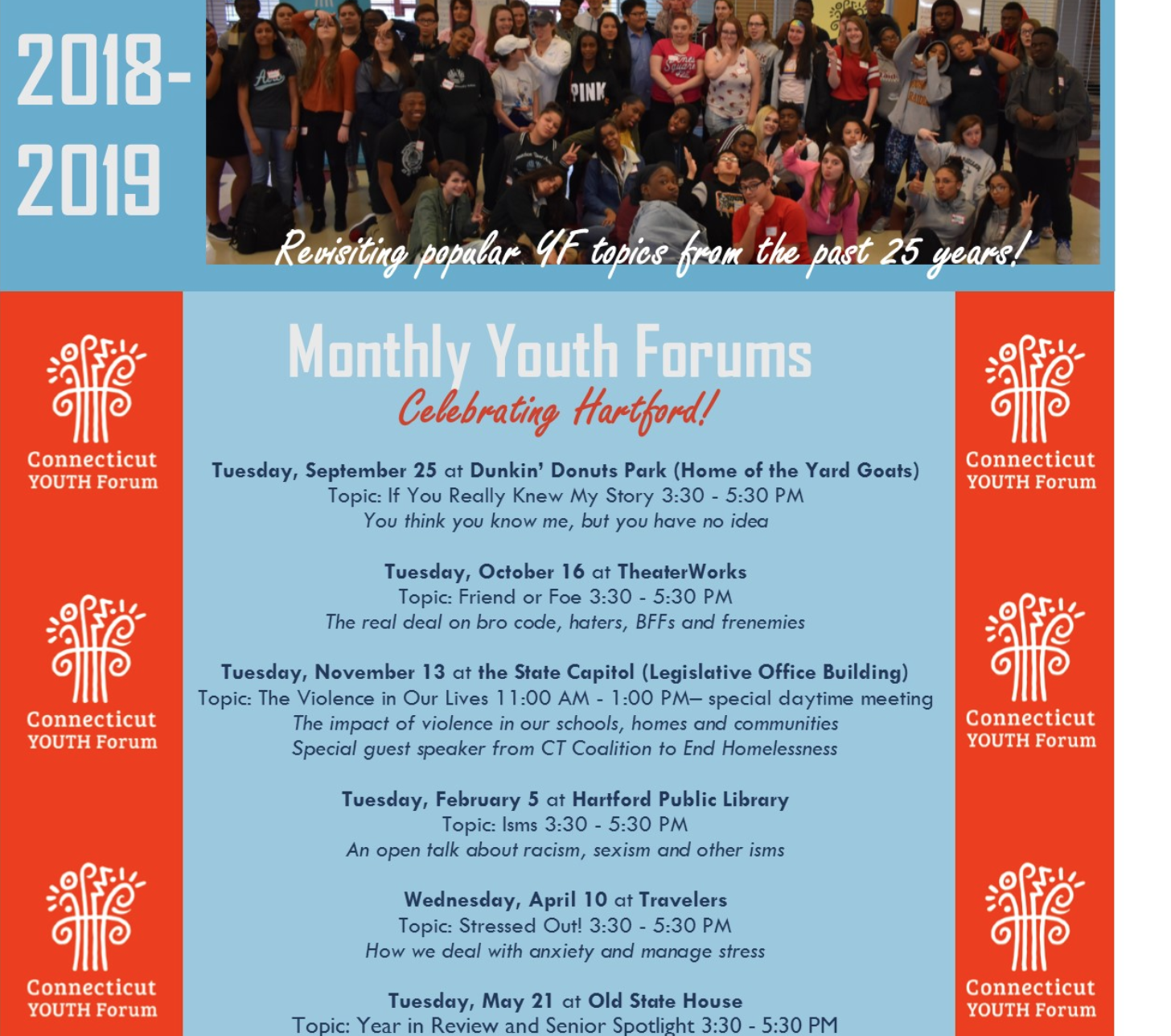 Ms.  Murphy participated in the program with students at her previous school, Bacon Academy in Colchester. She is the Family and Consumer Sciences teacher at Morgan. Ms. Murphy said that "Many corporations and companies donate money to help support the Forum." She said the Morgan students who participate will meet others who have similar ideas. She said, "you might meet people from different environments and different suburban, urban places."

Ms. Murphy said, "I think it is important because there are discussions that teens get to try that they haven't been able to do in their home school."  Ms. Murphy also talked about how the kids take control to show their passion and excitement: "They run the discussion, and the adults don't." She also explained that "it's so valuable to have teens think about things that they couldn't at their school. This could be something that they felt really passionate about. They can go out of their shy comfort zone."
Ms. Murphy expressed her enthusiasm for the Connecticut Youth Forum.  She said, "I love it. I think it's great." She discussed how people who do it aren't always very outgoing.  "Everyone is very passionate and understanding." and "You might pass around a microphone" when you have something to contribute.  

The Forum is a great opportunity to express your opinions, meet new people from different areas and lives, and learn about the world beyond Clinton.  If you would like to participate, see Ms. Murphy or email her at [email protected]