Written by Melanie Coretti |
Photos by The Morgan PawPrint Staff |
This school year, The Morgan School welcomes a new Family and Consumer Science teacher Sue Murphy. She teaches the culinary and the child development classes. Ms. Murphy has been teaching for 20 years. Before she was a teacher, Ms. Murphy worked in the fashion business. She previously taught at Cromwell High School for 2 years, then Bacon Academy in Colchester for 17 years.
Morgan is a smaller school than what she is used to. She said, "So far, I like the fact that the building is set up like a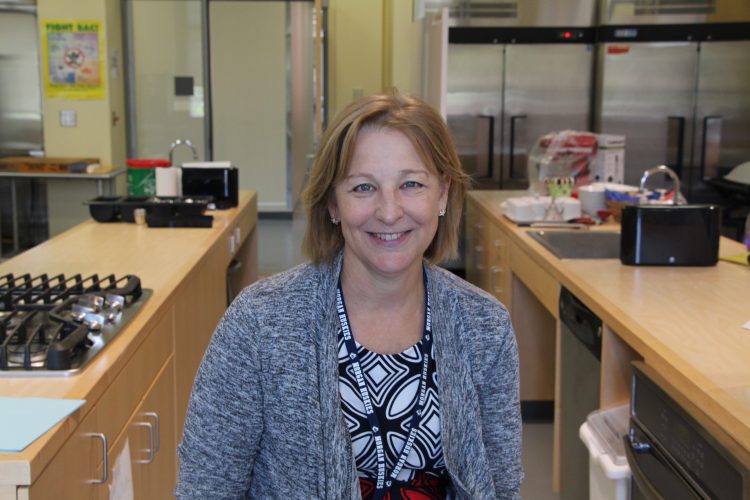 college campus. I feel like because it is smaller than what I'm used to, I'm already getting to know the students quickly, and I really like that."
Senior Amber DeLuca, a student in her Child Development class, said, "The class is a lot different from what I've heard from years past with Mrs. Nunan. But Ms. Murphy has a lot of experience prior to coming to Morgan, and that really helps during class." Another student, Senior Jill Case also in Child Development stated, "I've noticed that she is thankful for hardworking students, and she knows what she's talking about.Ms. Murphy enjoys her classes and feels that everyone is, "really welcoming- everyone from the staff to the students, administration, and superintendent."
With her help, the culinary class served the veterans at our annual Veterans Day Luncheon.  A cookie exchange is planned for Wednesday, December 19th. The Morgan School welcomes Ms. Murphy and is glad her first year is going well.