What Does Morgan Have to Offer?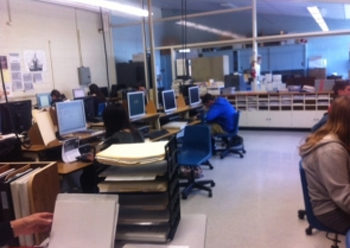 Written by Chou Pan |
Soon students will be choosing courses. For those who don't have any idea what to choose for an elective, below are some great elective courses recommended by students who have enjoyed taking the class. If you have taken a course and would like to share it with The Morgan Paw Print, send us your story:  [email protected]
Personal Finance:
In this class, students will learn money management skills, and the risks and benefits of investments. Students will manage checking accounts and complete job application forms. Not only do students learn about managing their own money, but they also learn about the business world. This course is offered to all grades.
Accounting:
In this full year course, students will learn the methods of record keeping and how to create journal entries and checkbooks with excel. Many businesses nowadays expect their employees to have a basic knowledge of excel. If you take this class, you have a better chance of finding employment. This class is also great for those who are planning to become an accountant. After learning all the basic material of accounting, students who continue to study accounting in college will have an advantage after taking this course. Accounting is offered to grades 9 through 12.
Psychology
This semester course revolves around the science of behavior. In this class, students will perform several group projects and skits that relate to many famous theories. Students demonstrate their understandings about each psychology concept. Many psychologists will be discussed, and students will be watching movies that revolve around human personality and behaviors. Students will perform multiple group presentations including videos, skits, posters, and Powerpoints. This is offered only to seniors.
Senior Writing
This course is an elective for senior college prep students. Students will learn about different types and possible ways of writing a good essay. In this class, students will start with the basic knowledge they have about writing and continue to develop their writing skills. Students in this class will also be working on their college essays. Students will read several short stories and work together to dissect the meanings behind it by performing short skits and participating in class discussions.
Film Study
In this semester course, students will acknowledge the different ways that companies target their audiences through commercial advertisements. Students will be required to produce their own commercials. Throughout this course, there will be more projects that require groups to work together to film their own commercial and movie clips. Students will watch movies and critique the films. Film Study is offered to juniors and seniors.
Written by Maria Putnam
Teens and Laws
This course involves a lot of critical thinking and problem solving. In this semester course, students will watch videos that involve criminal laws and explore the prison life, courts, and policies. Aside from the activities and videos, students must complete questions from textbooks regarding teens and laws.
Written by Destiny D'Zacomo
Tech Math
In this course, students will be taught engineering skills, building skills, enhanced math skills, how to use heavy and light machinery, as well as good work ethics. A major project that was done this year was to build a shed on sight for Mr. Manser. Before building the actual shed, a scaled down model of trusses is built to determine the structure of the shed. After the completion of the model trusses, an actual model of the entire shed is built. When the visual of the shed is confirmed, students will begin the building process. Not only are students involved in a fun project, but they will also learn how to draw blueprints and adjust measurements under the great leadership of Mr. Underwood and Mr. Cole. Typically, hands on students will enjoy this class because it is fun. This course is offered to all grades.
Written by Alex Robertson and Rob Gabucci
Culinary Arts
Culinary Arts teaches the basics of cooking, baking, and the different techniques of the kitchen. Mrs. Nunan is a fantastic teacher and has many years of experience in the kitchen. By the end of this course, you will know all the different utensils, health standards, and kitchen safety. As you get closer to Christmas time, the class begins to bake and decorate cookies, and before break, the class makes platters to bring home to share with family and friends! Any culinary arts class is worth taking. Not only do you get to cook your own treats, you get to eat them too.
Written by Maria Putnam
Band
Band with Mr. Smith is highly recommended to those who have taken band at Elliot or Pierson. 'Band is not only about playing music. Students are given the opportunity to participate in the shoreline and regional bands. After school programs such as the jazz band offer the same opportunity. Students will recognize the different options that they are given. In addition, students will also be attending several field trips.
Written by Tyler Ayotte
Shakespeare-
While Shakespeare may sound intimidating to take as a class, to be honest, it is not. First of all it's with Ms. Iverson. Even if you never got the chance to read a play by Shakespeare…take this opportunity while you can! I love Shakespeare and will continue to, and if you take a chance and take this class, I can almost guarantee that you will not regret it! Not only did we read three plays, we got to pick one of the three. We also took a look at Shakespeare's sonnets, which are as equally valued. We often read aloud in class and discussed every scene. We did exciting and creative projects, and for some scenes, we illustrated what we thought was happening. Shakespeare isn't hard to read. It's just misunderstood, and if you take this class, you can at the very least have an appreciation for the master Shakespeare himself.
Written by Serafina Sicignano