College Life with Hannah Gaudet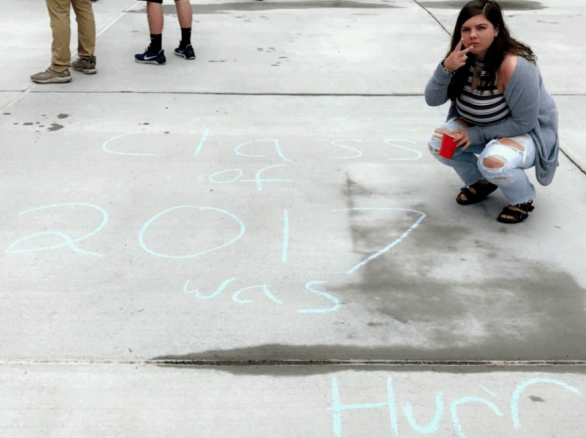 Written by Marie Kane |
Photos by Hannah Gaudet
Hannah Gaudet- or as everyone called her, Hans or Han- recently graduated from Morgan with the Class of 2017. She goes to Plymouth State University. She is starting to like it more and is getting more comfortable about being away from home. Her major is Environmental Science. She is currently only taking general ed classes but will be taking more major heavy classes next semester like Environmental Science and Policy 2, Geography, and Computer Mapping. Hannah wants to be a scientist and get her masters in Environmental Science in Hawaii, as well as her doctorate so people could call her, "Dr. Gaudet".
"I chose this college because they give you a scholarship right off the bat for your grades so it's a good financial option." Hannah was scared and nervous that she wouldn't make friends, but now she has made lifelong friendships. She was also nervous about the workload. "If you manage your time, it's really not that bad."
College is getting better for Hannah. She described it as fattening. "I'm doing very well academic wise and am the president of the Climate Reality Club that focuses on climate change and how our campus can reduce our carbon footprint." She prefers college over high school. "You're on your own and can make your own mistakes without your parents really knowing."
Hannah misses high school but said that college is such a cool and different experience. She shared a funny experience from college that she's had so far. "To get into a frat party you had to give a canned good for the food pantry." She does not like the fact that her campus is in the middle of nowhere, but she loves making new friends. "The bathrooms are disgusting. Having a community bathroom is the worst thing ever. Also, having roommates sucks unless you're besties with them."
Hannah misses seeing her friends all the time and also misses Clinton in general. "If I could go back I would definitely try to worship my time there instead of complaining because it really sucks being away from friends and family."  Two of her favorite teachers were Biology teacher Emily Lisy and Social Studies teacher Chris Zawadski.
Mrs. Lisy explained how it was a lot of fun having Hannah as a student. She knew her for three years, starting with having Hannah in her biology class her sophomore year, AP ECE Environmental Science in her junior year then saw her in the Environmental Club in her senior year, which Hannah was co-president of. "She was always engaged in class and always had things to contribute to class and good ideas." Mrs. Lisy described Hannah as enthusiastic. "She was always excited about what we were learning about, and always took it to heart." She said that Hannah was a good leader. "She helped to plan the school-wide tea party we had in Environmental Science, and she was really instrumental in getting new recycling bins here in the new school." She misses seeing Hannah around school. "I hope she keeps up her enthusiasm for protecting the environment, and that she's really enjoying college and soaking it all in."
During her time at Morgan, Hannah played for our school's field hockey team, as well as the softball team. She gave a shoutout to MFH. "You guys rock and killed it (compared to other years) this year!" She was never a captain, but she said that she should have been. Hannah was voted best smile for senior superlatives. "If I could go back, I would definitely try to worship my time there instead of complaining because it really sucks being away from friends and family."