Tony Fusco Creatively Writing
Written by Marie Kane |
Photos by Mr. Bergman and Marie Kane
On Wednesday, September 27 during C period Creative Writing taught by English Teacher Eric Bergman, famous poet Tony Fusco came to the class as a guest speaker. Mr. Fusco spoke about poems, writing, and his life. He is the father of the Pierson librarian, Mrs. Kelsey.
He has been writing since he was in high school and has always loved poetry. This was Mr. Fusco's second time coming to Morgan, with last year being the first time. Mr. Bergman has known him for exactly one year.
During this time, some of the students in this class shared a poem they wrote over the past three weeks. Mr.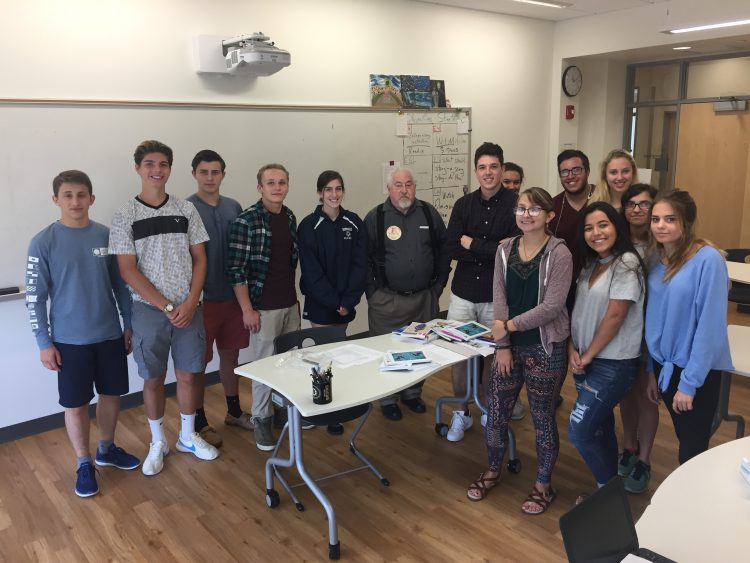 Fusco was impressed with the students' pieces.
"I liked that he has a very comfortable style. He certainly knows his material. I like that it gives the kids a chance to see other adults who are engaged in poetry." Mr. Bergman would like this to be a yearly visit for Mr. Fusco and his Creative Writing class here at Morgan. Speaking of his Creative Writing students, Mr. Bergman said, "I hope they get more excited about creative writing and that they see someone who dedicated his life to poetry. It brings in real-world examples of real-world writing."
At the end of class, the Creative Writing students took a class photo together with Tony Fusco and each got to take home a poetry book.