Recap the Week: 5/15/17 – 5/22/17
Written by Allison Goguen|
Images from the web, cited at bottom of page|
The WannaCry Ransomware Hack
The digital world was shaken when a hack took over computers all over the world. Over 150 countries have been affected since the hack started, on May 12. Called ransomware, it's a technique used by hackers to infiltrate someone's computer and 'hold it ransom'. This is basically when they take over control of t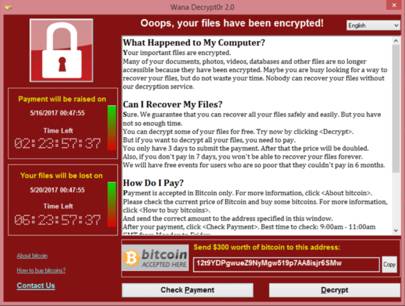 he computer and it's files, cutting the owner's access off. The hackers demanded $300 worth of bitcoins per victim. All kinds of people have been affected, but mainly major companies and buildings. Banks, phone companies, and even hospitals were hit. Without the internet, lives were put on the line. The people behind it have yet to be found, but thankfully they are not making as much money as they probably planned. Less than $70,000 was paid for the ransom, even though it affected over 300,000 computers. Those who have paid the ransom often found that their computers weren't released, meaning they would either have to pay more and hope for the best or wait it out and hope their files won't be deleted.

The Latest North Korean Missile Launch
Lately, North Korea has been making one show of force after another. In a previous article, Nort
h Korea had attempted to launch a missile that failed almost immediately. However, on May 14, they achieved a different result. It was a ballistic missile launched from the northwestern part of the country. It was a successful launch that reached 435 miles, as confirmed by South Korea and the U.S. countries nearby, including Japan, Russia, China, and even the United States territory of Guam. For now, no drastic actions have been made by any of these countries, but many of them are calling for serious discussions.

The Manchester Bombing
In a tragic attack on Manchester in England, Salman Abedi detonated a bomb that killed himself and 22 people at an Ariana Grande concert. The bombing was on May 22, around 10:30 on a Monday night. Islam radicals have taken credit for the attack, but the UK has not confirmed this yet. Salam Abedi had built the bomb himself, and previous to
the attack, his friends and acquaintances had made calls to anti-terrorism hotlines, claiming that he was expressing his support for suicide bombers and Islamic terrorists. Abedi was killed in the attack, but others have been arrested for their suspected involvement in the attack. Around 60 people are still in the hospital, so there is a chance the death rate will go up. Prime Minister Theresa May said, "We are working to establish the full details of what is being treated by the police as an appalling terrorist attack… All our thoughts are with the victims and the families of those who have been affected."
Pictures:
WannaCry Screencap– WannaCry, Wanna Decryptor, WannaCrypt – whatever it's referred to, the ransomware involved in the recent NHS computer hack is, by and large, the same bitcoin-demanding beast. Here we explain everything we know about the worm that caused global chaos. Digital image. Wired. Conde Nast, 22 May 2017. Web. 23 May 2017.
Missile– North Korea shows off new long-range missile in latest test. Digital image. The Telegraph. Telegraph Media Group Limited 2017, n.d. Web. 23 May 2017.
Manchester– Staples, Darren. A woman lays flowers for the victims of the Manchester Arena attack, in central Manchester, Britain May 23, 2017. Digital image. The Smoke Room. N.p., 23 May 2017. Web. 25 May 2017.