Sophomores to Juniors
Written by Marie Kane |
Photos by Morgan PawPrint staff
Junior year is probably the busiest and most important year of high school. Between ACTs, SATs, PSATS, Junior Portfolio, and the first prom for the class, there is so much to do in the junior year.
Some sophomores are already preparing for their junior year, while others are taking their time and waiting until they are actually juniors.
Guidance counselor Joni Capobianco has advice for sophomores. At this point, she would like the sophomores to be getting hands-on, taking what they are interested in, finding a career that relates to the courses they take and doing volunteer work. Miss Capobianco tells the sophomores not to overschedule ourselves for junior year and to make sure the schedule reflects a practical and realistic means for success. Sophomores should make certain their well-balanced schedule will allow time for things they love to do and things they have to do. Miss Capobianco said, ¨For SAT's, the biggest advice I can offer you is to use your resources!  Khan Academy and Collegeboard are FREE! By linking your accounts which you should have done during your sophomore individual planning meeting, you can access a free personalized practice program.  10-20 minutes a handful of times makes a huge difference on your SAT.  We also offer a SAT prep course here at Morgan with Mr. Messina and Mr. Samet in March.  Also, Henry Hull Library also offers free timed practice tests. For Junior portfolio, I suggest visiting the Junior portfolio tab on the school website.  It has helpful tutorials, checklists, resources and videos of students who have completed Junior Portfolio.¨ She tells the sophomores that they should start studying now on Kahn Academy in their guided practice, and if anyone has not signed up for Kahn Academy, to come to guidance.¨
Sophomore vice president Erin Lindsay said, ¨I'm excited to become a junior next year although it is surprising to think I'm almost halfway done with high school.¨ She has started preparing for junior year by having enough rubrics for junior portfolio and narrowing down her college search. Erin is nervous for the SATs and junior portfolio, but she feels that by preparing herself ahead of time, they will be easier obstacles to tackle. Erin is looking forward to all of the new classes that she will be taking, and of course, junior prom with all of her friends. One thing she is not looking forward to is the workload in junior year. She understands that junior year is the most stressful. She said, ¨I am definitely not excited about that aspect of the year. However, I am sure hard work will go a long way, and all of the fun aspects of the year will balance everything out.¨
Junior vice president Wyatt Reu has not been preparing for his junior portfolio that much. ¨I doubt it's as bad as its hyped to be.¨ He started preparing for SATs at a good time. ¨Kahn Academy is a really great  resource because it links up to your PSAT scores so you can focus on practicing the stuff you got wrong.¨  Wyatt was wary coming into his junior year. He explains that ¨it is an important year for colleges because it´s really the final year that your transcript and GPA is important for admissions.¨ He was also worried because his course load was heavier than it was during his freshman and sophomore year, but it isn´t that bad. ¨Junior year has been really enjoyable for me. It was my second year doing fencing which I really enjoyed, and it's also really fun to start to take up leadership positions in clubs and groups you've been a part of since freshman year. Academically I've enjoyed all of my AP classes a lot actually.¨ Wyatt gives the sophomores more advice, ¨I would definitely recommend taking as many as you can. Don't stress about it as much as you're probably going to. It's easy to get caught up in comparing yourself to your classmates and other people applying to colleges you're interested in. My advice is don't worry about ´working towards a dream college´ or stressing yourself out about how you compare with other people, just do your best academically and go from there.¨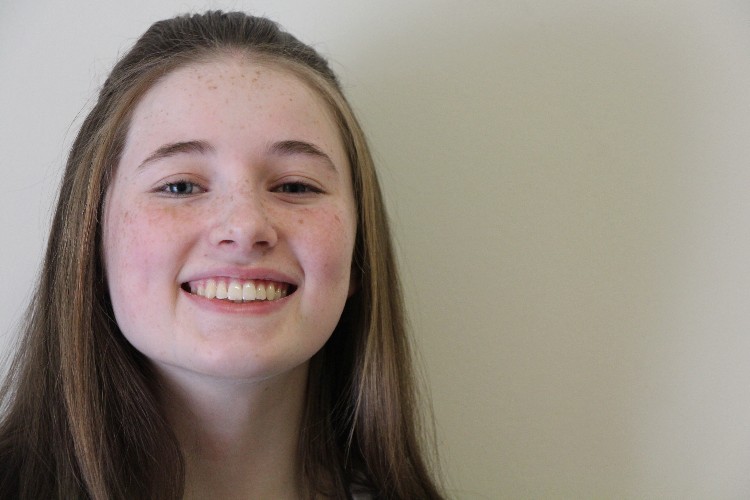 Sophomore Olivia Morrissey thinks it is crazy how fast these years have gone by. She made sure to get all of the rubrics she needs for junior portfolio next year so that she won´t have to worry. She has no worries about junior portfolio; however, she is anxious about all the testing. Olivia explains that she knows exactly what to do for junior portfolio, but she will have no idea what the exact questions are on all the upcoming tests. ¨I am looking forward to playing my favorite sports again in the winter and fall. I really enjoy the sports (fencing and volleyball) that I partake in. I am not looking forward to testing because of how stressful it is.¨
We all have mixed emotions about SATs and junior portfolio, but by this time next year, many of these challenges will be met, and the future junior class will be focusing on college applications instead. In the long run, it will be worth all the hard work.