Meet Morgan's New Girls Basketball Coach
Written by Gabby Vigorito|
Photos by PawPrint Staff |
Eliot English Teacher Caitlin Woods has taught at Eliot for 6 years. She is the cross country coach in the fall and track coach in the spring. And now she's Morgan girls basketball coach in the winter.
Ms. Woods is an experienced coach. She said, "I coached basketball at Old Saybrook High School for eight years. I also coach the cross country and track teams at Eliot Middle School. I have been playing basketball my entire life." When she was asked how she got the position as the head coach, she responded, "I was approached about the possibility of the job opening up, and then I applied for the head coaching position. I interviewed with Morgan staff and the athletic staff as well as Jack Cross who was the superintendent at the time." The Morgan basketball team practices 6 days a week for up to 2 hours, along with two-three games per week.
The team captains are Shannon Maher, Sydney Chomicz, Brianna Navarra, and Madison Seeger. Ms. Woods said, "I think my team is capable of beating anyone this season. They are really coming together and working hard, and they are truly starting to play good basketball. We definitely have a chance to qualify for the state and conference tournament. We are 3-8. Two of those losses are to Cromwell (#1 in the Shoreline) and two are to extremely good out of conference teams (Waterford and Notre Dame-Fairfield).
Former head girls basketball coach Joe Grippo led the Morgan Huskies for 34 years and helped the team win multiple Shoreline Championships. A game to watch is on January 20th in the Morgan Gym. Morgan will face off against Old Saybrook, Shoreline Conference rivals.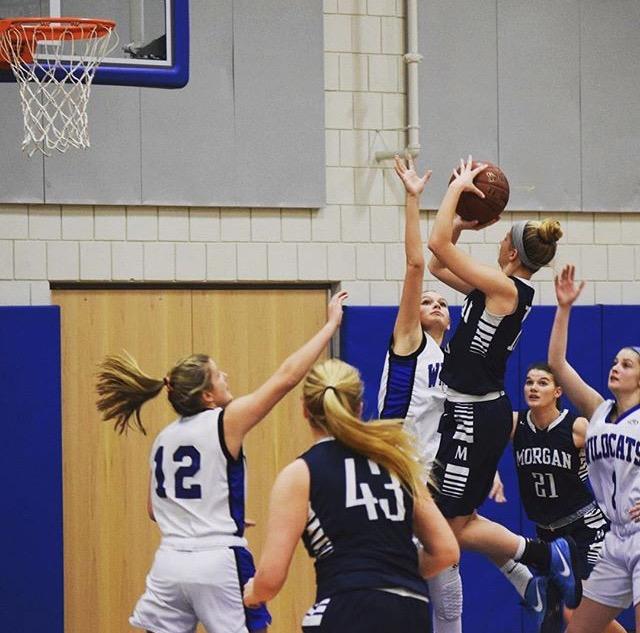 Sixth grader Lola Damiano who is in Ms. Woods homeroom at Eliot, and in her English class said, "I think she will be a good coach because as a teacher she is very intelligent and very knowledgeable about what she is doing. Also, sports have been in her family her whole life. Her dad runs 10 miles a day and is a football coach. She also helped her dad coach basketball before she started at Morgan."
Sixth-grader Sophia Vigorito is also in Ms. Woods homeroom and English class at Eliot. She said, "She is a good teacher, and she is very positive. In her past, she has assisted her dad in basketball so I think she is gonna do great with this team at Morgan. Also, she is a very exciting teacher and makes all of the work we do fun." Ms. Woods students love her, and they think she will be just as successful on the court as she is in the classroom.
Junior Brianna Navarra who likes Mrs. Woods as a coach said, "She knows when she needs to be harder on us especially in those tough games, in order to show that she believes in us and our skills as individuals and as a team. During practice, she wants to make sure we are always focused and ready to work hard every day. She always wants to make sure we love what we are doing, and she gives the team a great amount of support, and continues to push us to get better every day." She has enjoyed learning from her and likes her coaching style.
Brianna also commented on the differences and similarities in coaching styles: "She has a similar type of play as our coach last year. She wants us to take advantage of fast breaks, although be more patient on offense and run the plays. On defense, she wants us always on our toes ready to steal the ball. They both have a different coaching style, which is a huge transition. She's a very good communicator and everyone on the team feels comfortable talking to her and asking her questions. She has a wide range of kno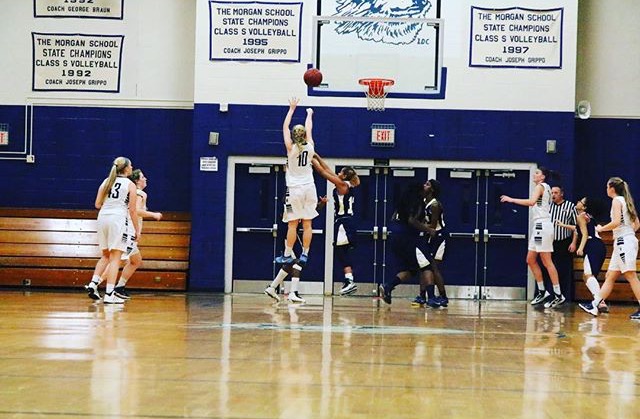 wledge and love for this sport, as she played her whole life. Most of us have known her from Eliot, and it's interesting seeing her inside the classroom compared to on the court. She's always open to playing new players just as our coach was last year. Both coaches enjoyed working on the fundamentals of the game and perfecting the simple skills."
Their season is a work in progress, and they will continue to improve. Brianna said, "It's been tough in the beginning of this season, as it is a rebuilding season with a new coach and a new group of kids who are all playing different and new positions. We are still really getting to know each others type of play, and trying to work off each other's skills. Each day we are getting better. We are always working hard in practice, and I believe that we will have a good season and that we will gain more confidence when we begin to get more wins, as we become closer as a team and work towards trusting each other more on the court. "