Prom Dresses: Where To Find Yours
Written by Hannah Gaudet and Emily Sordo|
Prom is right around the corner ladies! It is time to start thinking about your dress, and we all know how tedious and stressful this process is. There are many places to get your prom dress around Clinton and you can achieve any look because of this.
Asiye's Boutique in Madison has a very hands on approach to helping you find your dream dress. The owner, Asiye Kay will help you find a dress that perfectly fits your body. The only issue of Asiye's is that it is very expensive. However, fear not! The owner will often give you a small discount to make the dress more affordable, and there is a payment plan. If you want to buy a dress, you can pay full right then and there or you can put down 30% and pay it all over time. Once you pay off your dress, you are able to take it home! Not only is there a payment plan, there is also a chance to win free earrings! If you share that you bought your dress from Asiye's on any social media (Facebook, Instagram, or Twitter) you get a pair of free earrings that you can pick out and keep after you fully pay off your dress.
Another great place is Atiana's Boutique in Milford, CT. They have a huge selection of dresses that will surely blow your mind. The consultants are friendly and willing to help you find the perfect dress. Junior Jordan Ledyard who purchased her dress there said, "The prices were a little high, but it was understandable because the dresses were stunning. People helped a lot like they carry around your dresses for you, and they help you a lot with finding the right one when you try them on, and they are very organized." They typically do not give out additional discounts, but they let you pay for half upfront then come back and pay for the other half. If you are looking for a good experience in finding a beautiful dress (that may be a little pricier) then Atiana's is for you!
Not only is Davids Bridal great for inexpensive wedding gowns, they are also a must see for their dresses for other occasions. If you are looking for a simple and inexpensive prom dress that will be sure to make mouths drop, then Davids Bridal is the place to go! Junior Jenna Morello who got her dress there says her experience was "great! The people were nice, and the dresses weren't that expensive." Although they did not add any additional discounts, they gave Jenna a $20 Shutterfly gift card for those expensive prom pictures!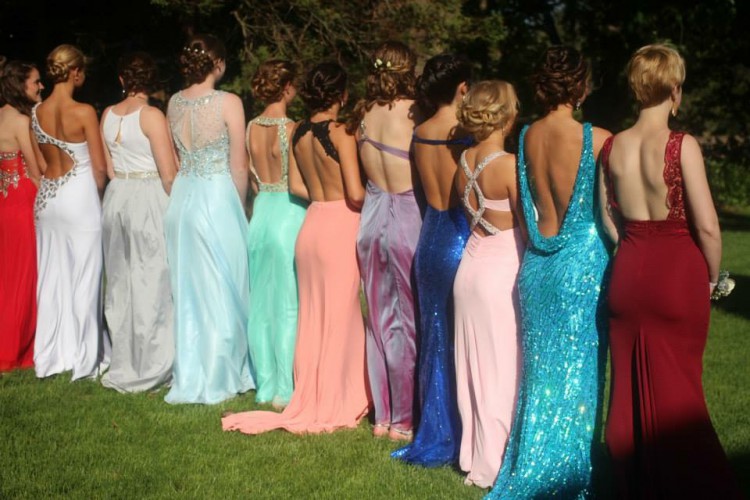 If you are not in the mood to drive around to find a dress, stay local and go to BCBG in the Clinton Outlets! These dresses are beautiful and the ladies working are fabulous. Their dresses are from around $90-500 and because they are an outlet store, you can find some amazing deals. Junior Lizzy Granfield says that "the people were helpful. It only took an hour for me to try on nine dresses and decide which one I got, and the ladies put the dresses in the dressing room for me without me asking them to do so." If driving around is not for you, your best bet is to try out BCBG for a simple, elegant gown.
The last one on our list for the best places to get your prom dress is Dynamite Designs in Wallingford, CT. They have dresses for all occasions and even tuxedos! Junior Claudia Neddermann who bought her dress there said, "They were good. The people were nice and helpful." There were not any added discounts on Claudia's dress, but the average price of the dresses was around $400.  There are some inexpensive dresses as well. Blake Braman (who goes to Mercy but whom we all know and love) said she only bought her dress for $170. What a bargain! If you are looking for a beautiful dress in a place that has a wide selection of prices and a great experience, go to Dynamite Designs.
If you haven't found your dress yet, don't worry! There is still plenty of time left,and hopefully, these locations will help the process.