Jack Cross – Superintendent of CPS to Retire
Written By Riley Thompson |
Photos Courtesy of Clinton Public Schools Website |
Jack Cross may be the Superintendent of Clinton Public Schools, but at one point in his life, he was just like the students in the schools he oversees.
Growing up in Vermont, Mr. Cross loved the outdoors. For part of his life he grew up on a farm that his family took over after his grandpa, "I had to take care of horses. I learned how to ride, and I loved being outside with the animals." Not only did Jack Cross ride horses, but he also had a sled dog team of Siberian Huskies which he trained.
In school, archaeology and architecture were the two subjects that interested Mr. Cross."I came from a family of educators. Everyone said I shouldn't be a teacher. Everyone had pushed me in different directions in high school."
When Mr.Cross told his guidance counselor that he was thinking about being an archaeologist, the counselor responded with "they already discovered everything." So, turning his back on archaeology, he went to UVM starting his schooling in engineering to become an architect.
When it came to sports, Jack Cross was actively involved in Football and Track. A versatile player, he played multiple positions including tight end and linebacker for football, and javelin, shot put, and discus for track. He was so successful in his athletics, that he was able to attend The University of Vermont on a scholarship for football.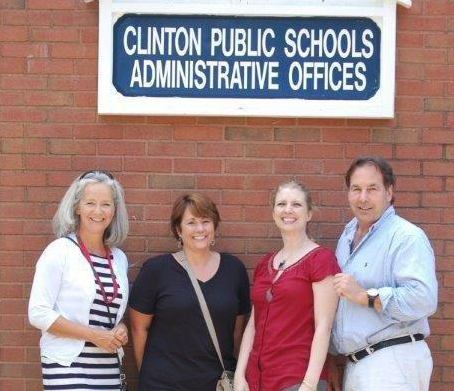 Superintendent Cross previously served for 1 1/2 years as assistant superintendent before becoming superintendent of Clinton Public Schools  7 1/2 years ago. He will  retire at the end of the year. Although he will be leaving the School system behind, he is confident the system the administrative team has built is solid and will continue to progress.
Mr. Cross would advise future superintendents to "listen carefully to the people who are already here. We have pulled together a group of leaders, convicted in the sense of the work they are about, they have wisdom that will help you be successful."
Of all his accomplishments, he is most proud of the"building of the new school. Planning started about 7 years ago. Looking at program needs and being able to translate that into a new program is huge. The school is better than I have dreamed."
Mr. Cross is also proud of the district's teacher evaluation program, "It's a model for other districts. It has comports to state regulation, but does not conform to state plan." 
Most of all, Mr. Cross is all about making education engaging and purposeful. The Clinton Public Schools system has made a huge impact on his life, what he will do once he retires is "yet to be determined," but with 5 grandchildren, and one on the way, he will be sure to have his hands full.