Interview by Meg Falcone and Kyle Neumann|
Photos By Meg Falcone|
Written by Meg Falcone|
Social Studies teacher Corey  Zdunczyk is excited to join the Morgan faculty and Morgan. So far the staff has been extremely helpful and willing to share all of their capable inside information. This "open door policy," makes it easy for him to find anyone to go to for questions while he is settling in. Also his students have been very good at transitioning and adapting to a new teacher's environment. He also commented that he liked how connected the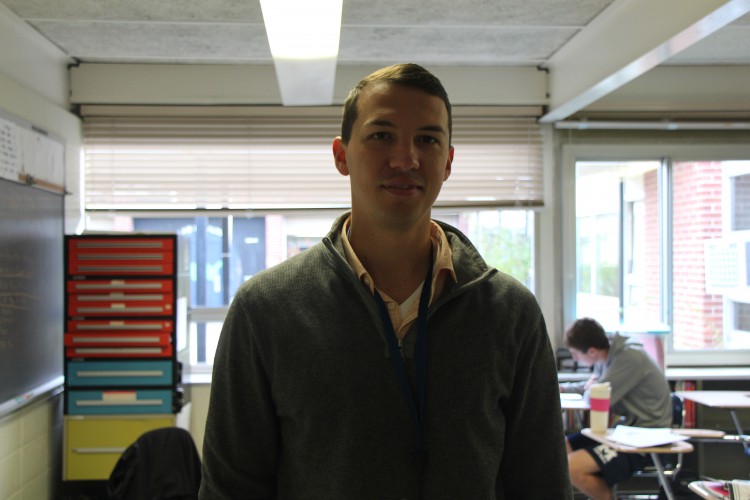 Morgan staff is and all of the opportunities for students. He can not wait to join this united close knit community.
Mr. Zdunzcyk went to high school in Plainville CT and to college in CCSU (Central Connecticut State University).He majored in Secondary education and history. His past experiences include teaching as an in school suspension teacher.  He taught in Madison at Polson for one and a half years. He was also a long term sub at Morgan, and he taught at Valley for one month before getting the full time history job at Morgan. All of his jobs in the past have been geared towards teaching. Mr. Zdunzcyk's favorite subject has always been history.  He knew right after school he wanted to be a history teacher or have a job involving history.
When Mr. Zdunzcyk was in school he did struggle with a few subjects such as science in high school.  He has taught many different kinds and topics in history, such as geography, and and world history. Mr. Zdunzcyk in high school he was a good student with grades ranging in the A and B region. His favorite topic in  to teach is the world wars, especially the second one. He also has taught many different levels of history.
Mr. Zdunzcyk likes students that are hard working, willing to try their best, and to challenge themselves. He also likes students that are willing to share their ideas and opinions. Mr. Zdunzcyk has been living the Morgan way by being hard working, and doing whatever he can to to help any and all students in class or after school. Mr. Zdunzcyk is available for extra help during D period, and before or after school any day, just schedule an appointment.