Written by Shelby Alfano |
What if you could change the world?
The Clinton PTA is holding the Reflections Arts Competition for the Jared Eliot Middle School and The Morgan School, for the fourth year, although the national level has been running for over forty years. This year, the program is run by Shelby Auletta.
The students at Morgan and Eliot are encouraged to submit their interpretations of the themes in these six disciplines: visual art, photography, literature, musical composition, dance choreography, and film production.
This year's theme will be "The World Would Be a Better Place If…".
Local winners advance to the State competition, which in turn, advance to the National level. Last year The Morgan School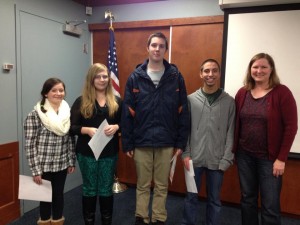 winners were Senior Dakota McArthur, 1st place, Junior Shawn Musial, 2nd Place, and  Senior Morgan Quinn, 3rd place for literature. Sophomore Lauren Bosquet also earned an award for her photography.
Mr. Bergman's junior English classes are currently writing poems for the contest, but any students are encouraged to enter their work associated with this year's theme: "The World Will be a Better Place If…."
Here is the link to the general rules and submission guidelines.
The deadline for the competition is December 22, 2014.