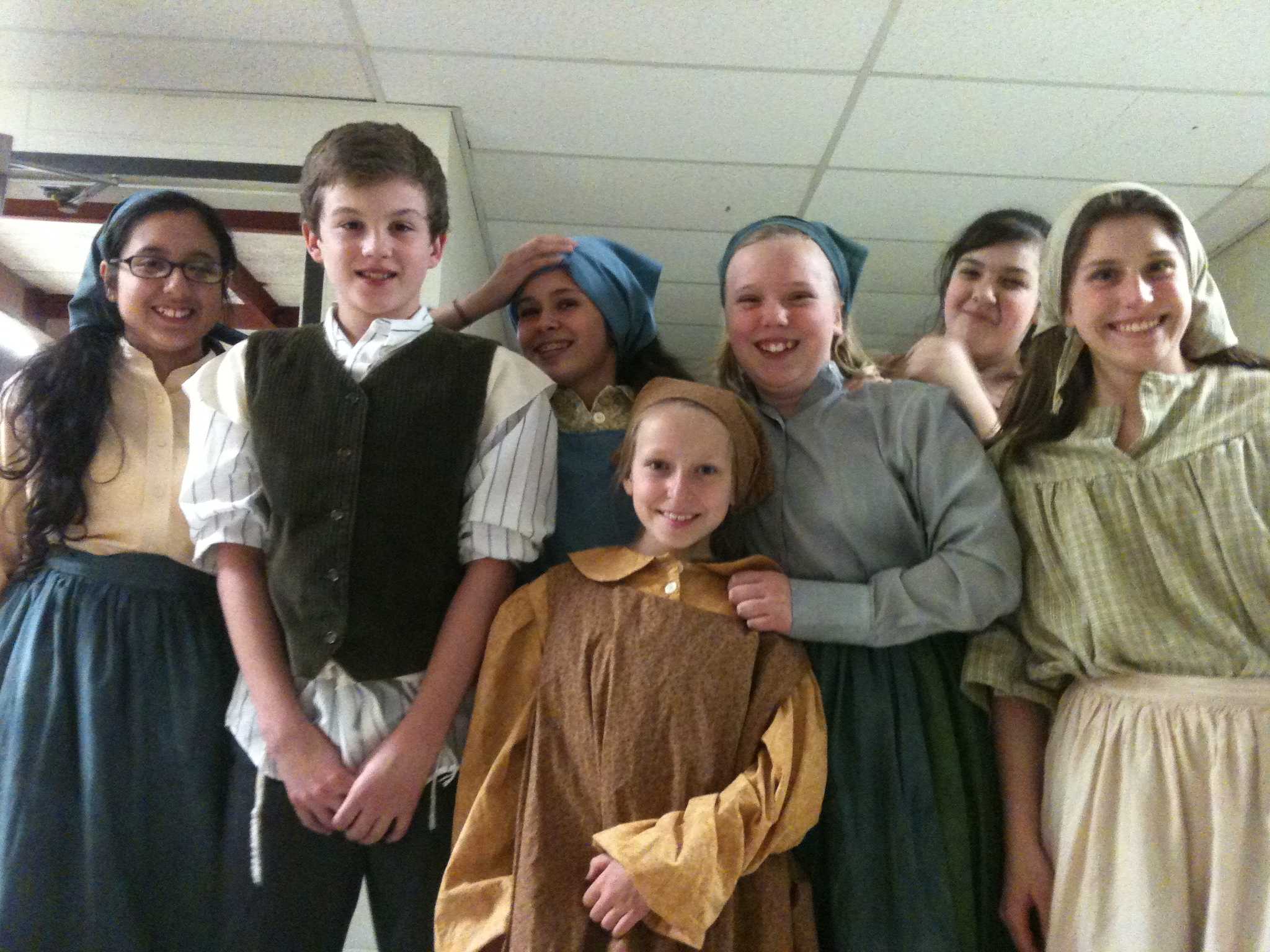 Written by Alex Kamnitzer |
Ever wonder what it feels like to be in a high school play as a middle school student or even a third grader? Well, this year the Morgan High School's play ,Fiddler on the Roof, features 13 young cast members. Now, these are not just your ordinary young people. They went through the same audition process as any other high school student and made the cut. The PawPrint took the time to sit down with some of the young cast members to learn about their past experiences and how they feel about being a young child in a high school musical.
It didn't take long to see that this was not their first time being in one of Mr. Lampe's high school productions. Their repertoire include both high school plays, as well as, some of the junior productions. They include Annie Get Your Gun, Sweeney Todd, Little Abner, How to Eat Like a Child, Willy Wonka Jr., and Annie Jr. Overall the kids found that being in a high school play, so young, is a worthwhile experience and loads of fun.
The youngest cast member, Vanessa, felt that "It is exciting because we're younger and we really don't get in trouble." She brings up the point of getting in trouble, which doesn't happen often, but there are moments of frustration. Many of them felt that because they were the younger cast members the frustration was never directed towards them. She also told the paper that "You can learn from the older kids and have them as models." Vanessa was not the only one that felt the high schoolers had a great influence on them. Jillian, from the middle school, tells us that "I like it because when you are younger you get more experience so you can see what the older people do."
Not only do the young cast members feel that having the high schoolers present is "inspiring," but they all raved about how enjoyable it is to be around them. Sasha, a middle school student as well, said "It's just a lot of fun hanging out with all the cast members." Cassidy followed with "It's really fun to be with the older kids." All of the students I had the time to sit down with felt that ,overall, the plays are just a lot of fun. Taylor summed up their reason for coming back each year with "We get a lot of props, like, when people go around and say 'what a good play.' I get to say that I was in that play!"
It is fun to have these young cast members in the play. Not only are they good kids, but they bring another side to the play. Whether they believe it or not there are times when they inspire us. Not that we don't have an imagination of our own, but having a younger mentality can only enhance the play.
For more information on the play check out our event page http://www.facebook.com/events/393774397319227/
or
http://clinton.patch.com/events/morgan-school-musical-fiddler-on-the-roof