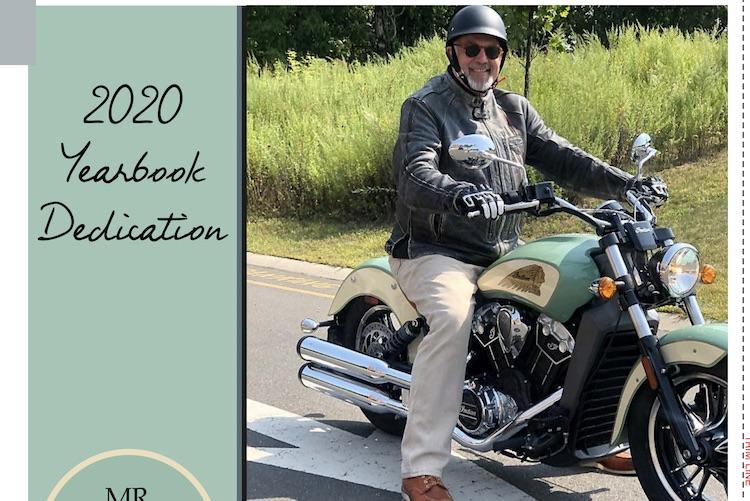 Written by Logan Cummings|Video by Logan Cummings|
Social studies teacher Jeffry Motter began working at The Morgan School during the 2001-2002 school year. This year, he has decided to retire from his position after 18 years of teaching. Of course, many faculty members and students (past and present) are sad to see him go, and they opted to express their appreciation for him in the form of a video. On top of that, for the reasons presented below, the Class of 2020 has dedicated the yearbook to Mr. Motter.
"Anyone who's ever walked through the hallways at Morgan has undoubtedly heard a loud "Thwack!" somewhere in the upper A-Wing, and has probably heard students attempting to recreate the sound of a human bell ("Mong Mong"). Those weird sound effects originate from the man, the myth, the legend… Mr. Jeffry Motter. Teaching a variety of social studies courses, Mr. Motter spends each day discussing history and culture with students at all grade levels. He possesses an extensive knowledge of the subjects he teaches and is always eager to help students understand the material, whether that be finally understanding the definition of a law term or getting deep into the intricacies of philosophical thought. Mr. Motter finds the perfect balance between education and entertainment, giving students important information while weaving humor and wit into discussions. Work in the text is complemented by class periods watching episodes of Suits or Sherlock, both of which have significant course connections to their respective classes. He even orders custom T-shirts for his "AP Warriors," boosting class identity and pride.
"Outside the classroom, he's always open to thoughtful discussions with his students and can be seen parading around the school with his usual antics. Everyone who has ever had Mr. Motter as a teacher will easily say he's one of the best in the school because of the fun energy he offers. Moreover, the encouragement he gives to his students allows them to develop a passion for the curriculum, and to feel satisfied with their own work and confidence in their academic ability. With genuine care for both his students and the subjects he teaches, Mr. Motter definitely enforces the idea that we are Morgan, we are family. He's funny, positive, caring, and extremely knowledgeable, and that's why the Class of 2020 dedicates its yearbook to him."